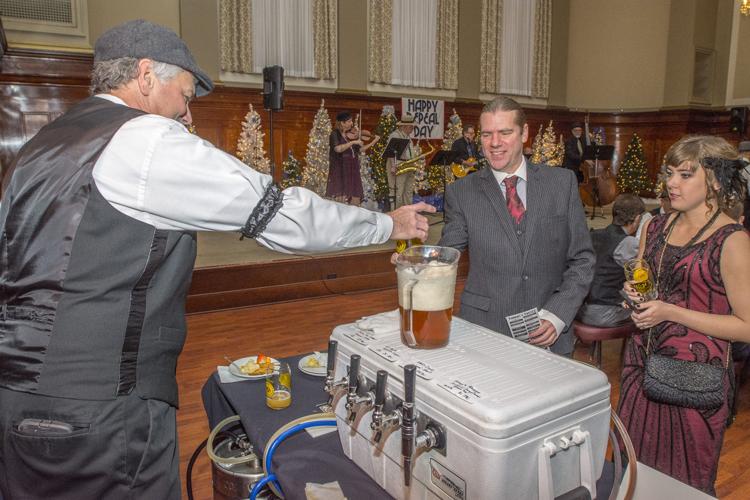 SHARON — As Bill Zimmer, owner of The Blue Canoe Brewery in Titusville, poured another beer Tuesday night, he told the story of his great-grandfather, a bootlegger during the prohibition period.
Zimmer's great-grandfather made and then illegally ran whiskey across Lake Erie.
"I've got a great family history," he said.
Zimmer, along with 19 other micro and home breweries, celebrated their freedom to make and to drink alcohol on the day that made it possible — Repeal Day, a celebration of the end of alcohol prohibition in the United States. 
On Dec. 5, 1933, the nation adopted the 21st Amendment to the Constitution. The amendment's sole provision was to repeal the 18th amendment, which prohibited the sale and consumption of alcohol.
This year's celebration, the 11th annual observance of Repeal Day, was held at the Corinthian Banquet Hall and Event Center in Sharon.
The yearly event is organized by the Brotherhood of Appreciating Repeal Day. "President," Nick Baron said the board is a loosely affiliated group of people who love local brew and manage to pull off this event year after year.
The proceeds go to the Shenango River Watchers, a non-profit that cleans and protects the Shenango River watershed.
The celebration is a reminder that this same craft was a crime during his great-grandfather's era.
"I wouldn't be here without Repeal Day," Zimmer said.
Zimmer said his grandmother, Grandma Jen, has her own Prohibition stories.
As a little girl, Grandma Jen had a very important job.
In the home where she grew up, carboys, special glass bottles used for fermentation, floated in the bathtub of the upstairs bathroom. And inside the bottles — whiskey.
When her father gave the signal, it was her job to take the hammer that hung in the hallway and to smash all of the bottles in the bathtub.
If the authorities came to the house to search for alcohol, they wouldn't find any because it would have drained out of the bathtub.
Just in case the police arrived before the alcohol had drained, water was kept in the tub to dilute the alcohol, which made it too weak to use as evidence.
"Grandma Jen had the best stories," Zimmer said. "She was a bad ass."
Although Repeal Day celebrates the end of Prohibition, this year's party embraced a speakeasy theme. Guests had to whisper the password, "Happy days are here again," to enter the event.
Many people dressed in the style of the Roaring Twenties.
Women's outfits exploded with sequins in filagree designs on loose dresses with the signature fringe. Long strands of pearls hung around their necks. Headbands, often with a feathered plume, wrapped around foreheads. Makeup was over the top with blood-red lipstick, cat-eye eyeliner and even gold sparkly eyelashes, which someone admitted were not actually to period.
The men wore fedoras and newsboy hats and sported mustaches gelled into impossible curls. They donned brown dress shoes splotched with a white patch on the top, known as two-tone oxfords, and modeled sharp, three-piece suits.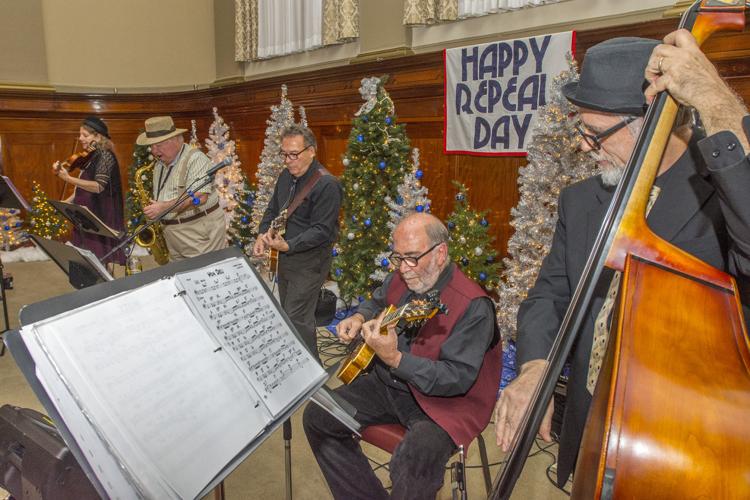 In short, everyone dressed for the celebration of the well-loved craft of beer.
When Baron and his BOARD members started this event, it was much harder to find micro brews. He used to drive to a town outside of Pittsburgh to find the craft beer that he really liked.
So Repeal Day began as a celebration of craft beer and as a way to show micro brews that people support them. That mission has been successful because now people have great access to good craft beer, Baron said.
What makes their event so special, Baron said, is that breweries look forward to coming and return year after year. And when they attend, they don't send a representative from their company — it's either the brewer or the owner personally pulling back the handle on the keg.
The reason Alena Vollmer, of Howland, Ohio, has been attending the event for the past six years is because she loves micro brews.
The smaller breweries are adventurous and take risks, mixing flavor combinations that bigger beer companies are afraid to try, Vollmer said.
Vollmer's dad grew up drinking Miller Light, which she tried as a young adult and thought was disgusting, she said.
For the longest time, Vollmer thought that she hated beer.
"It wasn't until I tried craft beer that I realized that I like beer," she said.
Vollmer said there are endless combinations of flavors, which she loves.
"There's an amazing pumpkin beer upstairs," Vollmer said. "It's nothing like your dad's Miller Light."
Also upstairs were some home brewers, people who make beer in their garages, basements or barns.
Tim Beauchamp of Boardman, Ohio, started brewing 60 years ago with a company and then began making his own brew.
One of his latest brews, called Santa's Ghost Hot Chocolate Stout, is made with ghost peppers and received a thumbs up from one of his buddies.
"I'm not afraid to take a chance," Beauchamp said.
In today's brewery industry, taking a chance means putting strange fruit in beer, but almost 100 years ago it was a risk to simply make and sell beer.
Zimmer's great-grandfather was one of those risk-takers.
By perhaps unintentional default as a bootlegger's daughter, Zimmer's grandmother also took chances. She passed on those stories of bathtub whiskey to a generation that openly brews, sells and drinks beer.
They buried Grandma Jen, Zimmer said, in a Cleveland Browns sweatshirt with a bottle of whiskey tucked under one arm.
Follow Natalie Eastwood on Facebook or Twitter @natalie_herald. Email her at neastwood@sharonherald.com.