SHARON – Naima Allen walked with purpose through the aisles of Bennie's Comics and Cards in Sharon.
As she browsed the shelves, where costumed characters and science fiction heroes are displayed, the 9-year-old girl ultimately settled on an issue of "Harley Quinn," a character who started out as the infamous Joker's sidekick.
"I like her. She's not really a villain or a hero. She's kinda in-between," Naima said.
Her father, Bruce Allen, has been coming to the store for years. While his son is more sports-oriented, his daughter became a comics fan, too, which led to some father-daughter bonding where the pair make an occasional trip to the store for a comic issue and take it home for reading and discussion.
"It's a lot of fun, and it's good quality time with the kids," Bruce said.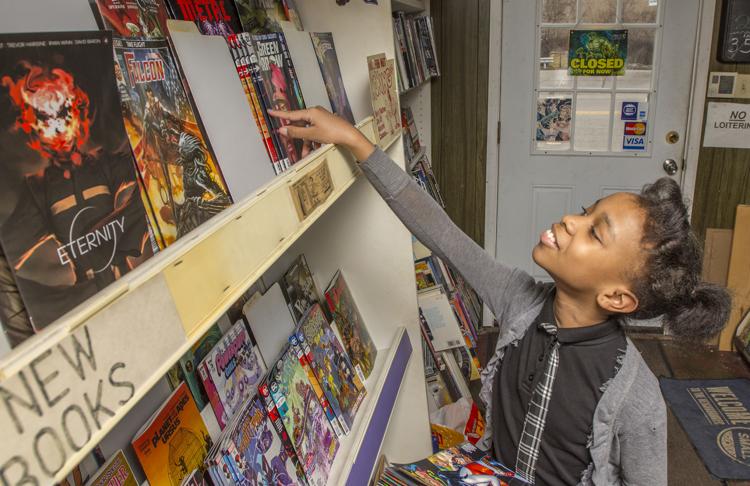 Behind the counter is owner Paul Worley, near a picture of the store's original owner, Ben Manilla. 
Manilla opened the store in 1982 at 462 Sharpsville Ave., Sharon, and operated it until he passed away in 2002.
"His wife was a school teacher, so I think for the both of them, between the baseball cards and the comics, it was a way of providing fun to children," Worley said.
Starting out as a fan of comics rather than a seller, Worley discovered the store in 1983 and has been a regular ever since. Worley worked in the comics industry himself as an artist for BAM Productions and later Innovation Publishing, before the opportunity came to take over Bennie's.
"When he passed away in 2002, his wife approached me about the store since she knew about my interest," Worley said. "As an artist, I would go to these conventions to sell my books, and so I'd meet other artists and we'd trade things, and I also started buying some things that I wanted. By the time she offered me the store, I had a big enough collection that I thought, 'OK, here's a place where I can put some of it and maybe even sell it to someone.'"
Since the business was started in 1982, Worley said the comics industry has seen some interesting changes, ranging from customer interests to promotional stunts.
During the early 1980s, comic companies tried selling multiple versions of one issue with different collectible covers, until the market eventually became over saturated and consumers lost interest. In a later attempt at sparking interest in comics in 1993, the character Superman was killed off in an issue that sold more than three million copies, Worley said.
"Once in awhile, there's a story arc that'll get a lot of attention. Like a few years ago, Captain America got killed, so everybody started picking that up because they wanted to know what happened," Worley said.
Comics started to really pick up again in the early 2000s. Marvel released the X-Men movies, which generated a renewed interest in its characters. With a steady stream of films and a new generation of fans, that interest never really died down, Worley said.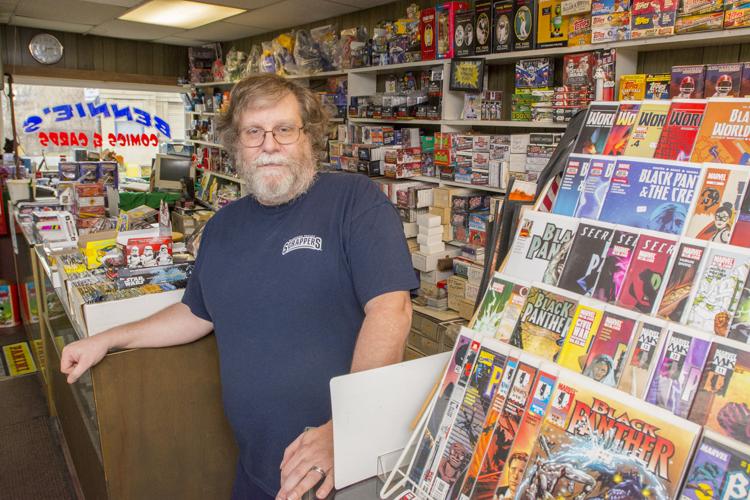 "The X-Men movies were what really prompted people to start going back out and looking at the comics, because they wanted to get to know more of the characters and the stories," he said. "There's a nice turnaround. I get some regular adults and some kids. Usually kids go for the cards while the parents go for the comics. Or sometimes a movie comes out, so a regular customer brings in their kid to get the comic, and then that kid becomes a regular."
However, comics aren't the only thing for sale at Bennie's Comics and Cards, and someone interested in almost anything from pop culture can probably find something amidst shelves of action figures, collectible glasses and cards. Even the selection of cards is incredibly diverse, with options including traditional baseball cards to Magic: The Gathering to trading cards from the Gulf War.
"Pokemon cards are still pretty popular," Worley said. "They started to drop off for a while until Pokemon GO came out, but then people realized it was taking up a lot of data on their phones, and it started to get a little dangerous with people walking into things, so people started to get back into the cards instead."
However, the best part of the job for Worley is still the look on a kid's face when they make a discovery in his store, whether it be a newcomer discovering comics for the first time or a comics fan uncovering a lesser-known character like the recently unveiled Red Goblin.
"I love when you see them find something new, because there's a look in their eyes and this smile comes across their face. You just kind of see it bubble over," he said.
His customer and fellow fan Naima agrees, as she picks out a few more comics to read with her father.
"I like the stories and the art. It's really interesting, because it takes you to a different imagination," she said.
For anyone interested in getting into comics, the annual Free Comic Book Day, which falls on the first Saturday of May, will be May 5. Usually about 200 people stop by to get a free comic, with some visitors even coming in costume, Worley said.
Like David L. Dye on Facebook or email him at ddye@sharonherald.com.