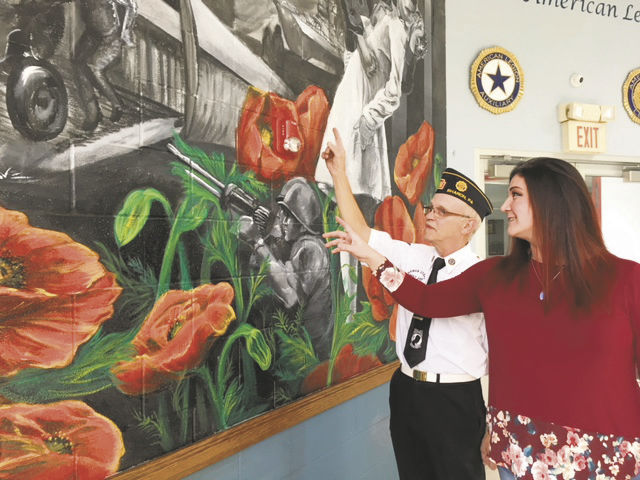 SHARON — When members of the Sharon American Legion got a look at mural artist Brooke Mergl's first brushstrokes, they were a little nervous.
The mural's colors weren't the traditionally somber, muted blues, greens and grays they were used to seeing in paintings honoring veterans and service members — just the opposite, in fact.
Mergl started off her mural project by painting bright, almost fluorescent, reds, oranges and blues on pillars just inside the front doors of American Legion Post 299. Post Commander Bob Calvin said he and other members were concerned that the monument's colors might fail to strike a properly respectful tone for the Legion's veteran membership.
They didn't need to worry.
The color scheme was part circumstance, part artistic intent.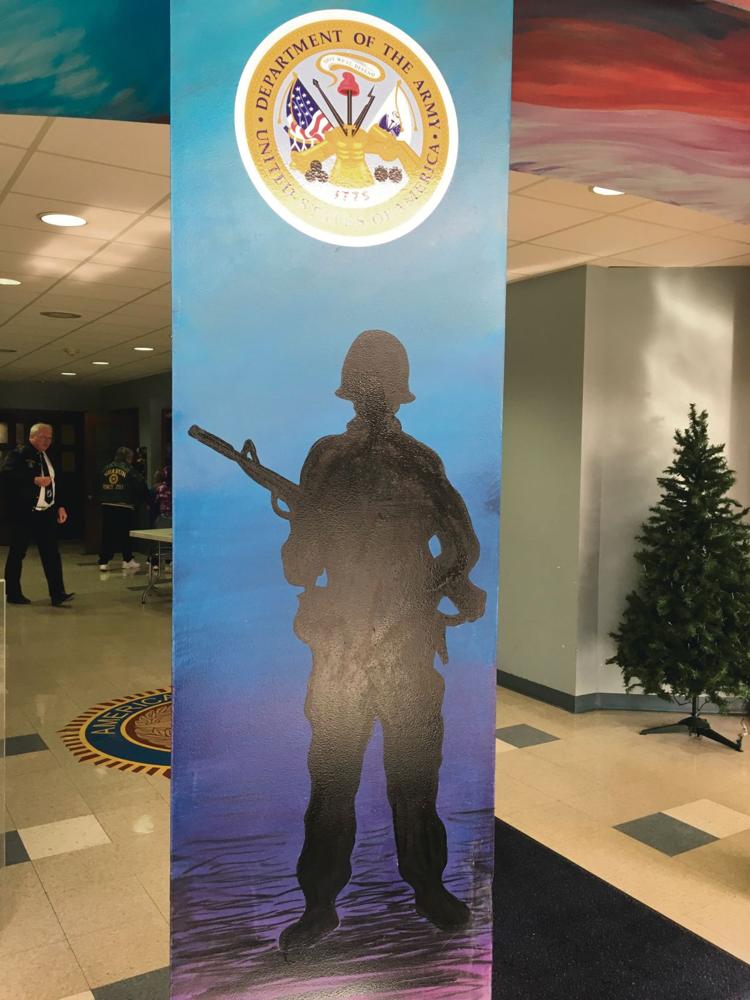 Mergl said the Legion's leaders had a few requests, chiefly that all five military branches — Army, Navy, Air Force, Marine Corps and Coast Guard — be represented, and that the work incorporate silhouettes, along with logos, representing each branch.
For example, the Coast Guard silhouette depicts a rescue swimmer dangling from an unseen helicopter.
With the dark silhouette figures, Mergl said she had to use bold colors for contrast. Another consideration was that she wanted the murals to have a tone that was celebratory, not somber.
The singular exception to that tone is a pillar representing prisoners of war and servicemen and women missing in action, which is painted black and incorporates the POW-MIA logo, with a traditional "Missing Man" table nearby.
"I wanted it to be more uplifting," said Mergl, who lives in Hermitage and teaches art to students in third through sixth grade at Beaver Area School District in Beaver County. 
As the project went along — with progress made every few days — Calvin said that Mergl's intent became increasingly clear.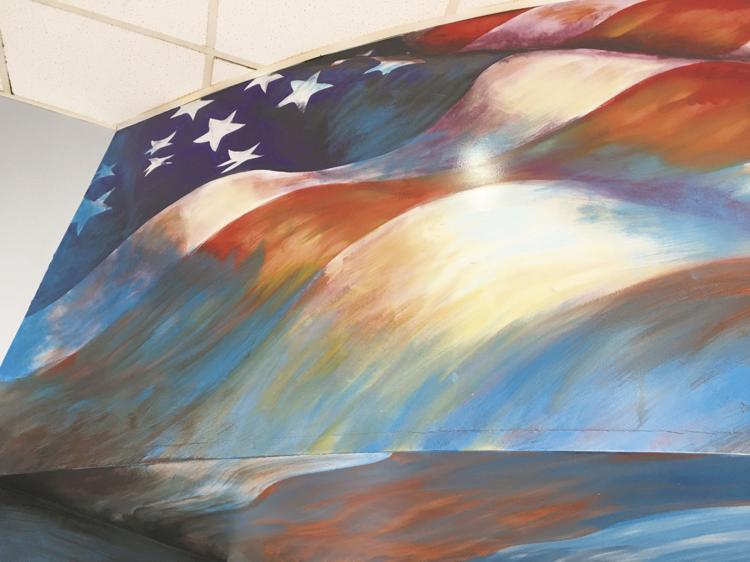 "Every day that she worked, it would get a little bit more defined, and a little bit more detailed," he said.
Mergl said she came upon the mural job through a friend, Dave Koerth, who is a member of the American Legion in Sharon. It turned out to be a fortuitous circumstance.
The first artist the Legion considered gave an estimate that was far too high, Calvin said, while Mergl was willing to do the work for a much lower price.
While Mergl has been an art teacher for 13 years, she also is an experienced mural artist. She completed several large-scale works in college and did mural work for a contractor after graduation.
She begins the mural process with a one-tenth-scale design on a grid sheet with one-inch squares. One inch on the paper represents 10 inches on the wall. To create a three-dimensional appearance on a two-dimensional surface, she works from the background outward.
Mergl said she spent about 80 work hours in July and August on the two murals, scheduled around the availability of babysitters for her two children, ages 3 years and 19 months.
As the work went along, Legion members were increasingly impressed, said Debbie Rowe, president of the Sharon American Legion Auxiliary.
"People were in awe of it," Rowe said.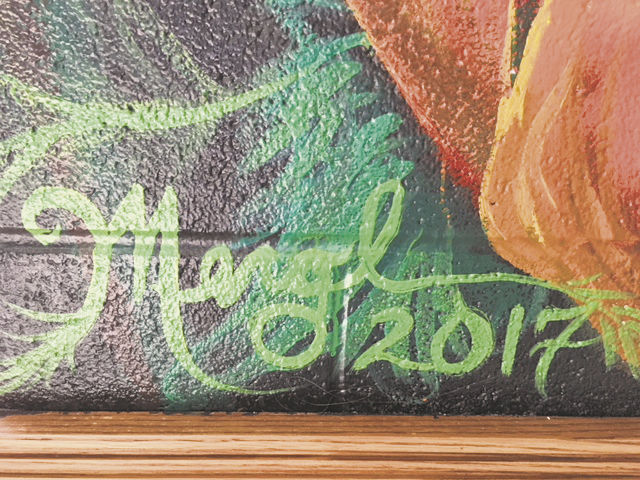 Calvin, a veteran of the Vietnam War and the first Persian Gulf War, said the members liked Mergl's work so much that the organization gave her another job. 
The hall's East Room, which serves as a venue for private events and overflow seating for the Legion's wildly popular bingo games, had a bare wall after officials removed a large board that had displayed called numbers.
"She got done with this and we liked it so much that we asked her to do the wall," Calvin said.
For Calvin, who has been the Sharon American Legion commander since 2014, the mural project was part of an ongoing effort to update and to beautify a facility that has been a community institution for years.
He remembers going to dances in the post's main hall, a Quonset hut erected on the site in the early 1950s. About 15 years ago, the Legion undertook a beautification effort with an addition onto the hut, landscaping and renovation.
Mergl's murals turned out to have been a part of that effort.
The East Room mural depicts military actions such as the amphibious invasion of Normandy on June 6, 1944, over a background of the Constitution done in whites, blacks and grays, set off with bright red poppies, a flower associated with military service since just after World War I.
That project also started off looking deceptive, Mergl said.
"All they saw were these giant red blobs."
This time, though, the Legion members knew Mergl's work, if not her process, and therefore had faith in her, which she found gratifying.
"It was very pleasing, because you're always nervous as an artist about how people will respond," she said.
Follow Eric Poole @HeraldEricPoole on Twitter or on Facebook.