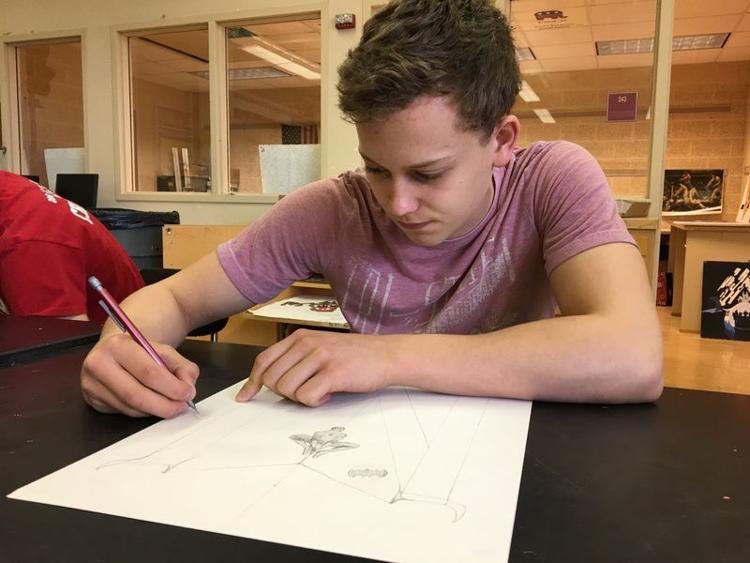 HERMITAGE – Max Schaller usually draws what he calls "comic book stuff," such as super heroes, but will dabble in other subjects and media.
It's one of those other pieces that has gotten him notice. The Hickory High School junior was awarded first place in the Congressional Art Competition for the 3rd U.S. District for a watercolor painting, "Celestial Owl," which he described as an owl with "galaxy eyes."
His painting will be displayed with winners from other districts in the U.S. Capitol in Washington.
But, Hickory High is not just celebrating Max's achievement. 
The 3rd District's second-place award also went to a Hickory student, Jayme McKay, a sophomore, for her dot painting of a gold finch.
"It was amazing," their art teacher Jessica Gibb, said of the dual recognition. "We were so excited and we're so proud of them, to have a first and a second place. Unbelievable. They did such a great job and they both worked so hard."
Forty-seven pieces were submitted for the annual competition, said Tom Qualtere, director of communications for U.S. Rep. Mike Kelly, the Republican 3rd District congressman who chaired the competition with Rep. Marcia Fudge, an Ohio Democrat.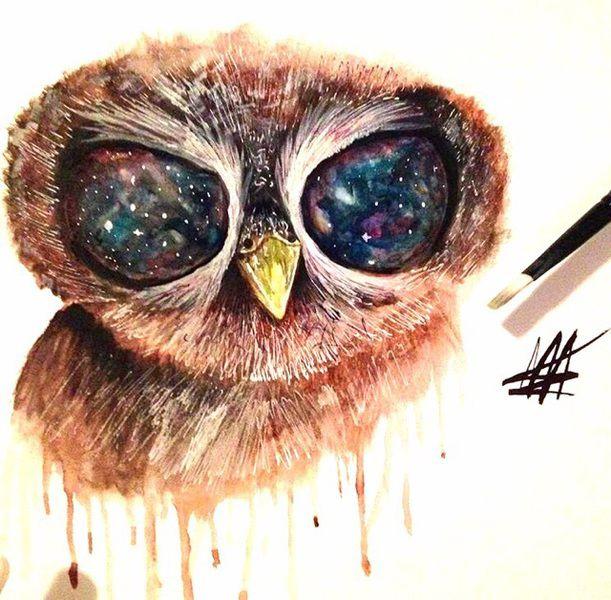 Neither Max nor Jayme expected the recognition, especially when they considered the work of their peers.
"There are a lot of talented kids at Hickory as far as art goes," Max said.
Hickory is developing quite a tradition with this contest. In 2015, Kacie Beatty, who was a Hickory senior, won first place for a photograph, and in 2004, an honorable mention for a photograph went to Jessica Izzo, who was destined to become Hickory's art teacher, now known as Jessica Gibb.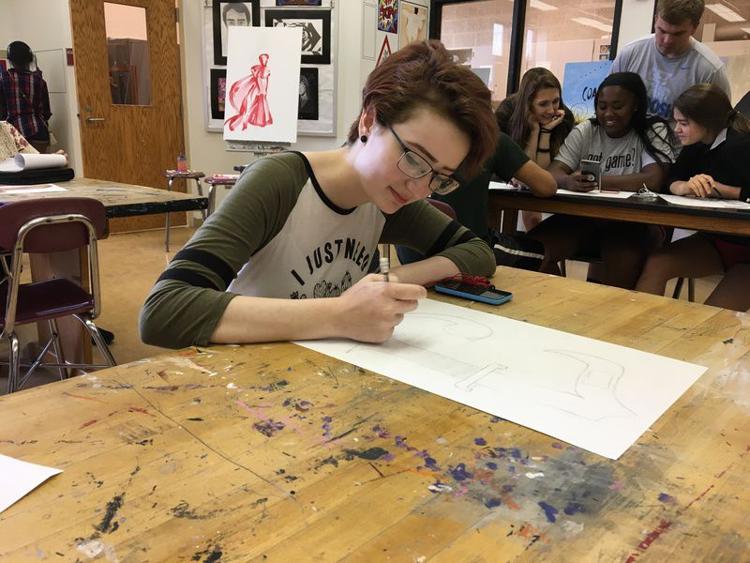 More than 30 Hickory students submitted pieces to the show this year, which is indicative of the encouragement school officials give to students to prepare works for the show.
"That's the expectation," said Principal Chris Gill. "That's what we want, for our students to achieve. It's not necessarily about the award. It's about putting your best foot forward."
Max painted his owl at home. It emerges from the white paper, and the bottom of the image drips off into nothingness. Its eyes are like galactic gazing balls.
"There was this competition on Instagram," Max said. "It was called eyeconic art. The focus was anything with a focus on eyes. I decided to do an owl but instead of doing a plain owl, I made its eyes stars."
Whenever anyone sees his work, "Everyone responds to that one," Max said. "Everyone seems to like that one."
Jayme said she was proud of her finch, which was an assigned class project. Her technique created a texture that makes it look like the bird's feathers reach off the surface.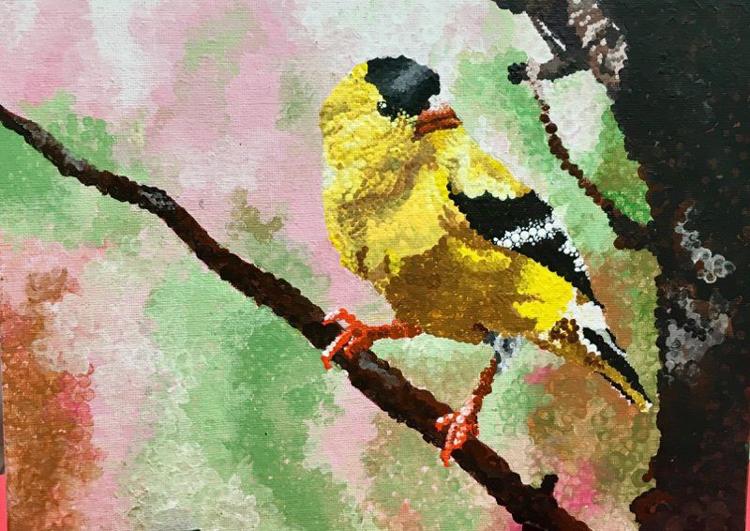 "I spent a lot of time on it," she said.
The students received their awards at a reception May 13 at the Bottlebrush Gallery & Center for the Arts in Harmony, which is owned by Dennis and M.J. McCurdy, Qualtere said. M.J. McCurdy and four other artists judged the show. 
"It was awesome, seeing all the different types of artwork that was in there," Jayme said. "It was all so different."
Max's and Jayme's works were different, which Gibb said she believes the contest judges responded to.
"They were both original pieces," she said. "They didn't really use reference images or different things like that. I think the congressional show really tries to award students that come up with their own original concepts."
Max is invited to a June 29 reception at the Capitol, while Jayme's work will be displayed in Kelly's Washington office for a year, Qualtere said.
Jayme said art is something that makes her happy and she would like to pursue it in some form professionally. She said she appreciates that Hickory encourages artistic endeavors and recognizes student work.
"They definitely like to show it off," Jayme said. "They did the little gallery walk for the band concert, where they had all the tables out, which was great. Even just the ceiling tiles that they let us do, it's like you walk into a gallery every day."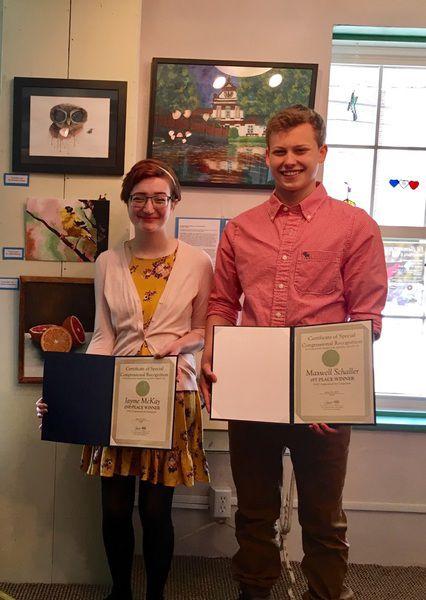 Gill said supporting the arts is about producing well-rounded students on one hand, and helping students find something they are passionate about on the other.
"It's ingrained in our students' culture," he said. "It is in the fabric of our school."
"The arts is definitely something that's important around this school," said Max, who will attend a three-week college preview program at the Columbus (Ohio) College of Art and Design this summer. "They have a good art program. I think it's good that they encourage it. It's important to them and the students, too."