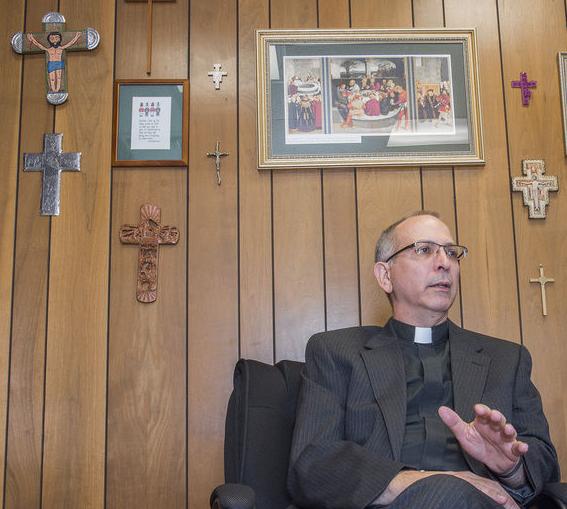 SHARON — The Rev. Michael Lozano recently discovered a wonderful new diet plan, although he probably wouldn't recommend it to his congregation.
The plan requires one large serving of anxiety, and so far, he has lost two whole pounds.
Lozano started his diet on Saturday, immediately after the Christ Lutheran Church of Sharon pastor was elected bishop of the Northwestern Pennsylvania Synod.
"I've been waking up at 4 a.m. every morning, wanting to go back to sleep, but my brain won't let me," he said. "There are very few times I've had to wrestle through the night."
Although the newly elected bishop can joke about his "diet plan" and the bevy of responsibilities that come with the new position, Lozano said he's prepared to answer God's call.
"It's a call from the outside," he said of his election to the position. "I've never run for any kind of office, and I think folks see in me what I don't see in myself. But if elected I will serve."
Lozano was elected by the Evangelical Lutheran Church in America Churchwide Assembly, the church's primary decision-making body, at Thiel College in Greenville. The Northwest Pennsylvania Synod consists of 78 congregations and covers Armstrong, Cameron, Crawford, Clarion, Elk, Erie, Forest, Indiana, Jefferson, McKean, Mercer, Potter, Venango, Warren and Westmoreland counties.
Lozano describes his responsibilities as bishop as the pastor of the synod, as well as the "CEO" of a not-for-profit.
"Now I have to figure out, 'What does this all mean?'" he said. "It's a very 'Lutheran' question."
But one thing is certain. He can't use his new position to help stop the rain, much to the dismay of several members of the congregation.
"I tell them I'm in sales, not management," he quipped.
Lozano was elected on a five-step ballot process. The first ballot was ecclesiastical, meaning any pastor in the synod could be nominated. He compared the laundry list of nominations on the first round of ballots to Oprah Winfrey's well-known car giveaway. "You get a vote! And you get a vote!" he said, not thinking at the time he actually had a real shot at ever becoming bishop.
By the the conclusion of the second ballot, Lozano said he began to entertain the idea that he might actually be elected.
When the candidate pool was whittled down to three, Lozano said the prospects just looked at each other, thinking, "Well, we actually kind of like where we're at."
By the fifth ballot, he and the other remaining candidate had begun to pray.
"I was praying it would be him, and he was praying it would be me," Lozano said.
The pastor broke the news to his congregation on Sunday.
"So an interesting thing happened at the last assembly," he told the crowd. "They elected a new bishop … And you're lookin' at him!"
Lozano will succeed Ralph E. Jones on Sept. 1, and an "installment" ceremony is scheduled for Oct. 13.
Jones has served as bishop since 2001, but was unable to escape the position before the synod pastors held a "roast" for him at the Corinthian banquet center in Sharon.
"He's a very humble leader," Lozano said of his predecessor. "He is a gre at model."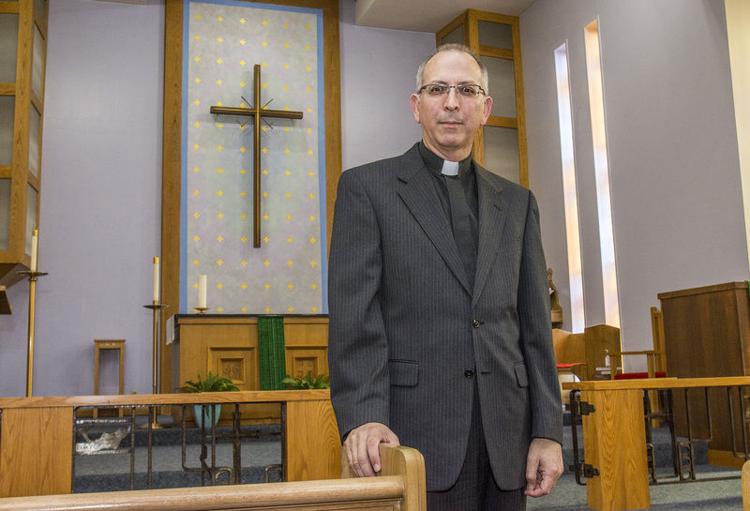 Lozano was born and raised near Houston, Texas. He earned his bachelor of science degree from Mansfield University and a master of divinity from the Lutheran Theological Seminary at Philadelphia.
While in college, Lozano grappled with the decision of whether to pursue a career in seminary or as a computer programmer. He explained how all pastors receive a "call from God" before they enter the seminary. Lozano decided his call from God would be if he applied to the seminary and was accepted.
At the time, he didn't realize that the seminary accepted everyone.
Lozano was a pastor at churches in Pennsylvania and Florida from 1993 to 2007. He spent the next six years as a chaplain for the Army Reserve. Lozano earned the rank of colonel during his time with the Army and served in Iraq as part of Operation Iraqi Freedom.
Lozano moved to the Shenango Valley in 2014, where he will continue to live as he commutes to his new office in Pleasantville, Venango County.
He said he's sad to end his time as pastor at Christ Lutheran Church, but wants his congregation to know that the future is still bright.
"Don't fear," he said. "Trust. And Hope. Hope changes the world."