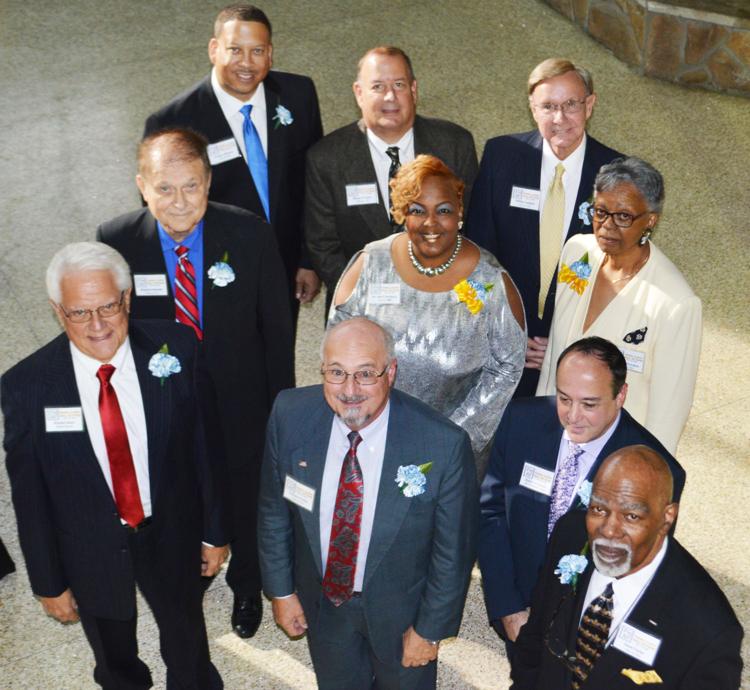 FARRELL – Ten alumni were inducted into the Farrell Alumni Hall of Fame at its 14th annual banquet Oct. 13 at the Park Inn by Radisson. The event attracted a crowd of 250. The following, with year of graduation after their names, are this year's honorees.
• Stephen J. Banjak, '56 – He was hired as assistant professor and men's varsity gymnastics coach at Slippery Rock University in 1968, retiring in 2002 after a decorated teaching and coaching career that spanned more than three decades. One of the major passions in his life has been coaching children in gymnastics as part of Sokol Farrell, the local unit of Sokol USA at the Slovak Home, which he continues to do today.
• Lorenzo 'Gene' Fesler '60 – He retired from the Army as a full colonel after a decorated career that included numerous awards and commendations for valor and service, including among others, the Purple Heart and the Silver Star. He retired after spending 27 years in the military.
• Phllip J. Cagigas '62 – He enlisted in the Naval Reserves when he was a senior in high school, and later entered the Air Force Officer Training School. He was commissioned as a second lieutenant in 1967. He ultimately rose to the rank of lieutenant colonel. His career in the Air Force spanned 21 years and included command and staff positions in the areas of maintenance and logistics in the development of new systems.
• Audrey Thurston '62 – She joined the Air Force in 1964. She completed 21 years of distinguished military service, retiring in 1989 with the rank of technical sergeant. She served at major active Air Force installations in the United States, Turkey and Germany. A civilian today, Audrey has served Ruth A.M.E. Zion Church as Sunday school teacher and superintendent and is a steward and sexton for the church.
• Anthony Perfilio '65 – He graduated in 1965 and used an education in engineering and law to carve out a career that spanned more than three decades with the Department of the Air Force as its attorney. A retired member of the Senior Executive Service of the United States, he had more than 31 years of practice experience for the Department of the Air Force. He had been cited for meritorious executive and distinguished executive service by three presidents, George H. W. Bush, Bill Clinton and George W. Bush.
• Shane Wiesen '78 – After he graduated from Thiel College in 1982, he relocated to Dubois where he worked as a store manager and then as a district manager trainee for a large retail chain. He became the business manager of his alma mater in 2015. Active in his church and community, he has always felt the obligation to give back to others as others have given for him.
• Ronald Reed (retired teacher) – He graduated from Kittanning High School in 1963 and impacted the lives of thousands of students during his nearly four-decade career at Farrell High both in the classroom and on the theatrical stage. He was one of the most respected and beloved teachers at during his 38 years at FHS. He remains active in theater and his writing. In addition to acting in several shows, he recently directed "Blithe Spirit" and "Meet Me in St. Louis," and several murder mysteries.
• Presley Gillespie '84 – After successful banking and community development careers in Youngstown, he was selected as the inaugural president of Neighborhood Allies, a Pittsburgh-based community development intermediary that supports people, organizations and partnerships committed to creating and maintaining thriving neighborhoods. After 18 years in banking, he was named the founding executive director of Youngstown Neighborhood Development Corp., the first such city-wide corporation. He is a nationally recognized leader in community and economic development.
• Dr. April Torrence '85 – She is the founder and executive Director of Zion Education Center in Sharon, where she has secured more than $2 million in funding to provide free, high-quality early childhood educational opportunities and child care services to disadvantaged families. She has secured another five-year grant for $637,500 from the state Department of Education to extend her Pre-K Counts program until 2023.
• Dominick A. Russo '50 – He is the 2018 posthumous honoree, who enjoyed a successful career in education as a science teacher. He spent his career in education, where he taught biology and was the science department ch air at Struthers High School in Ohio for more than three decades. During his tenure, he led a team of his advanced biology students who performed the first successful frog heart transplant in the United States. He partnered with his friend Joe Scarvell to carry out many high school stage productions, in charge of building sets.