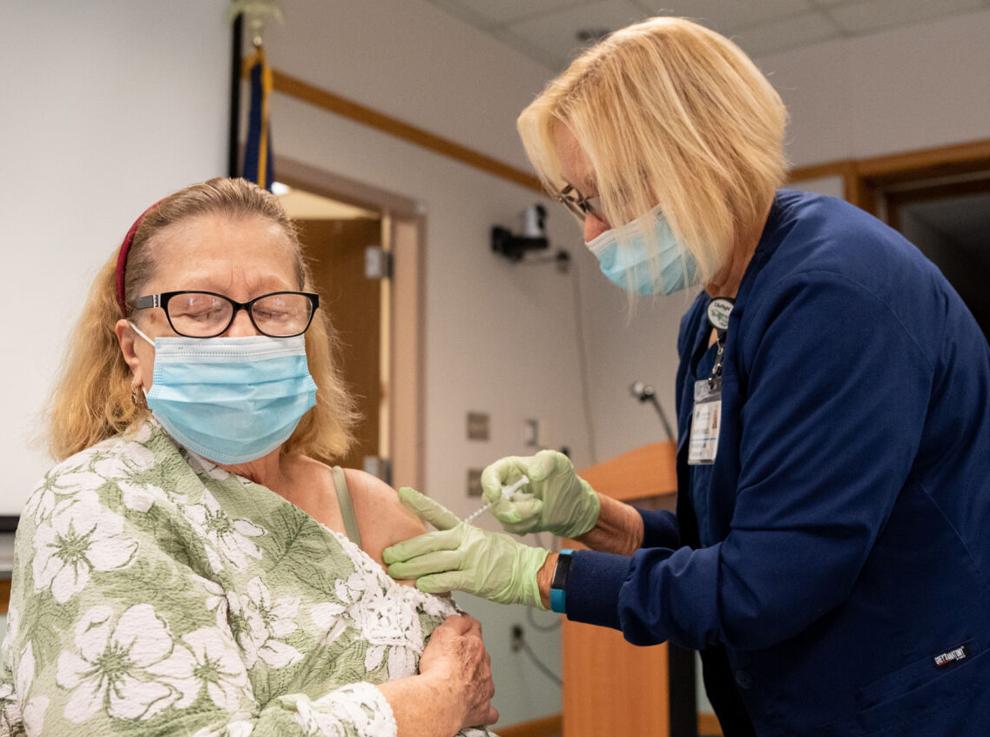 One day after reporting dropping numbers, Mercer County and Pennsylvania reported some of their highest single-day case counts of the current surge.
The state Department of Health reported 5,288 new COVID-19 cases Wednesday, the fifth highest single-day mark since the post-vaccination low point in July. Since July 5, when the state had 96 new cases, counts for both new infections and fatalities have risen steadily but had been declining from a mid-September peak.
Pennsylvania had 6,131 cases on Sept. 15, 5,708 on Oct. 2, 5,624 on Sept. 16 and 5,497 on Sept. 22.
Still, those figures are well below the pandemic's December-January peak, when single-day case counts went above 10,000 eight times.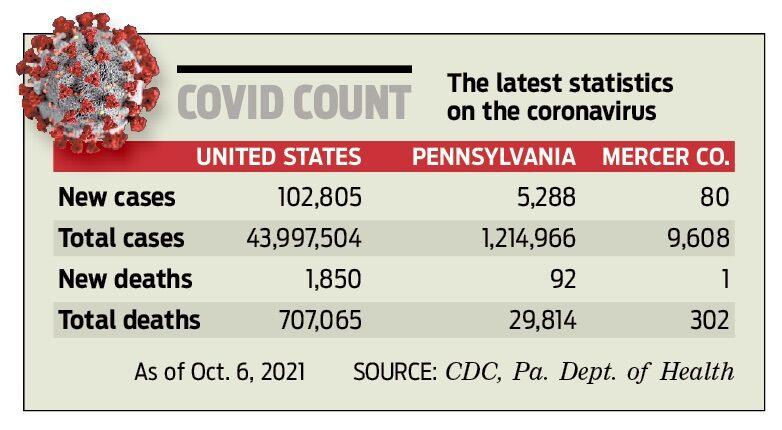 The Department of Health reported 80 new cases Wednesday in Mercer County, the fifth-highest single day mark since the surge began during the first week in July, when the county had no new cases for several days.
Mercer County had 88 new cases on Sept. 16 and 29, 91 on Sept. 10 and 98 on Sept. 15. Again, those figures are still below the county's peak in November, December and January, when it topped 100 new infections eight times, including Dec. 4, when 219 people tested positive for COVID-19.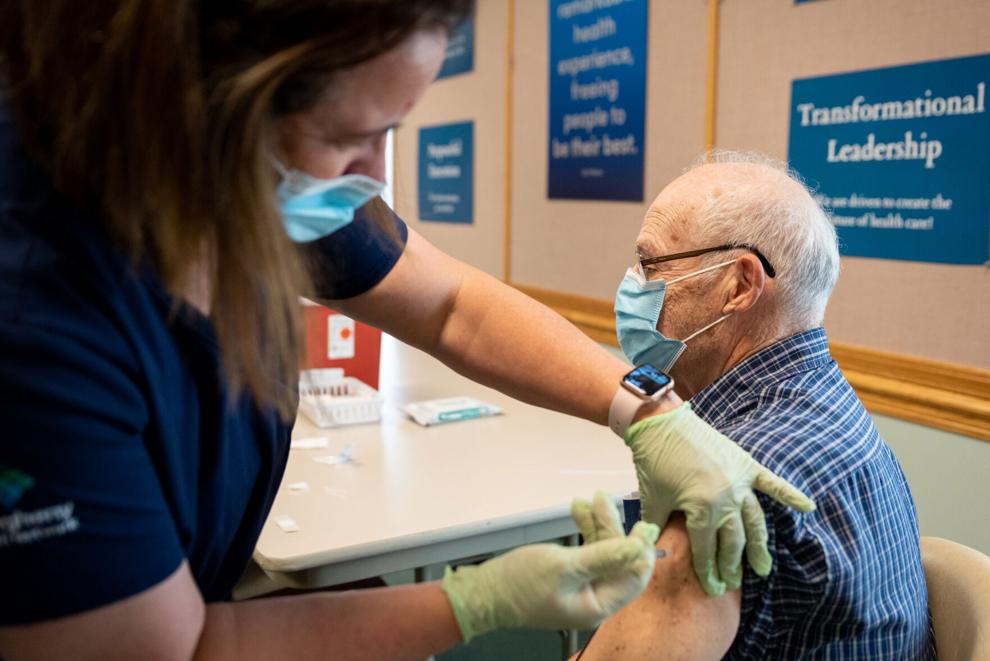 Flu shotsWith officials from the U.S. Centers for Disease Control and Prevention recommending vaccinations against the flu as well as COVID-19, state Rep. Mark Longietti, D-7, Hermitage, and Primary Health Network are sponsoring a flu vaccine clinic Oct. 15 in Greenville.
The clinic will be held from 10 a.m. to 2 p.m. at the Knights of Columbus, 170 Clarksville St. (state Route 18) in Greenville. All recipients must bring a photo ID and insurance card to receive a shot.
Pre-registration is recommended. To pre-register, go to www.primaryhealth.net or call 724-699-9211.
On Thursday, the CDC recommended a yearly flu vaccination for just about everyone, starting with 6-month-old babies.
Flu cases dropped to historically low levels globally over the pandemic, as restrictions designed to slow the spread of the coronavirus helped block other respiratory viruses. But with schools and businesses reopened, there's no way to predict how bad a flu season the country might expect this winter.
"We certainly don't want a 'twindemic,' both COVID and influenza," said Dr. William Schaffner of the National Foundation for Infectious Diseases.
Options for flu shots include regular vaccines, shots that aim to give older adults a little extra protection, and a nasal spray. All offer protection against four different flu strains that global experts predict are most likely to spread this year.
If people still need a COVID-19 vaccination — either first shots or a booster dose — they can get it at the same visit as a flu shot.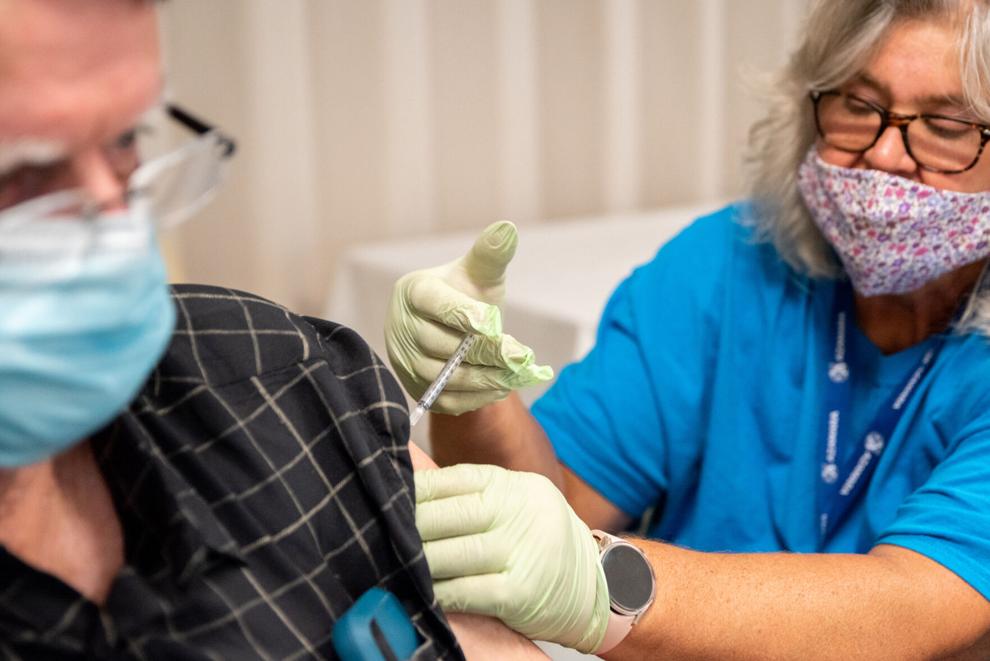 UN calls for vaccine equity
The U.N. secretary-general says a lack of equitable distribution of coronavirus vaccines between wealthy and poor countries "is not only a question of being immoral, it is also a question of being stupid."
Antonio Guterres called vaccine inequality the "best ally" of the COVID-19 pandemic. He decried hoarding of vaccines by rich countries, as well as vaccine nationalism and vaccine diplomacy – by which some producer nations try to use their doses as leverage.
Guterres told a World Health Organization news conference Thursday that if the virus continues to spread "like wildfire in the Global South," there's a risk that new variants could emerge and potentially resist current vaccines doled out widely around world.
Hospital readiness
Over the last two weeks, an average of 2,790.4 people with COVID-19 have been admitted every day to hospitals in Pennsylvania, including 3,001 Wednesday.
That figure is higher than most of the other peaks since the pandemic began. The Department of Health reported a two-week rolling average of 2,625.9 on April 29, and 2,746.8 on May 2, 2020.
But the winter 2020-21 peak of 6,096 on the two weeks preceding Dec. 26 was still considerably higher.