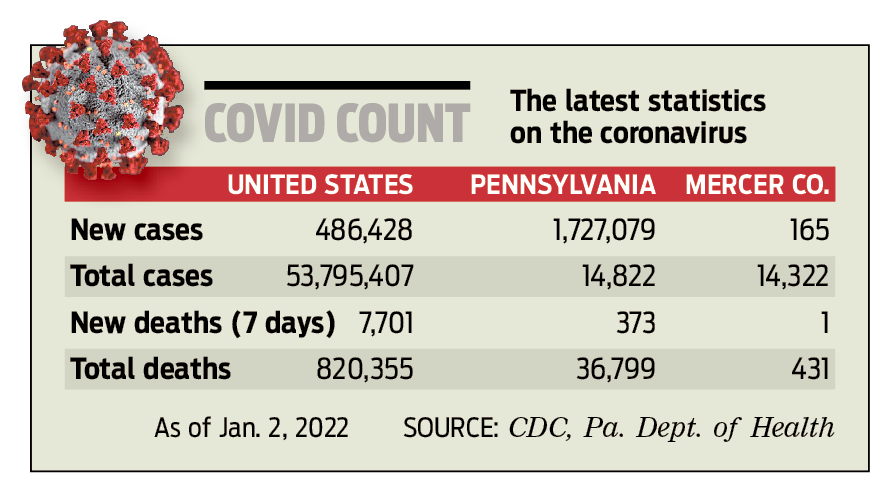 Daily case numbers, fueled by the omicron variant, are exceeding levels seen in during last winter's peak, but deaths are lagging below figures from the same time period.
Including a report of 486,428 new cases on Dec. 29, the U.S. Centers for Disease Control and Prevention reported a seven-day rolling average of 316,277 new daily cases, marking the second consecutive day with more than 250,000 cases a day. During the worst part of last winter's surge — from Jan. 2 to 18, 2021 — the seven-day average exceeded 250,000 only once.
The good news is that fatalities don't seem to be rising. The seven-day daily death average was at 1,000 through Dec. 29. In January 2021, the same figure fell between 2,900 and 3,500 average per day for the entire month, and the single-day figures didn't fall below 2,000 the entire month.
Daily COVID-19 figures in Pennsylvania and Mercer County also are heading above the same figures from a year ago. The state Department of Health reported 165 new cases in Mercer County on Jan. 1, the second-worst day of the pandemic, after only the 219 cases on Dec. 4, 2020.
Pennsylvania's record for single-day case count of 22,696 set on Dec. 31 was almost twice the pre-surge single-day peak of 12,792 on Dec. 10, 2020. The state has exceeded 13,000 daily cases each of the last six days.
However, deaths — nationally, statewide and locally — remain below last winter's peak.
CDC officials said the omicron mutation is more contagious but less severe than previous COVID-19 variants. The federal agency also has said COVID-19 vaccinations are keeping fatalities in check.
Vaccination tracking information indicates that unvaccinated people are 10 times more likely than the fully vaccinated to test positive for COVID-19, and 20 times more likely to die from the coronavirus.
FDA OKs boosters for youngsters 12 and older
The U.S. is expanding COVID-19 boosters as it confronts the omicron surge, with the Food and Drug Administration allowing extra Pfizer shots for children as young as 12.
Boosters already are recommended for everyone 16 and older, and federal regulators on Monday decided they're also warranted for 12- to 15-year-olds once enough time has passed since their last dose.
But the move, coming as classes restart after the holidays, isn't the final step. A panel to the Centers for Disease Control and Prevention is expected to decide later this week whether to recommend boosters for the younger teens with a final decision by Dr. Rochelle Walensky, the CDC's director.
The FDA also said everyone 12 and older who's eligible for a Pfizer booster can get one as early as five months after their last dose rather than six months.
FDA vaccine chief Dr. Peter Marks said even though serious illness is uncommon in younger teens, a booster will help them avoid that risk — while also helping reduce the spread of omicron or any other coronavirus mutant.
"Hopefully this will be not just a call for people to go get their booster shot," but for the tens of millions of unvaccinated Americans to rethink that choice, Marks said. "It's not too late to start to get vaccinated."
The FDA based its latest booster decision largely on real-world data from Israel that found no new safety concerns when 6,300 12- to 15-year-olds got a Pfizer booster five months after their second dose.
The FDA said it didn't have any new data from Moderna to back a timing change and people who'd already had two Moderna shots should continue to wait six months for a booster. As for people who originally got the single-dose J&J shot, the U.S. already recommends another dose of any vaccine two months later.
Schools press forward; some extend holiday break
Some school systems around the U.S. extended their holiday break Monday or switched back to online instruction because of the explosion in COVID-19 cases, while others pressed ahead with in-person classes amid a seemingly growing sense that Americans will have to learn to co-exist with the virus.
Caught between pleas from teachers fearful of infection and parents who want their children in class, school districts in cities such as Milwaukee, New York, Detroit and beyond found themselves in a difficult position at the start of the second half of the academic year because of the super-contagious omicron variant.
New York City, home of the nation's largest public school system, reopened classrooms to roughly 1 million students with a stock of take-home COVID-19 test kits and plans to double the number of random tests done in schools.
"We are going to be safe, and we will be open to educate our children," newly sworn-in Mayor Eric Adams said on MSNBC.
New Yorker Trisha White said that she feels the risk is the same for her 9-year-old son in or out of school and that being with classmates is far better for him than remote learning.
"He could get the virus outside of school," she said as she dropped the boy off. "So what can you do? You know, I wouldn't blame the school system. They're trying their best."
While the teachers union had asked the mayor to postpone in-person learning for a week, city officials have long said that mask requirements, testing and other safety measures mean that children are safe in school. The city also has a vaccination mandate for employees.
New cases of COVID-19 in the city shot up from a daily average of about 17,000 in the week before the holidays to nearly 37,000 last week.
Last week, after the Centers for Disease Control and Prevention cut the recommended COVID-19 isolation period from 10 days to five, CDC Director Dr. Rochelle Walensky said: "We want to make sure there is a mechanism by which we can safely continue to keep society functioning while following the science."
Elsewhere around the country, Syracuse, N.Y., canceled school Monday because of the increasing number of infections and a lack of substitute teachers to cover absences.
In Wisconsin, the 75,000-student Milwaukee school system is going back to virtual instruction Tuesday because of rising cases among staff members. The district said it is aiming to return to in-person classes Jan. 10.
The Madison, Wis., district also announced a shift to virtual learning, beginning Thursday.
Detroit School Superintendent Nikolai Vitti told parents there will be no in-person or online learning through Wednesday because of a high rate of infection among employees that could lead to extensive spread of COVID-19 and "excessive staff shortages."