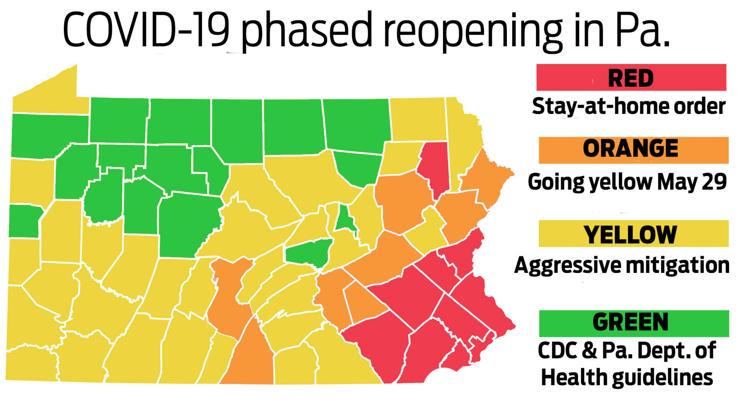 A viral exposure traced to a single person in Farrell accounted for more than half of a spike in COVID-19 cases over the past two weeks in Mercer County.
The city had eight confirmed cases from the virus' first arrival in Mercer County on March 22 through May 8. Ten days later, that figure had ballooned to 23.
The state Health Department released figures Friday indicating that Farrell's total case number had risen still further, to 26.
Fire Chief Mike Renner said the Farrell spike — 18 cases in 12 days — was traced to an initial case and subsequent testing on people that patient came into contact with.
"There was a group within the city, someone came in contact with someone with the virus and exposed a large number of people," he said. "So they've conducted more tests."
Renner said he could not release more details on the patient because of privacy issues. However, the outbreak didn't take place in a nursing home — there are no nursing homes in Farrell.
No one became seriously ill from the illness.
"The good news is 90 percent of the cases were asymptomatic," Renner said. "Everybody is OK."
At the Farrell City Council meeting Monday, the group decided to cancel all city events for the summer — including the city's annual Juneteenth celebration, commemorating June 19, 1865, the day that news of the Union's Civil War victory reached Texas and freed the nation's last enslaved people.
"We've had some disappointments, but also had a lot of praise for protecting our community," Renner said. "Nobody wants to cancel but this is something that needs to be done. We can look at it as next year will be really fun because we can take the money and really concentrate on making it great next year."
Plus, he said he would rather err on the side of caution than put anybody through an illness.
"Hopefully by the first of September, maybe it will indicate that we can have some of the beautification days and prayer chains and picnics, but nothing for the summer," Renner said. "Just take it easy the next couple months and enjoy the weather outside by ourselves. The harder we work at it together the better we're going to be."
After a 10-day stretch from April 24 to May 4 when Mercer County's number of confirmed cases increased by only two, from 64 to 66, the county has watched its case count increase quickly.
On May 8, the day Mercer County went to yellow in Gov. Tom Wolf's red-yellow-green reopening protocol, there were 70 cases countywide. On Friday, that figure had increased to 102.
From that increase of 32 in the case count, state data indicates that 18 have come from COVID-19 positive test results of Farrell residents.
Sharon also had a case-count increase, but it came earlier than Farrell's. In Sharon, the count went from 13 on April 21, the first day Pennsylvania released figures for individual ZIP codes in the state, to 13 on April 28, and 18 on May 10.
In spite of the pandemic, Renner said it has encouraged greater cooperation between emergency personnel from different agencies and different municipalities.
"I can honestly say that all municipalities, all the police departments and fire departments are working closely with each other, communicating with each other," Renner said. "I don't think I've ever worked with a better group of individuals to prepare us for this. It could've been a lot worse if we didn't have such a great group of people coming together."
Renner said that Farrell's department heads hold a staff meeting every morning to make short- and long-term plans, which the city then shares with officials from the county and other municipalities.
In spite of the increase in cases, officials do not think the state moved Mercer County into the yellow phase too soon.
"Much of the increase was isolated and hopefully addressed," county Commissioner McConnell said. "We will have bumps as we learn to live with the virus. The important numbers are hospitalizations and equipment available to treat those that need help overcoming this virus."
He believes Mercer County is still doing well.
"But all should remember this is not over and precautions need to be taken, especially those that are more vulnerable," McConnell said. "Masks, washing hands, social distancing, disinfecting and infection awareness is critical as we work through this."
Follow Melissa Klaric on Twitter and Facebook @HeraldKlaric, email: mklaric@sharonherald.com