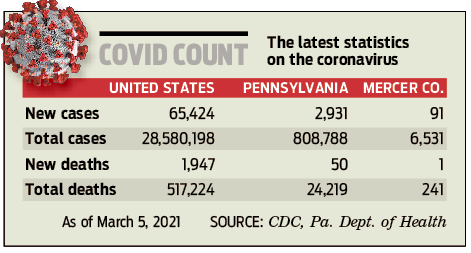 Mercer County's number of single-day COVID-19 cases jumped 2,175% from four on Tuesday to 91 on Wednesday.
And no one seems to know why.
County Commissioner Tim McGonigle expressed surprise at Thursday's commissioners' meeting, but called it an indication that the COVID-19 crisis isn't over locally.
Mercer County's increase of 87 cases amounted to almost 20% of the increased number of cases Wednesday in Pennsylvania, which went from 2,494 Tuesday to 2,931 Wednesday. The case count was the worst day since Jan. 7, and the 17th highest since the county had its first case March 22.
Neither McGonigle nor Mercer County Coroner John Libonati had an explanation for the increased case count. 
In 17 western Pennsylvania counties, none had a single-day increase in cases larger than 333% in Indiana County, which had three cases Tuesday and 13 Wednesday.
Maggi Barton, deputy press secretary for the Pennsylvania Department of Health, said the state could not comment on individual clusters of cases, but eliminated one potential cause. She said there had been no outbreaks at long-term care homes or senior citizen residences in the previous 24 hours.
State long-term care home reports in Mercer County showed no change between the state's reports released Feb. 24 and Wednesday.
While the increase could be attributed to a lag in reporting new cases, the Department of Health did not cite that as a cause.
Vaccines available
Commissioners said a Mercer County doctor has 200 available vaccine doses for people in Phase 1A. Eligible residents can contact McGonigle at 724-662-7531 or Emergency Management Director Frank Jannetti at 724-662-6100 to schedule a vaccination. 
Vaccinating the vulnerable
California will begin sending 40% of all vaccine doses to the most vulnerable neighborhoods in the state to try to inoculate people most at risk from the coronavirus and get the state's economy open more quickly, Gov. Gavin Newsom said Thursday in the latest shake-up to the state's rules.
The doses will be spread among 400 ZIP codes where there are about 8 million people eligible for shots, said Dr. Mark Ghaly, the state's health and human services secretary. Many of the neighborhoods are in Los Angeles County and the central valley, which have had among the highest rates of infection.
The areas are considered most vulnerable based on metrics such as household income, education level and access to health care. Newsom said that not only is this the right thing to do, it's critical to opening up more of the state's economy.
"It is a race against the variants. It's a race against exhaustion. It's a race to safely, thoughtfully open our economy, mindful that it has to be an economy that doesn't leave people behind, that is truly inclusive," Newsom, a Democrat, said at a news conference. He also encouraged people to wear two masks.
The announcement is the latest change in an evolving approach to getting nearly 40 million residents vaccinated, adding to ongoing confusion among people clamoring for shots. The move to ease reopening also comes days after several Republican-led states lifted COVID-19 restrictions as the U.S. now has three vaccines available.
Tying reopening to vaccination equity metrics was cheered by representatives of the legislative Black and Latino caucuses, as well as social justice and equity groups. Latinos make up roughly half of cases and deaths in California even though they are 39% of the population.