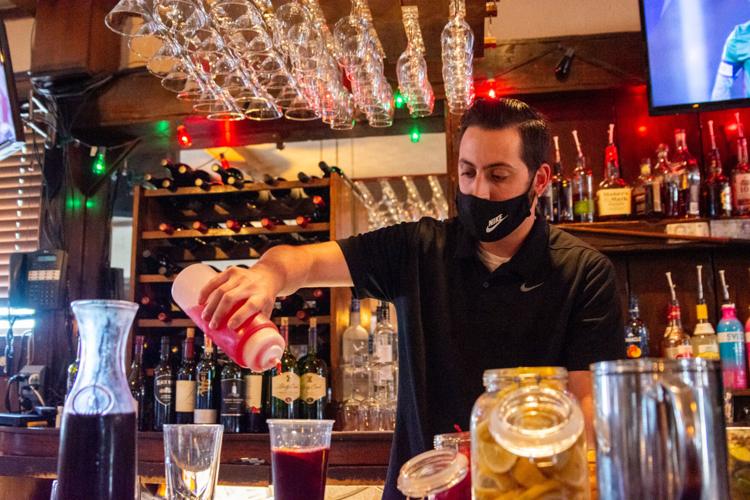 As she pulled into into Viking Beverage drive-through beer distributor in Greenville, Megan Carroll ordered four slushie alcoholic drinks, one for herself and three for friends she is visiting.
"I just love them,'' said Carroll, of Greenville.
After a few minutes, Eric Steffy, owner of Viking Beverage, hands Carroll a tray of slushies in a no-contact transaction.
Just as Carroll drives out, Todd Nehlen pulls in with pals who are headed to a regular golf date. All four order slushies.
They plan to pour the frozen alcoholic drinks into thermal containers when they arrive at the course, Nehlen said.
"It lasts us all nine holes,'' he said.
Within an hour, Steffy sells more than 40 slushies.
"This is typical,'' he said. "You should have seen it earlier this year. We had cars lining up out to the street.''
Viking's experience isn't unique among local beer distributors, restaurants and bars that offer slushies. All are enjoying brisk sales of a grownup drink that evokes childhood summer refreshment.
When Hickory Bar and Grille began offering slushies earlier this year, Tammy Barnhart, the Hermitage restaurant's general manager, wondered what would happen.
GALLERY: Alcoholic slushies proving popular
"We sold out in a day and a half,'' Barnhart said.
Depending on where customers go, there are a wide range of slushie flavors — including raspberry, iced tea and mai tai. Alcohol content ranges from 8 percent to 12 percent with container sizes running between 8 and 64 ounces.
Under the state Liquor Code, businesses must have a proper license to sell slushies. The drinks are sold in sealed growler-style bottles or plastic cups, with the straw opening covered with a seal, because alcoholic beverages can't be in open containers when sold for takeout.
Webb Winery in Hermitage was in the vanguard of the slushie movement — it began selling its own version of the product seven years ago. The winery sells slushies at its South Hermitage Road store.
"We started with one machine and now we have five,'' said Carlee Webb, co-owner of the winery. "We slowly kept building up as it grew in popularity.''
Normally the business stops selling the drinks from Halloween to Easter — cold-weather months. But sales this summer have been so good Webb said she isn't sure if that timetable will hold this season.
Businesses arriving late to the trend are having a difficult time catching up. Nancy's Middlesex Tavern just started selling the icy drinks a month ago.
"It was difficult to get a machine because they're in short supply,'' said Nancy O'Brien, owner of the West Middlesex restaurant.
She finds slushies are popular with golfers after playing at Tam O'Shanter Golf Course just down the road in Hermitage.
"It's a great cold thing to have on a hot summer day,'' O'Brien said.
Everyone agrees on one point: When it comes to slushies, there's no such thing as a typical customer.
"It's everybody, and I mean everybody – men, women, young, old, it's everybody you can think of,'' said Mike Erme, owner of Erme's Distributing in Hermitage. "Once somebody tries them they're hooked.''
What's more, the drink has become a draw for the distributor, Erme said.
"We have people come in here and just order a slushie,'' he said.
Erme is in a unique situation as his business serves as a "super'' beer distributor, which means he supplies beer to other beer distributors. He also counts a number of restaurants among his customers.
It's been a wild ride for the industry he serves as restaurants have gotten hammered in the COVID-19 pandemic.
"I really feel sorry for them,'' Erme said of restaurant owners.
When the virus hit and the state required restaurants to close their dine-in services, Erme said sales at his Hermitage drive-through rose but restaurant beer sales plummeted.
"People were definitely drinking at home,'' he said.
But gains in beer sales at Erme's store didn't offset sales losses at restaurants. But slushies helped
"Thank goodness we had slushies,'' he said. "That really helped us.''
In June, with COVID-19 cases in decline, the state allowed Mercer County restaurants to reopen their dine-in service to 75 percent and beer sales at restaurants skyrocketed. But when the virus surged earlier this month, the state required local restaurants to scale back their indoor dining capacity to 25 percent. Once again slushies sales are helping Erme.
"We get cars backed up almost every day of people wanting to buy them,'' he said.