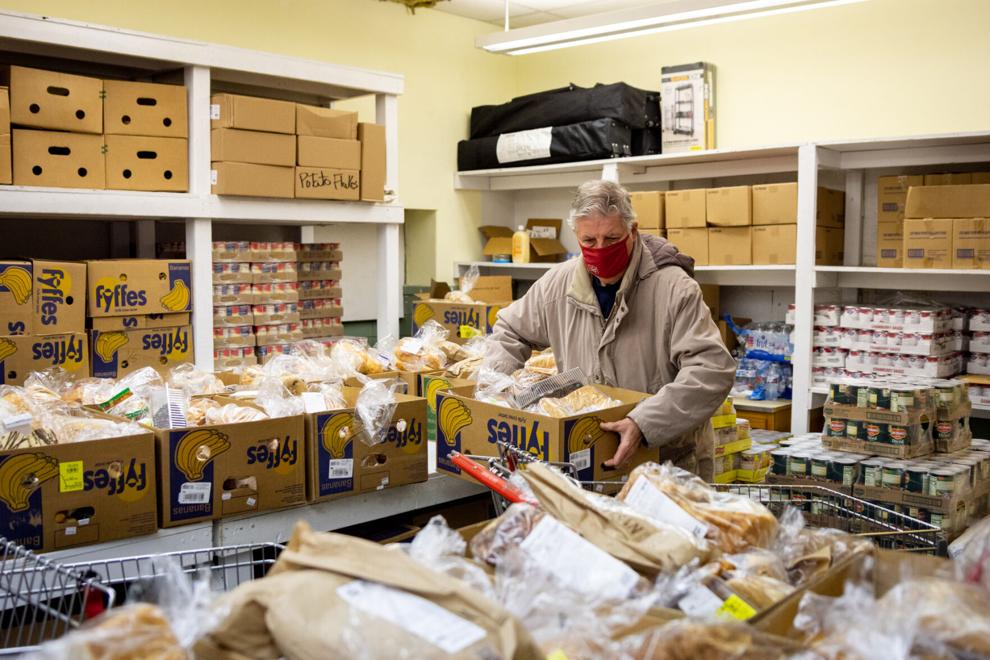 SHARON — In early December, the Sharon Salvation Army Christmas season 2020 Red Kettle campaign last month had raised only about one-third of its $75,000 goal. 
The drive's early days were hampered by low foot traffic, due to the COVID-19 pandemic, at its traditional storefront locations and a shortage of volunteers.
But residents of the Shenango Valley rose to the challenge, and the Salvation Army's campaign almost reached its goal, which will allow it to expand one program and make some building improvements, thanks to an anonymous donor and pandemic aid funding.
The iconic Red Kettle drive, which ran from Thanksgiving to Christmas Eve, raised about $73,000, almost hitting its $75,000 goal. The annual campaign helps fund all of the Salvation Army's programs for the following year. 
The Salvation Army got some help from an online donation button, which enabled people to give from the safety of their homes.
With the donations and additional funding, the Salvation Army will be able to help more people this year, just when it is most needed because of the pandemic.
An anonymous donor pledged a dollar-for-dollar match for all Red Kettle funds raised in the Salvation Army Western Pennsylvania Division, based in Carnegie, near Pittsburgh. The division covers the state as far east as Altoona.
The division is still processing the exact amount, but Childs said he still expects to receive the anonymous donation of about $73,000 — doubling the funds for the organization's operations.
He said the anonymous donation will allow the Salvation Army to undertake building repairs, and resume and expand other programs.
One of those programs earmarked for expansion is the utility assistance program, which helps people pay bills during emergencies. 
Last year, Mercer County Commissioners gave the Salvation Army a $75,000 grant for the utility assistance program. Capt. David Childs, commander of the Sharon office, said the additional funding will allow the agency to help people affected by the pandemic.
The grant came from Mercer County's share of federal Coronavirus Aid, Relief and Economic Security (CARES) Act funds.
The Sharon office will help coordinate the $75,000 in CARES funds to all Salvation Army locations in Mercer County. That includes the two main locations in Sharon and Greenville, which offer full services, and three smaller offices in Grove City, Stoneboro and Mercer, Childs said.
"Generally utilities don't start getting shut off during the winter until you get into February or March," Childs said. "And with some of the moratoriums the government placed on utilities and evictions starting to run out, I think we're hitting this at the right time."
The Salvation Army's rent and utilities assistance program falls under its Emergency Food and Shelter Program, which will use funds from the organization's regular budget. With the program, recipients have to show they merely needed assistance to get them through a difficult time.
"We want to make sure that you'll be okay for months to come or that you don't have unpaid bills going back five or six months, because then are we helping them with a problem or are we merely kicking a can down the road?" Childs said.
With the influx of CARES Act funds toward the program, Childs said the Salvation Army can expand aid to people who might have trouble paying utilities because of the pandemic. That would include people who lost their jobs or couldn't work because they had children learning virtually at home.
The anonymous donation matching funds can go toward resuming the Salvation Army's in-person operations, such as the Sharon location's senior center services and its fresh meals program, Childs said.
The fresh meals program serves about 80 people with a breakfast every Tuesday. Participants can choose bread or pastries, or even vegetables to take home. At the center, Childs said senior citizens can go every Friday for breakfasts and lunches and guest speakers, activities and the chance to be with their peers.
Before the pandemic, Childs said about 130 people were registered for senior center programs and about 70 to 100 people regularly came every week.
"These were the people that we were most worried about through all of this, so we're looking forward to eventually getting these programs re-opened when it's safe to do so," he said.
The pandemic's severity vaccine availability will determine how soon those in-person programs can return, Childs said.
With the anonymous donation, the Salvation Army plans to undertake some repairs to its headquarters on Fisher Hill Street in Sharon.
The headquarters, built as an elementary school, dates back to at least the 1950s. At that age, Childs said parts of the building need expensive repairs. Heating and air conditioning system upgrades in one room could be about $20,000. Heating repairs in another section of the building could run $70,000. 
"It's an old facility and it's at the age where a lot of things begin breaking down," he said.
Like David L. Dye on Facebook or email him at ddye@sharonherald.com.