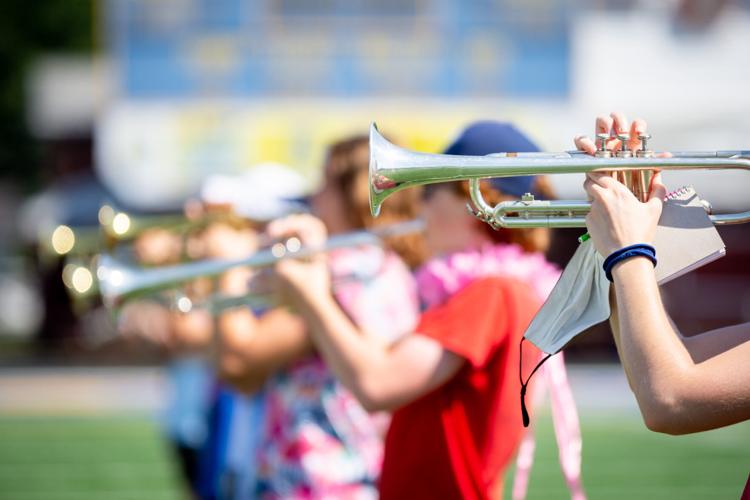 GREENVILLE — It was still mid-morning, but temperatures were already sweltering as Trojanette dance team member Chloe Emmett high-kicked her way across the Greenville High School football field and urged the other dancers to follow her lead.
"People don't realize how hard we work,'' said Emmett, dance team captain, after the practice session.
Emmett and the dance team are part of the Greenville Trojan Marching Band, which began band camp this week in the COVID-19 pandemic's shadow.
Band director Dan Danch said the illness is forcing restrictions and making camp more challenging — he shouts "Social distancing! Social distancing!" at the students if they get too close to one another as they go through their routines.
A look in the stands shows there isn't a parent in sight.
"We asked parents not to come to keep it safer,'' Danch said.
The marching band has 93 members, including 64 musicians, and the flag line, Trojanette dancers, majorettes and drum majors. During band camp, they all have to stay at least 6 feet apart. Band members said they got the message to keep things safe.
"The biggest thing when we're marching on the field is to stay away from other people,'' said Jacob Eppley, a senior. "And we don't move as much as we used to.''
Still, Eppley gets a good workout. A sousaphone player, he has to lug around a 20-pound instrument.
"People don't realize how much it weighs,'' he said.
Despite all of the precautions, band members said they were happy to be back going through their routines.
GALLERY: Greenville band wrestles with pandemic restrictions
"I would rather be here with the guidelines than not be here at all,'' said Jordan Vannoy,'' a senior who plays clarinet and also is a drum major. "It was good to see everybody again.''
The students — who haven't been together in a school setting since March 13, when Gov. Tom Wolf ordered in-person instruction closed to stem the spread of COVID-19 — also shared a spirit of camaraderie as they talked about their experiences during the day.
"Everyone in marching band is so together. We are super-tight,'' said Marley Chapman, a junior who plays the mellophone.
Since visiting each other over the summer was discouraged, band members, and on occasion their teachers, communicated on social media sites.
"It's cool to keep in touch,'' said Chapman. "That way we could put our ideas together.''
One online brainstorming session led to a project, where band members recorded themselves individually playing their instruments. With Danch's help, they spliced the recordings together and posted them online.
Students said they appreciated that teachers and school administrators treated them like mature and responsible people.
"They trusted us enough to know what to do,'' Vannoy said. "That we needed to wash our hands and stay apart.''
In their own way, parents helped band members prepare for the camp.
"They were really excited that we were having band camp again,'' said Arianna Ruiz, a junior drum major.
The band members are excited for the prospect of football in the fall, because their performance during halftime shows are a prime moment of their high school lives.
"We know people are coming to watch the game,'' said Emmett. "But they do watch the show.''
As captain of the Trojanette dancers, Emmett was charged with the duty of making a major change. The troupe's signature routine is a high-kicking, Rockettes-style dance where the Trojanettes lock arms.
With social distancing, a change was necessary.
"I had to find a way of doing it without being that close to each other,'' she said.
As he prepares for the upcoming season, Danch said he acknowledges the constraints administrators are facing in handling large crowds due to the pandemic. He left open the possibility of streaming performances for online viewing.
"We want to perform any way that we can,'' he said.