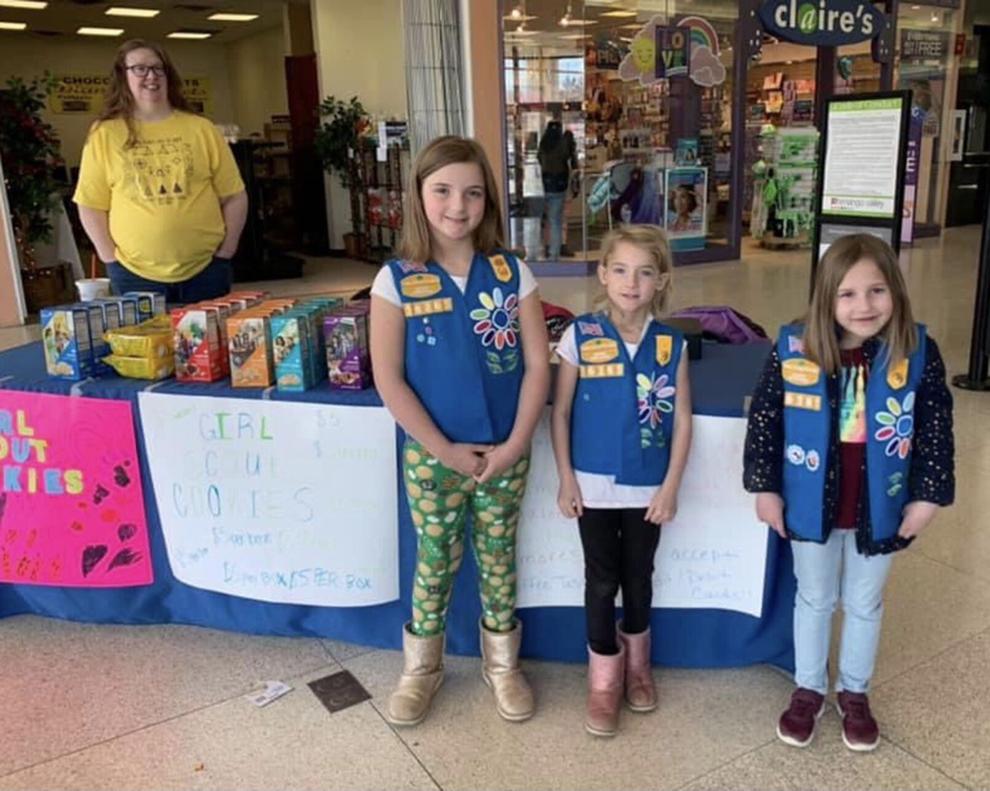 Girl Scout troop Leader Joann Messett has had to think outside the cookie box during this year's annual sales drive.
Messett is leader of troops with girls from Sharpsville, Hermitage, Greenville and West Middlesex. Troop 30325 is comprised of 15 high school sophomores and juniors. Troop 16365 has 21 girls in kindergarten through third grade.
Before COVID-19 hit last year, the troops sold cookies outside local businesses. Messett hopes they can do that again this year.
"I don't know if we'll be able to sell cookies at the places we usually sell at," Messett said. "We have to do some out-of-the-box, creative, thinking, like a drive-through cookie booth."
For the last three to four years, the troops sold cookies in Sharpsville. Now cookie hunters will see them in the Hermitage and Sharon area as well. The girls will set up tables and cars as customers drive up for leaders to bag up the orders. In some instances, the troops can take credit cards.
"It's been successful for my high school girls," Messett said.
She plans to hold sales at at several sites near Hermitage businesses at various times
Outside of the drive-throughs, people can order cookies online. All of the girl scouts have a troop-specific digital cookie link that accepts orders and payments. Customers can set up contactless delivery within a week.
"The option is becoming more popular because of COVID," Messett said. "Theres a lot of different options. Girl Scouts really came up with a lot of creative ways to help the girls reach their goals.
To buy cookies online, people can visit the www.girlscouts.org website, enter their Zip code and choose the troop number.
Cookie sales can help troops pay for activities such as attending Girl Scout camp or taking trips. The local troops had planned an educational trip last year to Washington, D.C., but it was canceled because of the pandemic.
"My daughter was certified in Level 1 scuba diving when she went to Girl Scout camp," Messett said. "They can learn kayaking. It's not just about crafts. They can learn outdoor skills and sports."
Many events have been cancelled due to the pandemic, and troops have been forced into virtual meetings, which have been a challenge, Messett said.
Last fall, Messett joined forces with Buhl Park in Hermitage to hold outdoor activities.
"We taught programming to girls in the younger troop so they could work on some of their badges outside," Messett said. "So it was better accommodations than meeting indoors."
With older scouts, organizers have put regular activities on hold because those girls traditionally perform community programs.
"With things shut down, we've been a little slow," Messett said. "It's been challenging when providing materials for the girls and getting supplies to the girls."
For Christmas, the troop made three Christmas ornaments, so Messett put together 63 bags containing supplies to make the ornaments for the scouts to work on at home.
During the pandemic, Messett said she has been trying to find guest speakers to do presentations to the girls online to keep them active yet safe.
This year the troop has held no food drives and hasn't been working at food pantries.
The big push right now is increasing Girl Scout cookie sales, Messett said. 
The troops are now taking live and online orders through March 21. Some girls from the troops still sell door-to-door, usually in their own neighborhoods.
"They wore masks and recorded sales in their phones," Messett said. "A lot of neighbors were receptive to that. Some just read through the storm door and communicated through that."
Messett said the digital link has been a huge hit. 
"The digital link – people are taking greater advantage this year," Messett said. "I think that's going to be a huge boost to their sales this year."
Follow Melissa Klaric on Twitter and Facebook @HeraldKlaric, email: mklaric@sharonherald.com