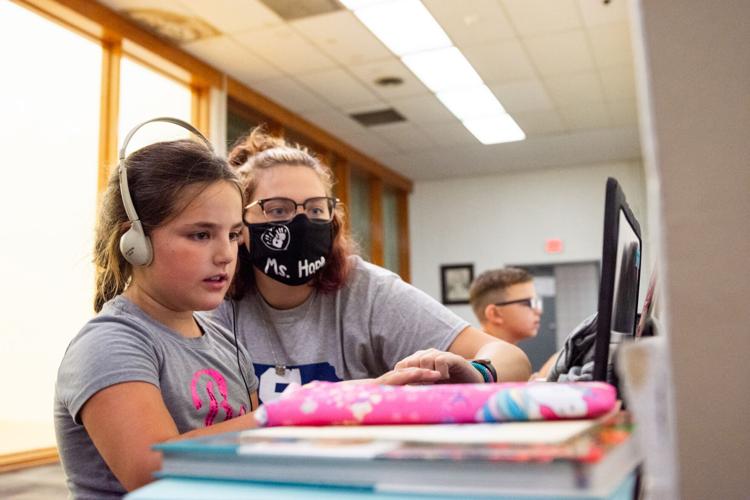 SHARON — After finishing his classwork for the day, Zuri Nze spent some time Wednesday afternoon watching videos on his Chromebook.
Like other children across Mercer County, the 5-year-old kindergartner from Sharon is learning digitally instead of in a classroom, along with his brother Sankofa Nze, 9, in fourth grade. But even if the two boys aren't in a Sharon school, they are still in a classroom through the Buhl Child Development Center's virtual school age program.
Sankofa said he previously took classes at the center in 2018, then participated in the center's summer camp in 2019. Now through the child center's new program, Sankofa is learning vocabulary and math virtually under the supervision of an instructor, along with some free time for other activities.
"I do miss some of my friends from school," Sankofa said.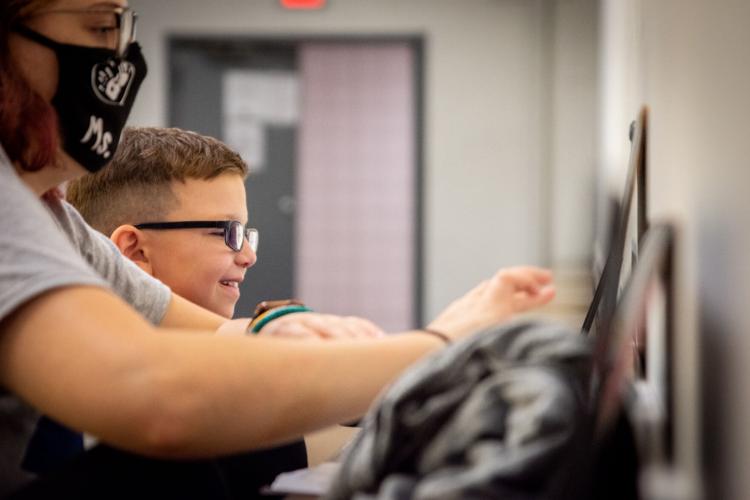 Located in the Buhl Community Recreation Center in downtown Sharon, the Child Development Center will mark its third year of operation next month. Normally catering to children through its daycare and after-school programs, the Child Development Center's Director Rebecca McCallister said the virtual program had its first day Monday.
Earlier this year, the state prevented children who were being schooled virtually from enrolling in daycare programs, which could make things difficult for parents who could return to work but had young children learning at home. Those restrictions were lifted by the Pennsylvania Department of Human Services in August due to the ongoing pandemic, McCallister said.
"As soon as the ruling came out, I spoke with Jason Kmick and we started coming up with a plan," McCallister said, referring to the Buhl Club's executive director.
Using a space just around the corner from the rest of the Child Development Center, the students can be distanced appropriately while having a relatively quiet area for them to focus on classwork.
VIDEO: Rebecca McAllister, Child Development Center director, talks about the Buhl Club's virtual classroom for students attending school remo…
A couple new instructors were hired just for the virtual program, with the adults available to help make sure the students are signed-in or logged-on to whatever online platforms they needs. The instructors can also help the students with their classwork or homework when needed, McCallister said.
Another room received additional renovations to become more of a "classroom," which the virtual students can also take advantage of when they're not online, as well as those students who are enrolled in the Child Development Center's afterschool program, McCallister said.
To help with social distancing, virtual and afterschool programs were capped at 20 students, McCallister said.
"We have about half who are here all day for the virtual learning, and about half who get here after school," she said.
Like schools that have opened for in-person instruction, there are other safety measures in place to prevent the spread of COVID-19 at the Child Development Center. Children's temperatures are taken when they enter, COVID-related questions are asked, staff and students wear masks, and the area is sanitized regularly, McCallister said.
The students are also able to take advantage of the Buhl Club's other offerings, such as trips to the club's pool twice a week, McCallister said. One student, Alec Pinch, 9, of Greenville, spent some time in the adjacent racquetball rooms courts off the main learning area after he completed his schoolwork.
"My parents play racquetball with me at home," the fourth-grader said.
Prior to the virtual program, Alec participated in the Buhl Club's gymnastics and basketball programs, so he was already familiar with the center when the virtual program started. However, Alec said he liked learning online, particularly science, math and history, as well as having instructors around in case he needed assistance.
Alec's mother, Kayla Johnson, is a preschool teacher at the Child Development Center, as well as a dance and gymnastics instructor with the Buhl Club. For her, having the virtual program available at the Buhl Club is helpful for both her and her child.
When schools were first closed earlier this year, Johnson said the situation was "super stressful," especially for a child who may not fully understand what's going on — this was further compounded when the Buhl Club also closed for a time, which meant the family couldn't take advantage of the club's physical activities.
However, Johnson said Alec has adjusted very well to learning online, and he enjoys having those physical activities available to him through the day. For Johnson, it's also convenient knowing her child is being cared for in a supervised place with a schedule very similar to hers.
"It's a relief, it's a huge relief for me as a parent," Johnson said.
Like David L. Dye on Facebook or email him at ddye@sharonherald.com.