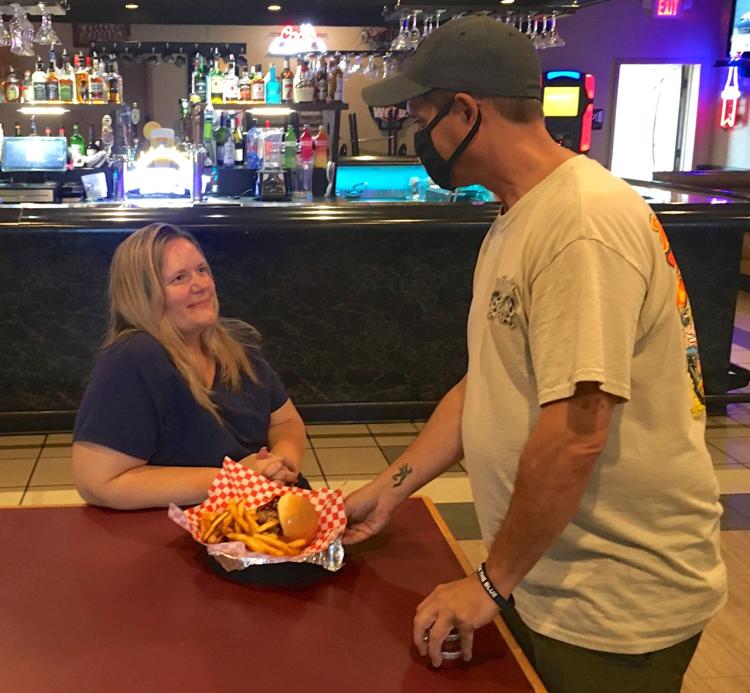 HERMITAGE — After dealing with delays in construction and inspections due to the coronavirus pandemic, Smoky Martins BBQ was able to have its full opening in mid-June
Owner Ron Martin said the customer response was "great" at the beginning, with about 180 orders a day, of which 50 or so were takeout. Then the state limited restaurants to 25 percent occupancy, and orders dropped to about 75 orders, of which 20 to 30 are takeout.
Though other factors such as the construction of a roundabout out front on East State Street may be affecting customers, Martin said he thinks the reduction in occupancy discouraged people from going out or ordering at all.
"I think it actually scared people away, because you had the ones who basically didn't care, and then you had the ones who decided they weren't going out anymore until this was all over," he said.
Fellow Hermitage business owner Margaret Test of Art Frame and Gallery faced a similar situation, when her business had to close for a few months due to the pandemic. Business in June and July has picked up compared to last year — possibly due to the backlog of customers, although Test said she is still going to feel the economic impact of the pandemic.
Even though she has since reopened her business, Test said she is open at reduced hours and by appointment when necessary.
"I'm never going to make up for those three months that I lost," Test said.
However, there is one source of relief for some of Hermitage's local businesses.
Smoky Martins BBQ and Art and Frame Gallery are two of six entities that received assistance from the city's Revolving Loan Fund. The others are Toss'd Italian Bar and Grille, Laurel Technical Institute, Pita: A Sandwich Shop, and the nonprofit Community Hope Investment Partnership for a building it build on speculation for resale at the LindenPointe business park.
The Revolving Loan Fund is a program that provides funds to local businesses, which lets them buy property or equipment to improve themselves while improving the City of Hermitage overall.
In response to the business closures and other impacts of the coronavirus pandemic, the Hermitage Board of Commissioners voted twice to defer load payments borrowers owe the fund. The first deferment was approved in March for 90 days, with the expectation that conditions would eventually improve.
The commissioners approved a second deferment for another 90 days at their July meeting, with the next payment due Nov. 1.
Martin said Smoky Martins BBQ used revolving loan funds on the restaurant's hood work and return-air systems that were needed because of the wood-fired pizza oven and smoker used to make certain foods, such as a series of pizzas that have either brisket, pulled pork or BBQ chicken pizza.
For Test, she's used the loan fund twice, once in the mid-'90s for remodeling and again in 2017 to pave the business' parking lot. When notified by the city that the loan payments would be deferred, Test called the assistance and show of support "great."
"I didn't even ask, the city did that on their own," Test said.
Unlike the other businesses in the Revolving Loan Fund program, Pita: A Sandwich Shop was in a unique position — while Smoky Martins was caught in the process of trying to open, Pita is still in the process of renovating and hopes to open later this year. Abdou Saada, who co-owns Pita with his wife Elyse Saada, said the planned opening moved from March to April, now October.
Located across East State Street from Kraynak's, the building is undergoing a "complete overhaul," including adding square footage, a four-season patio and plumbing and electrical work, made possible through the loan fund. About 15 people will be employed when the business opens its doors, Abdou said.
"We're planning to be family-oriented and eventually add a recreational area, but with COVID-19 and the way things are going, I think we're going to avoid those kind of gatherings at first," Abdou said.
Though the couple also own businesses in New Castle and Shenango Township, Lawrence County, to help stay afloat, not being able to open the Hermitage location — along with the difficulty in getting construction and inspections underway — is still difficult economically. This is why Abdou said the deferment on loan payments has helped "substantially."
"We appreciated that the city of Hermitage did that for us, and putting their local businesses before anything else," Abdou said.