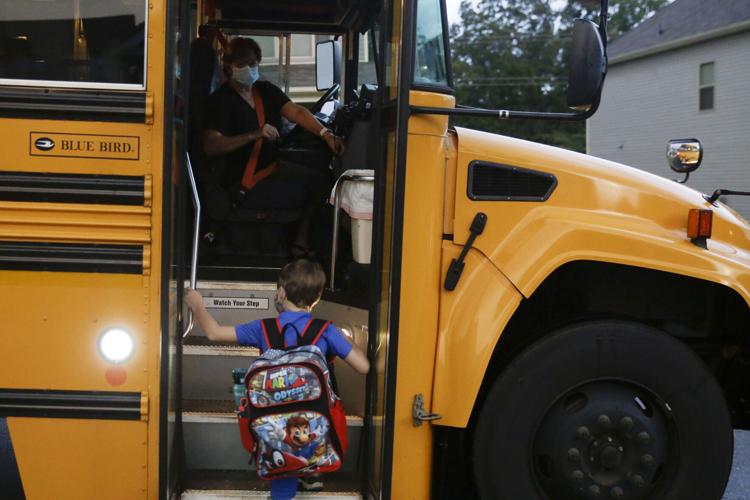 HARRISBURG — The state Department of Education on Monday advised schools in 41 of the state's 67 counties to consider hybrid or remote learning and recommended that schools in Union County open school entirely online due to a recent coronavirus outbreak surge.
The recommendations came in new guidelines linking Department of Health data on coronavirus in the community to the decision of how schools should operate at the beginning of the 2020-2021 school year.
Education Secretary Pedro Rivera said the guidance is a recommendation and that state officials believe the Legislature would need to approve a mandate.
Under the state's metrics, school districts in 25 counties have low levels of community transmission and can consider in-person instruction.
Forty-one counties have moderate levels of coronavirus transmission and should be considering a hybrid approach to learning or remote-learning.
That leaves Union County as the only county in the state with such widespread community transmission of coronavirus that state officials are suggesting that schools use remote-learning, Health Secretary Dr. Rachel Levine said.
Levine acknowledged that Union County's outbreak has been mainly at the federal prison, USP Lewisburg — but she said that because many prison employees live in the community, there remains a potential community threat. The U.S. Bureau of Prisons has reported 54 COVID-19 cases at the federal penitentiary in Lewisburg — 52 among inmates and two among staff. Since Aug. 1, Union County has seen its total number of cases increase by 73 from 165 to 238, according to the state Department of Health.
Jason Gottemsan, a spokesman for the House Republican caucus, said that the recommendation only aggravates the confusion facing families with children preparing for school.
"Children, parents and teachers across Pennsylvania asked for guidance and support months ago to ensure schools reopened safely and stayed open," he said. "Instead, they were given this late-in-the-game, patchwork approach to closing schools that provides no predictability or assurances; not for children, not for working parents, and not for educators."
Nathan Mains, president and CEO of the Pennsylvania School Boards Association, said the new recommendations were "needed" and should be "helpful."
The timing of the release — two weeks before most schools are due to reopen — is less helpful, he said.
"Their plans have been discussed and researched over the summer in numerous cases, districts have publicly announced the instructional models available to students," Mains said.
Levine said the new guidance is intended to be "another tool in the toolbox" to help local officials make informed decisions.
"We remain committed to helping our school leaders make thoughtful decisions about the 2020-21 school year, while helping Pennsylvania stem the tide of COVID-19 infections in our communities," said Levine. "From the beginning of this pandemic, we have said that decisions would be based on science and on data. These recommendations use that data to help schools make local decisions."
Under the proposal, based on the data from last week, schools in Montour, Snyder, Somerset, Venango and Warren counties would be among those in which the state's data suggests in-person instruction is appropriate.
Cambria, Crawford, Lawrence, Mercer and Northumberland county schools would be best-suited for either hybrid-learning with partial in-person classes and partial online, or full remote learning, based on last week's data, according to the PDE data.
The state data shows that COVID-19 spread in Union County was "substantial" last week, meaning the county's school districts should operate only online.
The data and guidance will be updated each week, according to PDE.
Rivera said that state officials don't think schools should be changing their plans for instruction week-by-week in response to the changes in the data. Instead, officials should probably consider at least two weeks of data before making changes.
Levine added though that if there is a spike in coronavirus cases, the state would more quickly look to intervene to suggest that schools be closed.
The state directed school districts in June to develop health and safety plans explaining how they planned to reopen based on federal and state safety guidelines.
School districts were told to approve the plan in a public vote and then post the plan for public scrutiny before schools resume.
Rich Askey, president of the Pennsylvania State Education Association, had complained to lawmakers that too many school districts were crafting reopening plans that didn't seem to take enough steps to protect students and staff.
He welcomed the new guidance.
"State government has issued helpful guidance on a number of health and safety issues that schools can use to guide their reopening plans," Askey said. "But we still need state directives that make it absolutely clear that, in addition to wearing a mask, everyone must maintain 6 feet of social distance and when a school should close if a student or staff member tests positive for COVID-19."
Matt Stem, PDE's deputy secretary for elementary and secondary education, said that state officials believe that the districts' health and safety plans should include measures spelling out how they will educate their students, whether it's in-person, using a hybrid plan or online.
Levine said the state's metrics are based on this public health data and threshold measurements from the federal Coronavirus Task Force.
She said the metrics describe a county as having low-levels of community transmission if there are fewer than 10 cases per 100,000 people over the previous week and less than 5 percent of coronavirus tests come back positive.
A county is considered to have moderate transmission if there are between 10-100 cases per 100,000 people or the test positivity rate is between 5 and 10 percent.
If a community has more than 100 cases per 100,000 population over the previous week and a test positivity rate higher than 10 percent, it is considered to have substantial community spread.
Union County had 185.3 people per 100,000 test positive for COVID-19 in the last week, and 11.8 percent of COVID-19 tests came back positive, according to the Department of Health. About three-quarters of Union County's increase was attributed to the federal prison, according to U.S. Bureau of Prison and state Department of Health data.
The next closest county was Delaware County, which had 78.6 people per 100,000 test positive last week.
Fayette, Indiana, Mercer, Lancaster, Cambria, Northumberland and Allegheny counties were the only other counties in the state which had more than 50 people per 100,000 residents test positive for COVID-19 last week, according to the Department of Health.