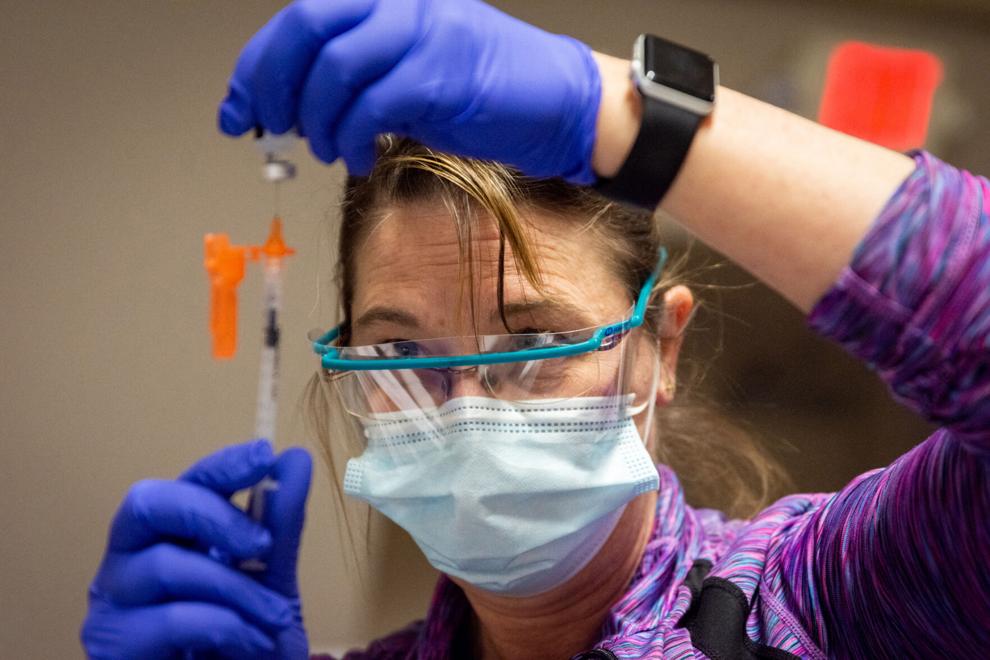 Crushing demand for COVID-19 vaccines is so severe that Sharon Regional Medical System is logging 300 calls an hour from people clamoring to get the shot.  
"We have a waiting list full of names that's 40 pages long,'' said a hospital representative who asked not to be identified. "We have people calling from Beaver County wanting to register with us.''
With Pennsylvania in Phase 1A, the first level of four, of its COVID-19 vaccination rollout procedure, hospitals and pharmacies have begun accepting appointments for vaccinating people other than health-care workers and long-term care home residents and staff.
Senior citizens and people with high-risk medical conditions — including heart disease and type 2 diabetes — can now receive one of the two federally approved vaccines, from Pfizer-BioNTech or Moderna. However, the state's distribution has been sluggish, and Gov. Tom Wolf said Tuesday that Pennsylvania has received inconsistent supplies from the federal government.
On Tuesday, Wolf said the state needs to cover four million people with the vaccine. Since both vaccines require two applications, that means eight million doses. But the state has received only 1.5 million doses from the federal government, and has dispensed only some of that amount.
At most locations, people will receive the shots on a first-come, first-served basis. People are finding there's a big difference from being registered to receive a vaccine shot versus being scheduled or having an appointment, said State Rep. Mark Longietti, D-7, Hermitage.
"Being registered means your name is on a list of those wanting to get a shot,'' Longietti said. "But you only get the shot after a healthcare provider puts you on a schedule for a day and time to get it.''
Pharmacy distribution
Hospitals began giving vaccinations last month to health-care workers, and long-term care home residents and staff. Earlier this month, the state expanded the program to include seniors and people with high-risk co-morbidities, and allowed pharmacies to dispense the medication.
That includes Greenville-based Walberg Family Pharmacies, where eligible recipients can can register on the chain's website at walbergfamilypharmacies.com.
The website will direct residents seeking vaccines to an appointment link — when the chain has more vaccines available, said owner Bretton Walberg said.
Walberg Family Pharmacies — which operates about 12 locations, including five in Mercer County — requested vaccines about two weeks ago and received the first batch Friday morning.
That raised a second problem. Walberg said none of the chain's locations were conducive to hosting a COVID-19 vaccine clinic.
Since Walberg and his wife are members of First Presbyterian Church in Greenville, he arranged for Walberg Family Pharmacies to hold its first vaccine clinic Saturday at the church.
About half of the chain's locations are closed on weekends, so Walberg could call pharmacy staff in for the clinic. Church members volunteered to perform tasks such as directing traffic and guiding people through the church, which allowed for better social distancing than would have been possible at the pharmacies, Walberg said.
Those receiving vaccinations faced about an hour's wait time, with many people coming about 40 minutes early, and a 15-minute observation period immediately following the vaccination.
Walberg held a second clinic Monday morning at the church. For the second session, the wait time was down to about 30 minutes, Walberg said.
"There were some long lines but we had five pharmacists giving vaccinations, so every minute there was about three patients getting vaccinated," he said.
To get vaccinated, patients who qualify must register using a link on the chain's website using a HIPAA-secured system, which will then email a confirmation to the applicant.
The confirmation includes a specific vaccination time. Walberg said it doesn't help, either for the clinic staff or the person getting the vaccine, early.
"When you're scheduled for an appointment, then we have a dose waiting for you, but coming in an hour early is not beneficial," he said.
Walberg said the pharmacy's first 2,000 Moderna doses went quickly, but he is preparing for a third clinic, as soon as he gets more of the vaccine. He requested 6,000 doses for the week of Jan. 25, but no word had been received as of Tuesday.
Once the vaccines are available again, Walberg Family Pharmacies will share updates will be shared to the company's website and Facebook page to alert residents, Walberg said.
While individual vaccination centers plan to inform people using websites and social media, the state has established a clearinghouse for people to apply online.
In the hospitals
AHN Grove City hospital has organized its own clinic. People can register for appointments at the mychart.ahn.org website. Hospital staff calls approved applicants when time and doses are available.
Strategic Communication Advisor JoAnne Clobus said the hospital faced a challenge in finding an appropriate space for the vaccine clinic.
Initially, the hospital established a clinic in the former space that previously housed a medical library and was later used as a marketing space. Though the clinic has access through an exit directly to the outside, Clobus said the space itself was not ideal.
There wasn't sufficient room for patients and those staffing the clinic — two vaccine dispensing personnel, a clinical member overseeing the observation period, and an employee handling greeting patients and reviewing paperwork — all of whom were hospital employees with daytime duties aside from the clinic, Clobus said.
The hospital is also in the midst of transitioning into the Allegheny Health Network's electronic health records system, which meant the hospital's larger conference rooms are dedicated to staff training and could not be used for vaccinations.
Clobus said the hospital found a solution by going off-site. It will launch a new clinic Friday at the Pine Township fire department on state Route 208 in Grove City.
Sharon-based Primary Health Network is designated as a vaccination site. In a press release, PHN representatives said staff is working to schedule vaccination requests and obtain vaccinations.
Those interested in receiving the COVID-19 vaccine through PHN are likewise directed to the company's website, https://primary-health.net.
The new location is one of four sites across Mercer County which were selected as a vaccine clinic by Mercer County Emergency Management, and will allow for a drive-through clinic with more space and better access for patients, Clobus said.
State offers application opportunities
Joan Bradbury, executive director of the state senate's Health and Human Services Committee, recommends people ind out their eligibility, pre-register for a shot and find vaccine providers in their county through the state's Health Department website.
"We're trying to streamline the process offer better information on where vaccines are available,'' Bradbury said. 
Michele Brooks, R- 50, Jamestown, is chairwoman of the Senate's Health and Human Services Committee. She recognizes that many seniors may not have access to a computer or even know how to use it to find vaccine information.
So the state is working on alternatives.
"We're working with groups like Area Agency on Aging to get the word out to seniors where vaccines are available,'' Brooks said. "We're trying to make this as accessible as soon as possible.''
Like lawmakers throughout the state, Longietti said his office has been overwhelmed with calls from those looking to get the vaccine.
"We try our best to give them the help they need and guide them through the system,'' he said.
Mercer County officials are also looking to establish locations for vaccinations, said Public Safety Director Frank Jannetti. The specific sites have not yet been determined.
"We're working hand-in-hand with healthcare systems in the county on where's a good place to locate these sites,'' Jannetti said.
As far as the public is concerned, the vaccine can't get here quickly enough.
With vaccination recognized as the most reliable way out of the COVID-19 pandemic and a return to normalcy, people are anxious to get it in their arms. The Sharon Regional representative said people have called as many as five and six times.  
"That's clogging up our registry phone lines,'' the hospital representative said. "It would help if people would just call and register one time.''