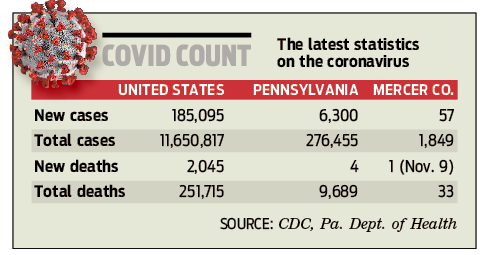 MERCER – Working under a Nov. 30 deadline to spend almost $10 million of federal COVID-19 relief money, Mercer County did that, and then some.
The county received a grant of $9,881,956.45 under the federal Coronavirus Aid Relief and Economic Security Act that must be used to address the economic impacts of COVID-19. If the money is not disbursed by Nov. 30, the state can reclaim it and allocate it to other counties.
But county officials have managed to overspend the grant by disbursing more than $13.6 million for COVID-19 related expenses, keeping in mind that the state could reallocate other counties' unspent funds to Mercer County.
Fiscal Administrator John Logan said county officials has been managing that opportunity.
The county issued funds for needs like public safety employees including corrections officers in the jail or sheriff's deputies, which was permitted under the CARES Act, Logan said.
With the expectation that the county would spend more than the grant, it created a pool for its own expenses under the grant.
"If we overspend, we just decrease the county's reimbursement pool," Logan said. "The county will put it back."
Commissioners overspent by about $3.7 million, so if they do not receive more money from the state, the county will have to draw from the reimbursement pool.
County officials are waiting for Dec. 1 — the earliest date they could receive word — to see if Mercer County will get additional COVID-relief money from the state.
CARES Act funds can be used for direct COVID-19 response, assisting businesses and municipalities, providing behavioral health and substance-use disorder services, funding nonprofit assistance programs or improving broadband internet coverage to unserved or underserved areas.
County commissioners have approved spending $993,000 on 132 non-profit and for-profit small business grants, $5,872,415 on grants to municipalities and schools, $1,173,265 on providing broadband services to unserved or underserved areas in the county, and $5,583,197 for county expenses. The total amount approved was $13,621,877.
"We don't really know how this program is going to work in total," Logan said. "We were told if there was unspent money, it could get reallocated. We don't know what they're going to do with that."
Another requirement came from the federal government, to account for all the money by Dec. 30.
"No way could we make all the payments by December," Logan said. "Now I know that we've used all the money."
Hopefully, Logan said, the county will get more funding from the state to support local businesses.
"I want the public to know that we're managing the money for the benefit of the community," Logan said.
Commissioner Matt McConnell said the commissioners have been very careful in getting the CARES funds into the hands that deserve it.  
"I hope it was as fair as possible and I think it was," McConnell said. "We've been receiving numerous thank you cards."
Logan said officials were glad to be able to support businesses in a time of need.
"We've got a long way to go," Logan said. "(Businesses) have to work hard to stay agile and healthy."
Follow Melissa Klaric on Twitter and Facebook @HeraldKlaric, email: mklaric@sharonherald.com