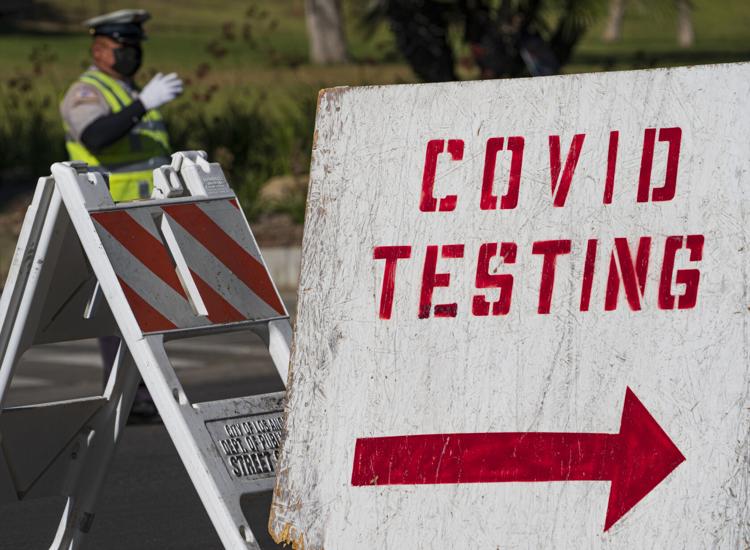 HERMITAGE — The state is establishing a COVID-19 testing site for five days later this month at the Shenango Valley Mall, in the now-closed Sears Auto Service Center.
Testing is free and will be carried out on from 9 a.m. to 6 p.m. Dec. 18 to 22, on a first-come, first-serve basis. No appointment is required. Patients do not have to be displaying COVID-19 symptoms, but they must be 3 or older.
"Due to the rise in our (county) numbers, we were one of the counties selected to get a testing site," said Frank Jannetti, Mercer County director of public safety. "They're trying to set up a center in 61 of 67 counties, and we're at the top of the list."
The state Department of Health is paying for testing to be administered by AMI, a private company.
AMI works with states, agencies and companies to deploy broad-based COVID-19 testing in any building, drive-through or walk-up delivery setting.
For the Mercer County testing, subjects will drive into a bay, and AMI staff will perform a mid-nasal swab test.
Jannetti said the state has assured the county that most results are back within three days.
"It's going to help us identify who has it and who doesn't," Jannetti said. "I think some people want to get tested and haven't had the opportunity."
The company can test about 450 people per day.
"It could help in the mitigation process because if someone knows they have it, they'll stay home," Jannetti said.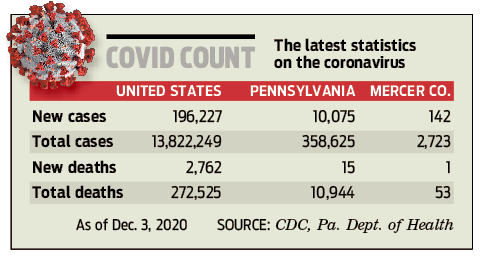 New cases surge locally, statewide, nationwide
COVID-19 surge numbers notched single-day records on the state and local levels Wednesday.
Mercer County had 142 new cases Wednesday, eclipsing the previous record of 119 set on Nov. 30. With 10,075 new cases, Pennsylvania broke a record of 8,958 from Dec. 1. 
With 196,227 new cases Wednesday, the United States came close to breaking the Nov. 20 mark of 192,673. The nation had 2,762 fatalities, the fourth-highest single-day death toll of the pandemic, topped only by April 21, with 2,819; April 6, with 3,156; and April 15, with 6,489.
Hospitalizations rise in state
Hospitalizations, intensive care treatment and ventilator use for COVID-19 patients in Pennsylvania all continued to rise Wednesday as hospitals came closer to capacity in the late-year pandemic surge.
Pennsylvania hospitals had 5,071 COVID-19 patients, with 1,065 people receiving intensive care treatments. The previous day, those figures were 4,982 and 1,048 respectively.
The state has 588 patients on ventilators, 23 more than a day earlier.
Overall ventilator use is at 30%, with 1,585 out of 5,276 total available devices in use.
Pa. capitol complex to close
The Capitol complex in Harrisburg will close to the public until further notice because of a statewide surge in coronavirus infections, officials said Thursday.
The closure order takes effect Monday and will apply to all interior venues in the Capitol. Rallies, tours, choir performances, receptions and other public gatherings will be canceled, the Department of General Services said. 
The governor's office and General Assembly will continue to operate, with access limited to employees and others with credentials, the agency said.