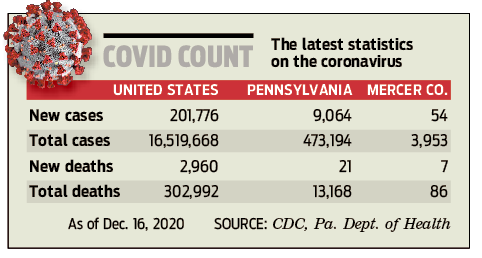 The state Department of Health mobile COVID-19 testing program, entering its third week, will open a location Friday for five days in Hermitage.
Area residents will be able to take tests from 9 a.m. to 6 p.m. from Friday through Tuesday, at the now-closed Sears Auto Center building, 3300 E. State Street in front of the Shenango Valley Mall.
The state can test as many as 450 patients per day, with testing offered at a first-come, first-served basis. Patients must be 3 or older. Tests are free and people do not need to have any symptoms to be tested. 
The Pennsylvania Department of Health recommends that people who are tested quarantine while they await results. Test results will be available in two to seven days.
State Health Secretary Dr. Rachel Levine said the pop-up tests will allow the state to better determine the pandemic's spread.
"Over the past several weeks, we have seen a rapid increase of positive case counts reaching record-high levels, which gives us significant cause for concern," she said.
The state is offering the tests in Cambria, Franklin, Luzerne and Montour counties from Dec. 18 to 22, the same time as the Mercer County pop-up site is operating.
COG to close offices
due to pandemic
In response to the pandemic, the Mercer County Regional Council of Governments will close its administrative office in Hermitage, effective Monday.
People who want to buy a pass for Mercer County Community Transit bus service or add money to their existing pass accounts during the closure should call the office at 724-981-1561 for assistance. The transit service will continue, except for the Express Route, which will be suspended.
Riders can reload their smart cards by paying cash on the bus.
For additional information call the office, see the website at mcrcog.com or use the council's "My Stop" app.
State asks college students to stay home after break
The state is asking colleges to keep students home after the holidays out of concern that a return to campus will exacerbate the COVID-19 surge that is already straining hospitals.
"We are seeing an alarming increase in COVID-19 cases and hospitalizations, and these trends are expected to worsen in January at the time when students normally return to campus," said Acting Secretary of Education Noe Ortega. "By delaying students' return to campus, our institutions of higher learning can help slow the spread of the virus, help businesses to remain open, and protect regional health care systems," Ortega said.
In a bid to slow the surge, last week Gov. Tom Wolf banned indoor dining for three weeks and closed businesses such as gyms and casinos. Wolf also banned scholastic sports and limited indoor gatherings to 10 people and outdoor gatherings to no more than 50 people.
While Pennsylvania is already experiencing a surge in COVID-19 cases, modeling projects the number of new cases, hospitalizations, and deaths will not peak until January and February. The pandemic has worsened since students returned to campus in the fall with the number of new daily cases about 10 times higher than in September.
Crowded campuses have been shown to spread the virus. For example, the number of cases among 19- to 24-year-olds in northcentral Pennsylvania spiked from 7 percent in April, when students were not on campus, to 69 percent in September, and in the northeast from 6 percent in April to 40 percent in September.
Pennsylvania hospital capacity report
The state reported that there were 6,346 people hospitalized with COVID-19 on Wednesday, including 1,238 people in intensive care and 740 on ventilators. Just over 33% of the ICU beds in the state are now in use.
Statewide, 1,931 out of 5,529 ventilators — 34.9% — are in use.
"Our current infection of COVID-19 is placing a significant strain on our hospital capacity and is a reminder to us all of our role in protecting our health care system," Levine said. "Our hospitalizations are more than double what they were in the spring and more than one-third of all ICU beds in the state are being used by COVID-19 patients," Levine said.
CNHI STATE REPORTER John Finnerty contributed to this report.