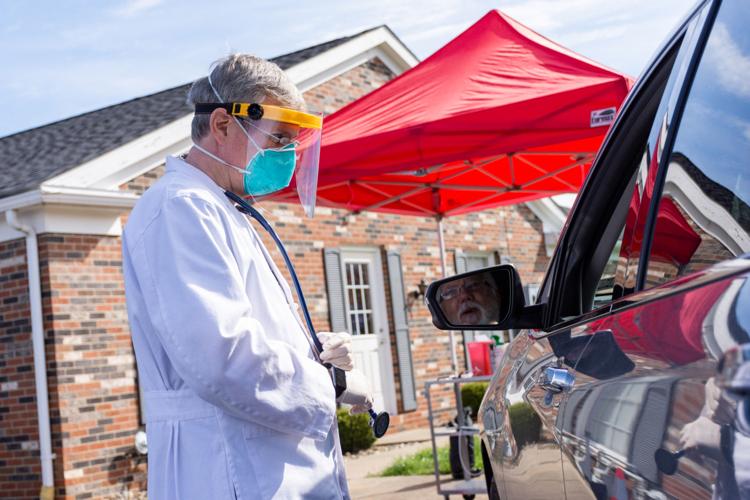 HERMITAGE – Dr. Matthew Crago thought it was crazy when his wife suggested he see patients out in the office parking lot.
But it turned out to be a great idea.
During the COVID-19 crisis, Crago, a family practitioner, at first had trouble getting his patients to come into the office.
"I said 'People are afraid to come in,' and my wife said, 'Why don't you go to them? Could you just see them in the parking lot?' and I said, 'What are you crazy?'" Crago said. "'I guess that's actually a good idea. We could try that.'"
So Crago created "the car visit."
"They call, make an appointment and we say, 'OK, we'll see you in the parking lot,'" Crago said. "We have cones set up. The girls tell them to pull up to the cones. When they pull up at the appropriate time, they give us a call just to let us know they're there."
The visit is conducted like a regular visit inside the office, Crago said.
The patient calls in and the nurse asks them why they're there, what's going on and goes through their medication list to make sure they're up to date.
"They get the story, create a note, then I review things and go out and we have our chat and check things out and do what we do in the exam room," Crago said.
The car or remote visit is a way for Crago to also see sick patients.
"We don't want to contaminate the office and we want to make well people feel comfortable coming in here," Crago said. "So we haven't had a sick person in this office in three weeks."
There are signs in the office warning that if you are sick, do not come into the office. Patients are directed to call and arrange a car visit. 
"We had to get creative," Crago said. "It's a situation where we're doing whatever it takes to make patients feel comfortable coming in because a lot of people are just terrified by this whole COVID-19 thing. People are fearing leaving their homes. Although we are considered essential, everybody's encouraged to continue to follow up with their physicians, but a lot of people were fearful to do so."
GALLERY: Doctor is seeing patients in his parking lot – even in the rain
Crago said it's a tough situation because there is no cure or vaccine and the best way to keep safe is to stay as healthy as possible.
"An ounce of prevention is a pound of cure," he said. "There's no cure so we need tons of prevention right now."
So Crago said it's important to make people feel comfortable during consultations.
"If they don't want to come in the office, there's telemedicine visits," Crago said. "We've got that set up so they can access us through their smartphone or computer."
And Crago said his employees are "over-the-top" with sanitizing.
"The waiting room gets wiped down constantly between every patient," he said. "The exam rooms are sanitized, all the surfaces are wiped down and sprayed."
Making the patients comfortable enough to consult is a way of supporting the family physician as he is supporting the patient, Crago said, because a lot of family practices are now shut down.
"It's just doing what we can to be there for our patients and allowing our patients to be here for us because we're sort of all in this together," Crago said. "If we're not here to take care of them, that's not good. If we're not here to allow us to care for them, we may not be here for them ... when this is over. So we're supporting each other because a lot of offices are not able to sustain this."
Crago estimates that his office is seeing about four to six people a day in car visits.
"When it's raining, they're still coming out," office manager Debbie Cross said. "Our clinical staff and Dr. Crago are working hand-in-hand."
Crago said people were initially afraid to come in. In response, the office sent out a mailing explaining the actions it is taking to keep patients safe. That worked, and people are now rescheduling their appointments.
With rising concerns about the economic impacts of COVID-19, he said it's important that the office's staff — a nurse practitioner and six other employees — are still on the job.
"It's worked out pretty well for us," Crago said. "We're able to keep people here. We still have people working. We're keeping the lights on and we're going to try to see this thing through." 
Follow Melissa Klaric on Twitter and Facebook @HeraldKlaric, email: mklaric@sharonherald.com