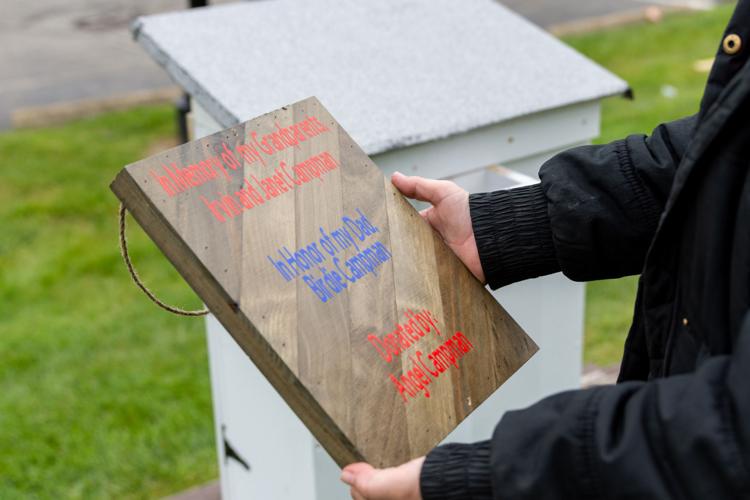 "If you need a blessing, take one. If you can leave a blessing, leave one. Above all, be blessed."
That message graces the front of each one of the new blessing boxes of the Shenango Valley.
"The community outreach has been overwhelming," Angel Campman, of Clark, said.
A blessing box is a small station where people can leave nonperishable food items, hygiene products and other donations. Anyone is welcome to take what they need from the box, no questions asked.
Local residents might already be familiar with the two original donation boxes – the congregation of New Virginia United Methodist Church in Hermitage maintains one outside the parish building, and another located next to Daffin's Candies at East State Street and Buhl Court in Sharon was set up in 2016 by Faith Audrianna. Covenant Presbyterian Church also maintains a box two blocks away at its Sharon church.
"We have 13 going up right now," Campman said.
Earlier this year, she saw a Facebook post requesting donations for the box in Sharon. The post inspired her to learn more about how the boxes work and seek additional advice from the Rev. Mark Goswick, pastor of New Virginia United Methodist Church.
As the COVID-19 pandemic began to affectd more people, Campman realized it might be time to add more boxes to different areas.
As a nurse for Hermitage School District, Campman has a behind-the-scenes look into what different families might need.
"That's what kind of led to this," she said.
Campman did some online research and asked her friends and family if they thought more boxes would be a good idea.
"It just took off," she said of the response. "I still have people messaging me."
One of the first steps was finding appropriate locations, which meant getting permission from property owners and lining up volunteers to maintain each site.
Campman looked for areas where food donations are in the highest demand, and made sure each donation site was easily accessible.
Each box costs about $200 to $250 to make. They are built with donations from sponsors.
GALLERY: Donation boxes popping up in valley
This week, she and other volunteers installed boxes at the Zion Education Center, 602 Roemer Blvd., Farrell, and outside the fire station and municipal building on Broadway Avenue in Wheatland.
"That one is special to my heart," Campman said of the Wheatland box.
She grew up in Wheatland, and the box features a plaque dedicated to her father, Birdie Campman, and her late grandparents, Janet and Irvin Campman.
April Torrence, director of Zion Education Center, was on hand Wednesday to help with the new blessing box, and she gave the volunteers mugs that say "Thanking God for You."
"It meant so much," Campman said.
The center's box is sponsored and managed by the Barlow and Platteborze families. Jill Platteborze-Barlow made the plaques for the boxes.
The community's generosity has lifted Campman's spirits. Folks post on the "Blessing Boxes of Shenango Valley" Facebook page on a regular basis, giving updates on when the boxes are full and when they are empty.
The response is immediate when a box needs to be restocked, she said.
Sometimes the boxes get so full that the overflow has to be placed in bags or boxes on the ground.
There have been special requests for things like face masks, and a friend of Campman routinely sends a donation in honor of Campman's family.
Some folks have voiced concerns about certain people taking everything from a box soon after it's filled, leaving it bare.
Since there are no requirements to use the box, Campman said it's not for her to judge who might really be in need.
Both the donors and recipients appreciate the anonymity of the box, since people might be embarrassed to ask for help, she added.
Campman hopes to have three more boxes done within the next few days. They will be at the Round Table Thrift Store, 195 W. Connelly Blvd., Sharon; near O'Neill Coffee, 14 Fair St., West Middlesex; and outside Lindy's at the Beach, 1700 E. State St., Hermitage.
Other locations will include: the dental office of Dr. Lisa Tovcimak-Smith, 919 Sharon-New Castle Road, Farrell; Breakfast at Tiffany's restaurant, 45 S. Walnut St., Sharpsville; Central Community Church, 3571 N. Hermitage Road, Pymatuning Township; Stone Kitchens, 2125 Broadway Road, Hermitage; Whalen Law Offices, 118 N. Pitt St., Mercer; First Baptist Church, 60 Shenango St., Greenville; Happy Tales Veterinary Hospital, 3432 Valley View Road, Clark; and South Pymatuning Community Church, 3400 Tamarack Drive, South Pymatuning Township.
Campman wants to thank the blessing box sponsors, host sites, and volunteers like the gentleman building the boxes (he wishes to remain anonymous); her cousin Stephanie Lapikas, who donated the vinyl lettering; Leah Ann Williams of West Middlesex; and three students from Hermitage School District – Andrew Bucci, Connor Anderson and Ayden Messer. 
Campman would like to see a second box in Greenville, and she welcomes people to contact her through the "Blessing Boxes of Shenango Valley" Facebook page for more information about organizing a new box.