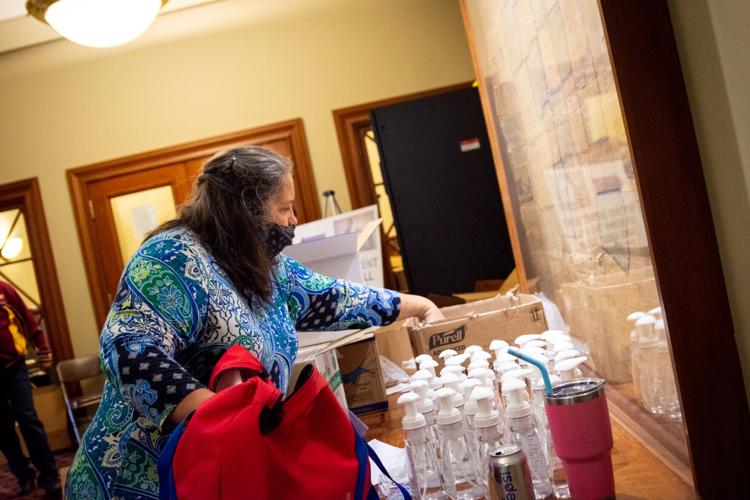 MERCER – In the years that Terrence Crumby has been a constable, he has seen a few incidents on Election Day.
Constables, who hold elected law enforcement positions in Pennsylvania, are the first line of security at polling locations throughout the commonwealth. They make sure all voters cooperate with each precinct's judge of elections and poll workers. 
"Several years that I've been doing it, we've had people who want to pull stunts," Crumby said. "They want to intimidate another individual who's there for someone else."
Crumby said he doesn't expect any unusual problems in Tuesday's election, in spite of national reports that demonstrators might be planning to intimidate voters. 
Thad Hall, Mercer County elections director, said he expects no trouble at the polls on Election Day, but he's heard about rumors on the national level.
"In general, I think there's a lot of concerns being raised," Hall said. "I don't think the residents of Mercer County are going to cause any problems." 
Hall said poll workers have a procedure for responding to reports of voter intimidation or other security breaches.
"If there's a physical threat from someone, we tell them that they should call 911," Hall said. "Then if something outside happens, if people are being disruptive, we would dispatch the sheriff's office or the local police department and they would take care of that."
Sheriff Bruce Rosa said he hasn't heard anything about people disrupting the vote.
"We'll have deputies out there if there's a problem at one of the polling places," Rosa said. "We expect the worst and hope for the best."
Mercer County Court of Common Pleas President Judge Robert G. Yeatts issued orders that give the sheriff's office and the district attorney's office special permission to go into polling places. Rosa said the order is routine for elections.
The sheriff said they're not "beefing up" security, since his office has no intelligence that anything out of the ordinary will happen Tuesday.
"We're not expecting anything," Rosa said. "I don't think there's going to be a problem at the polls."
Rosa thinks this election will go as well as previous elections.
The sheriff's office and local police provide backup security for election sites. Normally, constables patrol the polls in their areas.
"Constables are allowed to be there," Rosa said. "Their main goal is to maintain order. Two to three constables go from poll to poll."
But Rosa said he thinks the odds of disruptions are slim.
Hall said poll watchers who are promoting their candidate usually sit outside and hand out literature. They are allowed to come inside and look at the list of voters to check on voter turnout. However, poll watchers are not allowed to wear campaign paraphernalia, such as buttons, or hand out literature to promote their candidates, while they are inside the voting area.
In spite of the high profile election and divisive political climate, Hall said he expects a routine Election Day.
"I think we're going to have a nice, quiet election," Hall said.
Follow Melissa Klaric on Twitter and Facebook @HeraldKlaric, email: mklaric@sharonherald.com