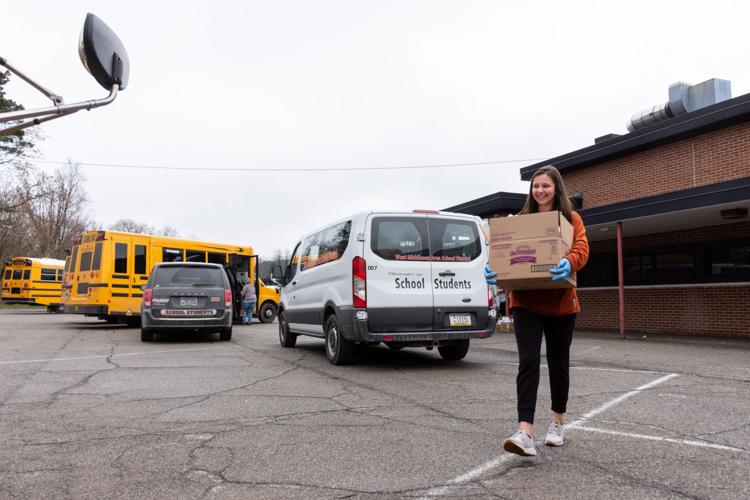 WEST MIDDLESEX — The school buses were loaded Thursday morning, not with students, but with coolers, bags of food and crates of milk.
With school canceled starting this week due to the outbreak of COVID-19, the buses were delivering food to students restricted to their homes.
Kathy Bartel, who was accompanied by Assistant Principal Aaron Pernesky of West Middlesex Jr. Sr. High School, was greeted at some drop-offs by interested cats and dogs, while kids or parents sometimes waved or met them at the door. But sometimes, the students came out to greet the school employees — even giving hand-made cards as a sign of appreciation.
"That's going here — there we go," Bartel said as she used a magnet to pin a brightly colored card above her window.
Thursday was the third day of food distribution by West Middlesex Area School District. Following the announcement last Friday that schools across Pennsylvania were to be closed for two weeks, district officials formulated a plan to feed the district's 900-plus children.
West Middlesex, like the state's other 499 school districts, is under a closure order due to COVID-19, an illness caused by the coronavirus.
This way, families with students will have some support as the situation progresses and federal stipends can eventually help ease some of the burden, Pernesky said.
"What we wanted to do was to help ease some of that stress for families who were concerned about, 'What do we do about the kids?' and 'How do we feed the kids?'" Pernesky said.
Bartel's route included the household of Tessa Simmons and her four children — Blaze, 15, Reagan, 8, Hamelly, 5, and Palmer, 2. The three youngest children greeted Pernesky, bearing more handmade cards.
Tessa Simmons is a former educator at West Middlesex and an assistant principal at Valley Grove School District, said the school closure was initially overwhelming due to the limited time to react.
However, the efforts by West Middlesex school officials to maintain some continuity during this period by supporting the students have helped alleviate some of that pressure, she said.
"I'm impressed by what West Middlesex has done in terms of the quality and being able to put this all together so quickly," Tessa said.
For her children who have to stay home from school, Tessa said the visits give her children not just meals but a chance to see some familiar faces.
"They're so excited to see Ms. Kathy in the mornings, and it's great to see Mr. P helping with the food," Tessa said.
GALLERY: Food buses keep children sustained during closure
The first food distribution was held Tuesday morning, with meals assembled Monday evening, while a second food distribution was held Wednesday. Thursday's distribution included food for Thursday, Friday and Monday, with the next distribution planned for Tuesday, Pernesky said.
West Middlesex officials have shared information with families through calls, emails, distributed forms and the district's Facebook page, which includes posts tagged with messages including "#teamwork" and "#rowtogether" to help illustrate the need for cooperation, Pernesky said.
"If we put everything else aside and come together, then this is the kind of thing we can accomplish quickly," Pernesky said.
Along with the regular meals and breakfasts in Thursday's food distribution, students received snacks through the West Middlesex's backpack program, coordinated by the district's parent resource group.
Tracy Mantzell, the group's director, said the backpack program has an enrollment of about 70 students, who receive food through the Community Food Warehouse of Mercer County.
"We've been working with the schools on the backpack program, so those kids can have something to eat over the weekend," Mantzell said.
The group also supports the school district's green store and has a donation space in West Middlesex between Pizzas by Marchelloni and Shooters Supplies, where people can drop off non-perishable items and toiletries.
On Thursday, about nine standard buses, three minibuses and three minivans participated in the distribution. The buses came from West Middlesex's fleet of vehicles.
Kathy Mack has two granddaughters who attend West Middlesex schools in ninth and second grades. As a former educator who retired from Farrell Area School District in 2010 after 42 years, Mack said she thought it was important to continue her granddaughters' educational routine and has maintained a series of activities this week.
During the school vacation, Mack, of Shenango Township, said the daily visit from Bartel and Pernesky has become a daily highlight for her granddaughters.
"They're extremely happy, it's something that they look forward to," Mack said of her granddaughters.
Even though it's the third day of the distribution, Pernesky said school officials have been adjusting and ironing out the process as more information becomes available. Despite this, Mack commended the school district for its efforts so far.
"They really did a good job," Mack said.
Following Thursday's distribution, school officials met with administrators to discuss moving forward with the program. 
After next week, the school district will be able to continue the distribution of food through a waiver from the United States Department of Agriculture. However, with the school closure order, West Middlesex has the space but not the authority to store food. District officials will work closely with the community moving forward, Pernesky said.
While the school district can still use its fleet of vehicles to distribute food, assembly of the meals and storage of the food will have to fall on volunteers or local organizations. Pernesky credited district Superintendent Raymond Omer for collaborating with community volunteers in finding new distribution sites.