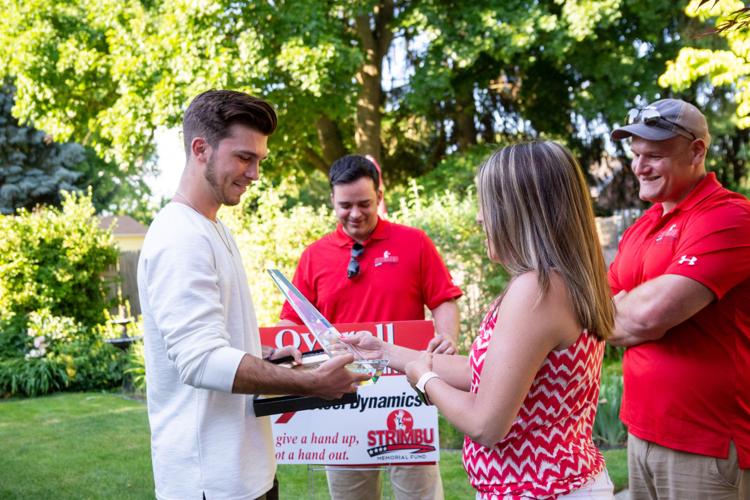 Even without its biggest fundraiser — and one of the region's premier summer social events — the Strimbu Memorial Foundation didn't back away from its annual scholarship awards.
Traditionally, the foundation announces the scholarships to new graduates from schools in western Pennsylvania and eastern Ohio during the annual Strimbu Bar-B-Que, but since the event was canceled this year due to the COVID-19 virus, memorial foundation representatives delivered the biggest award personally.
Sharon graduate Justin Stanek received the $10,000 scholarship Tuesday night at his home. Stanek also was among 14 students awarded $2,000 awards.
Stanek, who plans to attend Penn State University Park campus, received a $2,000 scholarship sponsored by JCL Development. He was also the overall winner of a $10,000 scholarship, provided by Steel Dynamics.
A standout vocal performer, Stanek had been cast to portray Jesus in Sharon High School's spring musical production of "Godspell" before it was canceled due to the pandemic. He did get to sing May 18 via Zoom on an episode of NBC's "Today" show.
The students were selected for scholarships based on qualities such as community involvement and academics by an anonymous scholarship committee, but Jim Grasso, president of the Strimbu Memorial Fund Board, said selecting an overall winner — even one as outstanding as Stanek — is typically difficult. 
"It's always close, and they're all the best of the best from the valley and western Pennsylvania and eastern Ohio," Grasso said.
Since the Strimbu Memorial Fund's inception in 1990, it has provided over $3.6 million to support academic scholarships, local economic development, individuals in need and numerous charitable organizations, with $37,000 awarded in scholarships this year to local high school students.
In December, the foundation awarded $200,000 to 27 economic development and charity agencies on both sides of the state line.
The organization was founded in memory of the late businessman Nick Strimbu Jr., who had a passion for leading individuals and economic development agencies to attract, assist and retain the Shenango Valley's industrial base Grasso said.
"Words cannot describe the generosity and conviction that Mr. Strimbu had. It was an honor to know him," Grasso said.
For the past 31 years, the annual Strimbu Bar-B-Que served as the organization's main fundraiser. The event has been held at Yankee Lake Ballroom in Brookfield. Along with a typically generous selection food, Grasso said the event features a silent auction, a live auction, live musical entertainment and presentation of the scholarship winners.
Grasso said about 1,500 to 1,800 people attend the event most years.
"Each year we always question if we'll sell enough tickets but the tickets usually end up selling themselves," he said. "The community has always been very supportive of us and the Bar-B-Que, which is a really casual, fun event."
Event organizers decided in March, following discussions between Bill Strimbu and Grasso, to cancel the fundraiser over public safety concerns from such a large gathering of people, Grasso said.
Instead of presenting its scholarships at the annual Bar-B-Que, the foundation's board of directors visited winners' homes and presented the scholarships in person, along with plaques commemorating the award and yard signs for the students' front yards
"We figured that there would be a way to get the scholarships out, and if we could keep the scholarship tradition going, then we were happy to be able to do that," Grasso said.
Foundation organizers anticipate that the event will return next year, with the 31st Annual Strimbu Memorial Fund BBQ scheduled for May 4 at Yankee Lake Ballroom.
Like David L. Dye on Facebook or email him at ddye@sharonherald.com.