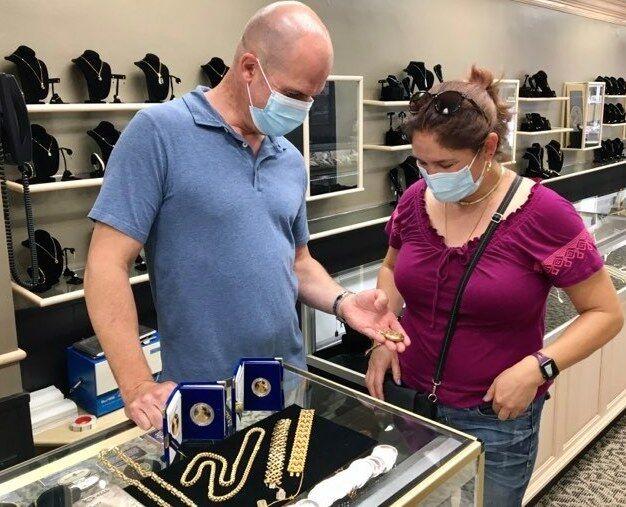 As gold prices began reaching record highs this year, Mark Multari has tried to keep the right inventory at his Sharon jewelry store.
But customer demand for gold jewelry is complicating matters.
"We're selling quite a bit of gold chains,'' Multari, owner of The Gold Mind said. "We're having a hard time getting them. Our vendors are having shortages.''
This is a strange time for the jewelry and precious metals industry. When the COVID-19 pandemic hit in March, Multari said jewelry manufacturing plants had to close, which caused shortages.
At the same time fears of the pandemic, economy and national politics pushed gold prices upward. The closing price Thursday was $1,934 an ounce, fairly close to the $2,069 record-high reached on Aug. 6.
So what's going on at his store? Multari points to a couple of things.
"I believe a lot of it has to be stimulus money,'' he said.
Under the federal Coronavirus Aid, Recovery and Economic Security (CARES) Act, unemployed people received up to $600 a week, in addition to regular unemployment payments, from March 29 to July 25. The boost was intended to give people extra spending power.
Multari is also seeing people willing to purchase lower-grade gold jewelry than what normally sells. He said more people are willing to buy 10-karat gold instead of the usual 14-karat. There's a big difference — 14-karat is 58% gold, 42% lower-value alloy metal, 10-karat is almost the exact opposite ratio, 41% gold, 59% alloy.
Simply put, less gold means a lower price.
"People are looking for nice big pieces of gold jewelry for the least amount of money possible,'' he said.
But he's had more gold coming in the door than going out since the pandemic struck, possibly a reflection of tough times for people put out of work by COVID-19.
"In the past couple of months I have been seeing more people bringing in some of their old family jewelry to sell,'' Multari said.
Attempting to dissect the jewelry and precious metals market using traditional business standards is useless, said Jay Murawski, co-owner of Joden Jewelers in Grove City.
"We've got all sorts of craziness going on from the world coronavirus to the wildest presidential election to all sorts of protests going on,'' Murawski said. "There's all sorts of uncertainty going on.''
Customers still demand top-shelf jewelry at Joden, he said.
To show how crazy things are platinum is now about half the price of gold, he noted.
"That's never happened before,'' Murawski said. "And I can't tell you why that is the case. I don't have an answer. There's just a lot of uncertainty out there.''
Silver prices have risen, he said, but at a close of $26.64 an ounce Thursday, it is well below its record of just below $49.45 in 1980 — when billionaire brothers Nelson Bunker Hunt, William Herbert Hunt and former Kansas City Chiefs owner Lamar Hunt attempted to corner the silver market.
Murawski said he isn't seeing a lot of people bringing in family heirloom gold jewelry to sell at his store.
"I think that's because people already sold those pieces when the great recession started in 2008,'' Murawski said. "I don't think there's much of it left.''