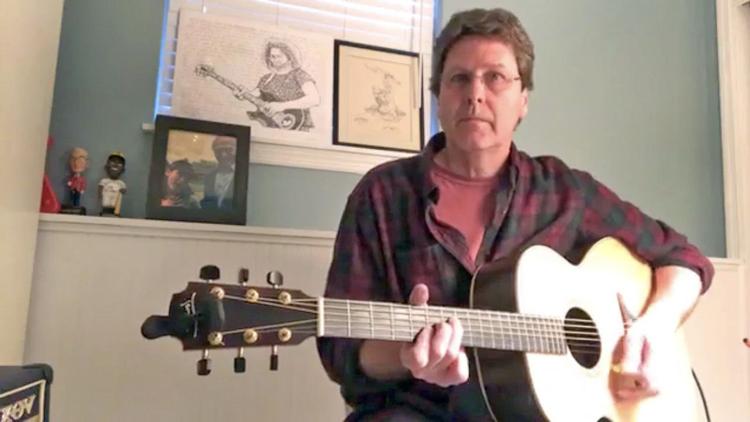 SHARON – Terry Dach has been singing and playing the guitar around the Shenango Valley for almost four decades, and he hasn't stopped during the COVID-19 crisis.
Dach, a member of the popular local band Grant Street Exit, has been playing solo on Facebook live several times a week for about a month now, since quarantine started.
He mostly plays folk rock – anything but country and rap. One night last week was Grateful Dead night.
"Everybody's having fun. I like to mix it up," Dach said. "It took me awhile to loosen up on it, but I've loosened up these days."
You can find Dach live on his Facebook page –Terry Dach music page – at 7 p.m. three to four times a week; usually Mondays, Wednesdays, Fridays and Saturdays.
The 59-year-old grew up in Sharon and lives in the area.
He was 21 when he started Grant Street Exit with friends, in 1982. Dach was living out of town, and one of his friends called him to say he was starting a band and that another one of their friends was going to sing. Dach said he wanted to sing in the band and returned home to do just that.
Mick Hubicz sings and plays guitar, Gary Fisher is on drums, Garrett Fry on lead guitar and Charlie Fisher plays keyboard for the band.
In normal times, Dach is out evenings playing with the band or solo several times a week at wineries, upscale restaurants and some bars in Mercer County.
During quarantine he is solo but also played a night at the Corinthian banquet center in Sharon with Steve Vuich. This performance can be accessed on Dach's music page.
Usually about 25 to 50 people join him for his quarantine shows with his acoustic guitar and amplifier, filmed with only his phone. His performances have gained more than 400 views each.
"People are being very nice about the whole thing, and that's why I keep doing these things," Dach said. "I've gotten really nice feedback. People tune in, crack open some cocktails and listen."
Dach said he's been told to have a virtual tip jar but he had another idea for tips.
"If you feel like you have to do it, go to your favorite restaurant and give people there a tip and give some business to people that are hurting," Dach said. "Go to the Keg or Shenango Valley Meats opening up in May. Go visit these guys, give them business."
Follow Melissa Klaric on Twitter and Facebook @HeraldKlaric, email: mklaric@sharonherald.com