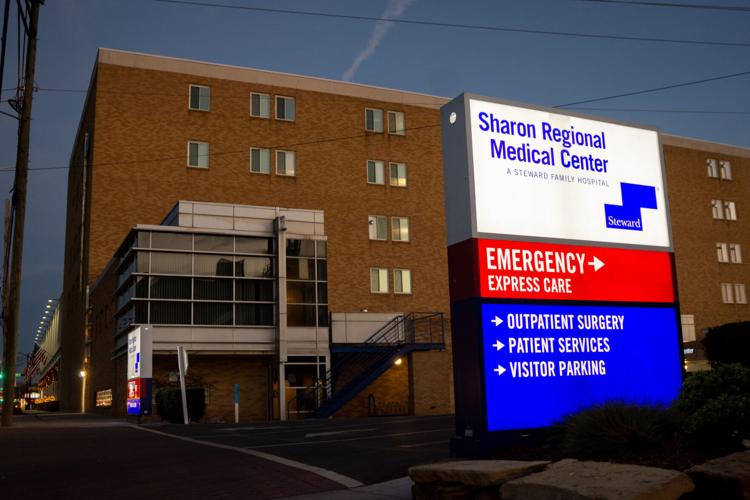 SHARON — Compared to the initial round of lockdowns earlier this summer, the surge of COVID-19 patients didn't truly hit Sharon Regional Medical Center until the last three weeks.
The amount of care those patients need is also increasing, said Dr. David Shellenbarger, chief medical officer at Sharon Regional.
At the beginning of the pandemic, most patients were people coming in with mild symptoms or work-related concerns. With this latest surge, most patients are showing more moderate symptoms such as difficulty oxygenating or shortness of breath, Shellenbarger said.
"Right now we're trying not to admit anyone who doesn't need oxygen, because if you're just experiencing mild symptoms there are things you can do at home to remain healthy," he said.
Sharon Regional Medical Center has a capacity of 184 acute-care beds and 222 transitional-care unit beds. The hospital also established two COVID-19 units separate from the rest of the patients, with the COVID unit of the hospital's fourth floor capable of taking 21 patients and a unit on the telemetry ward capable of holding about 10 more people, Shellenbarger said.
Though the number of patients tends to fluctuate, Shellenbarger said the hospital is usually around 60 to 70 percent capacity. A patient who requires oxygen could be in the hospital for at least seven days, while someone in the intensive care unit could stay for up to two weeks.
But while the hospital hasn't hit capacity yet, Shellenbarger said he expects another surge in patients roughly two weeks after Christmas, when those who contract COVID-19 during any gatherings will begin to show symptoms.
The numbers of people infected with the flu may be reduced this season, thanks to the safety precautions people are following to prevent COVID-19. However, it is still difficult to predict exactly when surges of COVID patients will appear, he said.
"Things that used to be predictable and you could plan around, aren't predictable anymore," Shellenbarger said. "And we're doing things to prevent spread and contamination, so something now might take 50 percent more time than normal."
The two UPMC hospitals in Mercer County are also taking steps to continue caring for patients.
In Farrell, UPMC Horizon-Shenango Valley has 81 licensed inpatient beds and 48 licensed medical-surgical beds, while UPMC Horizon-Greenville has 30 licensed inpatient beds. Intensive care unit services for the region are centralized at UPMC Jameson in New Castle, which has 90 licensed beds and 12 ICU beds, according to Lisa Lombardo, a spokeswoman for UPMC.
There are currently 1,132 inpatients across the UPMC system who are positive for COVID-19, with 143 of those inpatients located in northwestern Pennsylvania and New York, which includes the UPMC Horizon and UPMC Jameson facilities, Lombardo said.
During a press conference Tuesday morning, UPMC Executive Vice President and Chief Operating Officer for UPMC Health Services Division Leslie Davis said the UPMC system had spent several years preparing contingency plans for such an emergency as COVID-19.
Among the measures taken to handle a surge in patients included bringing in 200 nurses in the past week to handle expanded hours of care. The quarantine period for UPMC staff members was shortened from 14 to 10 days, soon to be seven days, allowing staff without COVID-19 symptoms to return to work more quickly, Davis said.
There is also a better understanding of which COVID-19 patients can be sent home with pulse oximeters or other support, while expanding telemedicine for inpatient and outpatient care, further reducing the strain on UPMC's facilities, Davis said.
"Fortunately, we've gotten smarter about caring for COVID-19 patients, and we are seeing a far lower proportion of critically ill patients needing intensive care and mechanical ventilations or breathing machines than we did in the spring," she said.
Like David L. Dye on Facebook or email him at ddye@sharonherald.com.