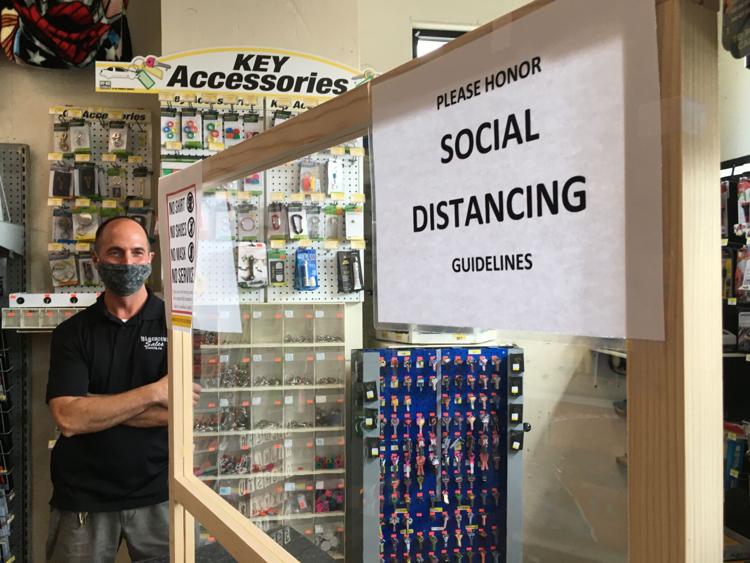 SHARON – A cottage industry is under development at Warehouse Sales of Sharon.
COVID-19 guidelines call for sneeze shields to be erected In many public settings such as businesses and schools. They're often found at store checkouts.
"We've probably made 200 sneeze guards for a number of businesses like doctors' offices and other people,'' Michael Lisac, owner of the hardware store, said.
Schools could be the biggest buyers of these shields as protection is being sought for students when seated at their desks. Brookfield Local School District alone is buying 1,000 for all of its students.
Small hardware stores can't compete in huge volume orders like those, Lisac acknowledged. But in smaller batches, particularly custom-made orders, they can.
"We made sneeze shields for Brookfield schools' office,'' he said. "And we've made them for the Sharon VFW because they needed a specific size for people when they run their bingo games.''
Top-notch large shields, around 8 feet or so, can run a couple hundred dollars. Tiny ones, 18 inches wide, also have been produced. So what are prices like for the full spectrum of sizes?
"We'll work with people,'' Lisac said with a smile.  
Plexiglass is the material of choice for these protective barriers because it doesn't shatter like real glass. But plexiglass can still be dangerous, Lisac warned. His brother Ed found that out the hard way.
When a sneeze shield needs to be hung from a ceiling, thicker, quarter-inch plexiglass is used because it sways less. While hanging the plexiglass, his brother didn't use a strong enough hook to support the weight. 
"It snapped, fell on his foot and broke his toe,'' Lisac said. "If you hang plexiglass from a ceiling, make sure you do it well.''