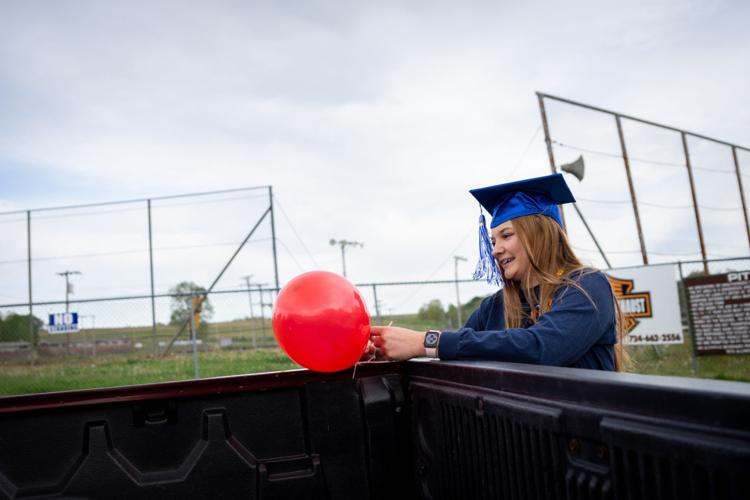 MERCER – This year's high school seniors were cheated, said Jenn Mattocks, mother of Mercer senior Jenna Vincent. 
That is why Mattocks took it upon herself to organize a vehicle parade for seniors. The event had been set for last Friday, but rain forced it to be rescheduled for Wednesday.
Seniors met at the Michaels Mercer Raceway to decorate cars. Afterward, a police escort led them around town.
As the seniors drove through town, residents stood outside to wave at the seniors.
"Just to give them a little recognition," Mattocks said. "They got cheated a little bit." 
Mattocks said her daughter has been missing her friends and interacting with people.
GALLERY: Mercer seniors parade through town to celebrate graduation
"She volunteered for a fourth-grade class, and she's really missing them," Mattocks said. "She just sent them cards."
Jenna will attend Laurel Technical Institute in the fall to become a nail technician and esthetician.
The Mercer school administration posted graduation plans on the district's website.
School district officials are inviting seniors and their families to go to the high school auditorium and take photos of their graduates as the walk across the stage. Eric Mausser, high school principal, will contact seniors and their families to schedule pictures. 
Mercer will be following all guidance and orders from the Pennsylvania Department of Health and Gov. Tom Wolf's office concerning face coverings and social distancing, Superintendent Ronald Rowe said.
The district plans to distribute a graduation video, including speeches, for public recognition of the seniors and their accomplishments.
Even with the district's efforts, though, this year's seniors will be missing out on the senior-year events that they've been anticipating for years.
"The last month of school is supposed to be the funnest time of their school years," Mattocks said. "They're missing senior skip days, prom, graduation."
Follow Melissa Klaric on Twitter and Facebook @HeraldKlaric, email: mklaric@sharonherald.com