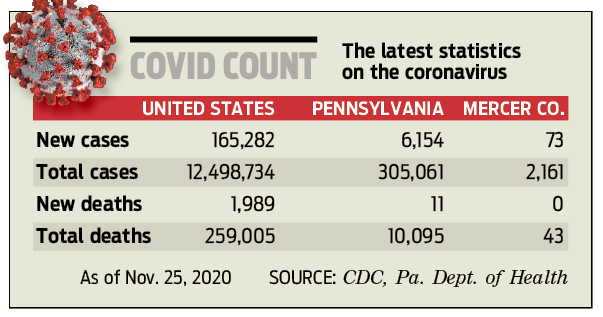 The Grove City ZIP code has both the highest number of COVID-19 cases, and the highest case rate, in Mercer County. However, the numbers do not paint a complete picture.
There have been 414 confirmed cases in the Grove City ZIP Code, which also includes outlying townships. That's about 70 more than the county's next highest, Hermitage, with 345 cases.
And, with a ZIP code population of 16,145, the town has an incidence rate of 25.6 cases per 1,000 residents.
But Grove City's case rate is being driven by outbreaks in three nursing homes — Grove Manor, Quality Life Services Grove City and Orchard Manor — with a combined 119 cases, and 20 of the county's 43 fatalities.
According to state Department of Health figures as of Nov. 18, Grove Manor has accounted for 48 cases and 13 fatalities. Quality Life Services has had 51 cases and seven deaths, and Orchard Manor has had 20 cases.
No other long-term care facility in Mercer County has more than five cases.
Farrell has the county's second highest incidence rate, 24.28 per 1,000 residents, with 120 cases in a population of 4,941.
The Mercer ZIP code, 20.9 (271 cases, 12,941 population) and Hermitage, with 20.34 (345 cases, 16,959 population) also have incidence rates of more than 20 per 1,000 residents.
Incident rates for other municipalities:
• Sharon 15.8 (222 cases, 14,040 population);
• Greenville 15.6 (283 cases, 18,186 population);
• West Middlesex 15.1 (71 cases, 4,706 population);
• Sandy Lake 15.0 (41 cases, 2,726 population);
• New Wilmington 13.9 (98 cases, 7,056 population);
• Sharpsville 13.8 (103 cases, 7,426 population);
• Jackson Center 13.4 (21 cases, 1,573 population);
• Hadley 12.4 (25 cases, 2,023 population);
• Jamestown 10.6 (41 cases, 3,886 population). 
Clarks Mills, and Utica have had fewer than five cases, so the Department of Health has redacted the total numbers. Carlton, in northeastern Mercer County, is the only ZIP code with no COVID-19 cases.
Emergency disaster declaration renewed
Gov. Tom Wolf has renewed the state's COVID-19 disaster declaration for the third time. Wolf issued the first 90-day disaster proclamation on March 6, the day Pennsylvania had its first two reported virus cases.
With the third renewal, Wolf said the pandemic is still an issue.
"With cases and hospitalizations increasing, we cannot afford to let down our guard," the governor said Wednesday in a statement. "This renewal will allow the commonwealth to maintain its response and support efforts as we face increasing case numbers and decreasing hospital capacity."
The declaration allows for several actions, including mobilization of the Pennsylvania National Guard and waivers of the one-week waiting period for receiving unemployment benefits.
Pennsylvania's hospital readiness status
Pennsylvania has 3,990 patients hospitalized with COVID-19, with 858 in intensive care treatment and 441 COVID-19 patients on ventilators. Statewide, 28% of ventilators — 1,435 of 5,131 — are occupied.