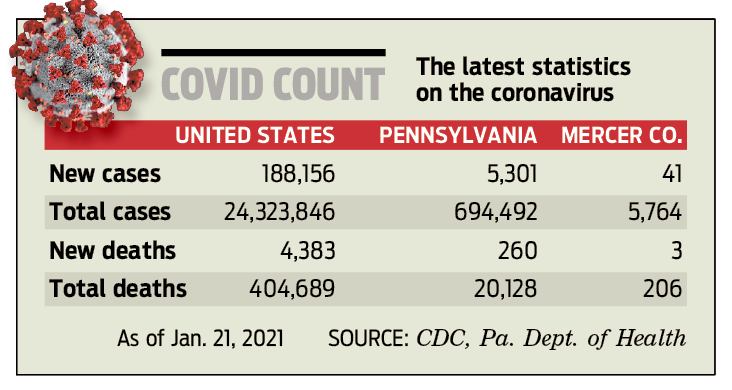 MERCER – County commissioners said Thursday that the state is holding up giving COVID-19 vaccine doses to counties.
The commissioners have received several inquiries from residents who ask when Mercer County will make COVID-19 vaccinations available.
But, Commissioner Matt McConnell said that as soon as they get vaccine doses, they will provide it for residents.
"We're asking residents to be patient," McConnell read from a prepared statement by commissioners and Frank Jannetti, Mercer County director of public safety, at the commissioners meeting. "As the Department of Health issues more vaccines, a clinic will be set up."
The statement went on to say that right now, those in Phase 1A, which includes mostly healthcare workers, first responders and people over the age of 65, are the only people receiving the vaccine at this time.
"We will offer the vaccine in the most efficient way we can," McConnell stated, adding that various pharmacies have the vaccine right now and if you are in the Phase 1A category, you can get it.
"Personally, it is tough for me to watch hundreds of thousands of cars lined up in Ohio for the vaccine and we can't get it in Pa.," McConnell said. "We are wanting to do that. But our hands are tied."
McConnell said he does not know what is holding up vaccines on the state level.
"Our citizens deserve as much respect as any other citizens," McConnell said.
Commissioner Tim McGonigle said that Allegheny County alone still has 67,000 people in Phase 1A who have not gotten the vaccine yet, and that scheduled vaccinations may have to be canceled because that county may run out of doses.
"We need the vaccine here. We need it now," McGonigle said.
Commissioner Scott Boyd agreed.
"I have friends and family who need the vaccine," Boyd said. "We do need it right away."
McConnell advised residents to get the vaccine whereever they can, whether it is at a pharmacy or another site.
"There's just not enough of the vaccine that has been distributed out to the county," McConnell said. "As soon as we have that, we will send that out."
Death tolls rise in U.S., Pa.
After crossing the 400,000 COVID-19 death threshold Tuesday, the United States reported 4,383 fatalities Thursday, the highest single-day mark of the current wave, which dates back to Nov. 1.
Pennsylvania hit a tragic milestone Thursday. With 260 deaths Thursday, the state marked more than 20,000 COVID-19 fatalities since the pandemic began March 2, the Department of Health reported. 
Health systems say Pa. has vaccine shortage
Some of Pennsylvania's largest health systems are delivering a reality check after the state greatly expanded eligibility for the COVID-19 vaccine this week, pointing out there's not nearly enough supply to meet surging demand.
Pennsylvania has expanded initial eligibility for the vaccine to include people age 65 and over as well as younger people with serious health conditions that put them at higher risk. The state had previously been directing the vaccine to health care workers and residents of long-term care facilities.
The expansion means that some 3.5 million people are now eligible to receive one of the two approved vaccines.
The problem, hospital officials say, is that weekly allotments are still extremely limited, and there is no indication when the vaccine might begin arriving in sufficient quantity to allow them to invite more people to roll up their sleeves.
"We simply do not have adequate vaccine supplies or clear notification of when and how much is coming to be able to meet this new, much larger group who can benefit," said a statement released by a consortium of 11 western Pennsylvania hospitals and health systems. "That means many requests for vaccination will not be met in the next days to weeks, and this is not from a lack of desire."
One of the consortium members, UPMC, reported a surge in interest after the state's announcement on Tuesday.
"People began to think, 'I need to be calling right now, and that this means this minute, this hour,'" Dr. Donald Yealy, UPMC's senior medical director, said Thursday.
Yealy said UPMC is ready to put more shots into arms, but will, for now, remain focused on inoculating health workers and residents and staff at nursing homes. He said UPMC does not plan to schedule appointments for people who are newly eligible for the vaccine until it has an adequate supply.
"We need a lot more vaccine, and a clear knowledge of when it's coming," Yealy said. "I don't want to promise people in those age groups and those condition groups vaccine that isn't here."
The expanded first phase of the state's vaccine plan now includes people who are 65 and older; smokers; pregnant women; clinically obese people; and under-65 residents with medical conditions such as cancer, lung disease, heart failure, Type 2 diabetes or a compromised immune system.
More than 450,000 people in Pennsylvania have received at least one dose of the vaccine since shipments began last month.
Pennsylvania hospital preparedness
Pennsylvania's 14-day rolling average for number of COVID-19 patients hospitalized dropped below 5,000 for the first time since Dec. 10, according to the state Department of Health.
Hospitals in the state had admitted 4,758 patients Thursday, with a two-week daily average of 4,951.6. That continues a steady decline since Christmas, when the hospitalization average peaked at 6,105.6.
There were 851 patients in intensive care and 530 on ventilators. Both of those numbers continued to decline. 
The rolling ventilator average was 602.4 per day.
Over the last two weeks, the state's hospitals have had an average of 633.1 available intensive care unit beds per day. That is a slight decrease from Wednesday, but the decline is attributable mostly to hospitals closing ICU rooms. 
THE ASSOCIATED Press contributed to this article.