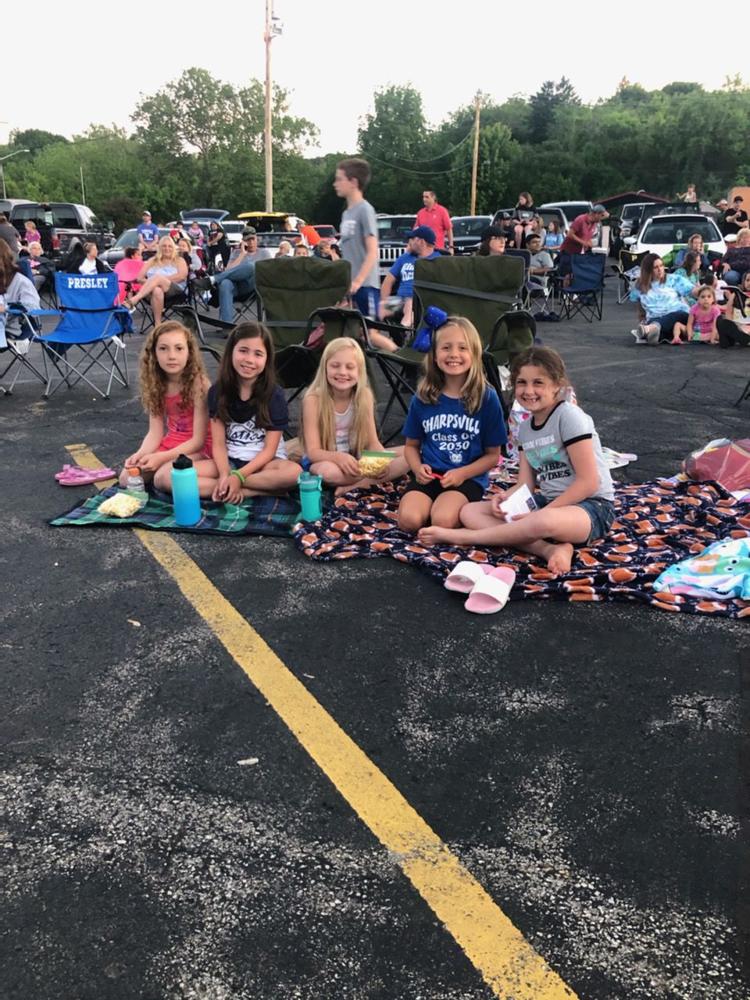 SHARPSVILLE — Second graders at Sharpsville Area Elementary School didn't get to finish the school year as they normally would, but they still got to put on the traditional Bug Ball musical this year at a drive-in premiere.
Bug Ball, performed every year by the school's second graders, has been an annual year-end highlight for Sharpsville students from kindergarten through second grade, teacher Deanne Lauther said.
"Usually the students would do a dress rehearsal for the entire elementary school, and then they would perform for their families the next day," Lauther said.
But the COVID-19 school closure, which ended in-person classes March 13, put the tradition in jeopardy.
The event draws on Sharpsville's entire second-grade curriculum — language arts, math and science — and teaches a message of inclusion while allowing students to dance, sing and act.
In a normal year, students would audition in February for parts as insects, including grasshoppers, bees and arachnids, then practice through March until the performance in April, Lauther said.
Though the second-graders concluded their academic year with online classes, Lauther said it was still difficult for the students to miss out on the yearly event.
One parent, Holly Jackson, messaged Lauther to say her daughter Lexi was saddened by the prospect that Bug Ball might be canceled.
"She has been looking forward to being in the play since she first saw it in kindergarten," Holly said.
Then Amanda Auman, mother of second-grader Avery Auman, approached Lauther and fellow second grade teachers Lori Davis and Katie Grandy about holding the Bug Ball after all.
Auman proposed holding a series of Zoom meetings where students could rehearse and make recordings of themselves signing, dancing and saying their lines. Music teacher Jacob Moon edited the footage all together into a final Bug Ball.
Teachers went into Sharpsville Area Elementary School to pick up the necessary props and costumes, then parents collected the materials to help their children prepare at home for the Bug Ball, Lauther said.
The teachers sent out a packet, which contained the script and students' lines along with information to help the parents set up Zoom for the show.
After some technical difficulties, students held Zoom rehearsals as a break from the online remote educational curriculum on the ClassDojo software, Lauther said.
"There were a few Wi-Fi issues and some internet issues, but I'll bet we had 90 percent turnout," she said. "We had parents who would tell us 'our kid is logging on for class, but they're really excited to log on and dance or practice their lines.'"
Student/spider Reghan Smith personified — or is it bug-ified? — the students had for the project. Smith said it was her very first play.
"I have always wanted to be in a play. This is so cool that we are doing the Bug Ball again!" Reghan said.
While students were excited to know the Bug Ball would still go on, the chance to work on the musical helped provide a sense of normality during disruptions caused by the pandemic.
Reghan's mother, Tabitha Smith, said her daughter was brought to tears over the switch to digital learning and missed having her teachers. That changed when they announced the Bug Ball.
Reghan has been "smiling ever since," Tabitha said.
"The Bug Ball and all the hard work the teachers put into this, gave these kids their joy back and a part of their normal school life they were missing so much," Tabitha said.
Eventually the footage was all collected and edited into a final program, which left only one problem — how to put on the show.
Grandy, a relative of the family that owns Thelma's Sports Nook in Sharpsville, helped find part of the solution.
With Grandy as the go-between, the restaurant donated outdoor parking lot space where students and their family members could either sit, while maintaining social distancing, or watch from their vehicles. 
Cross IT Services and Solutions, which has a family connection to Auman, donated the screen, projector and sound equipment. Rental for the equipment could have cost about $1,800, Lauther said.
She said about 200 people — including most of the second-grade students and family members — attended the Bug Ball premiere.
Students who attended the event received small gifts — including a poem, a framed picture of their teachers and glow-in-the-dark bugs. But Lauther said the most important present, as far as the children were concerned — might have been the chance to participate in Sharpsville Elementary's traditional culmination to their second-grade year despite the pandemic.
"We were so proud that it all came together, and there were a lot of kids crying and a lot of parents crying, and a lot of 'thank you's,'" Lauther said.
Like David L. Dye on Facebook or email him at ddye@sharonherald.com.