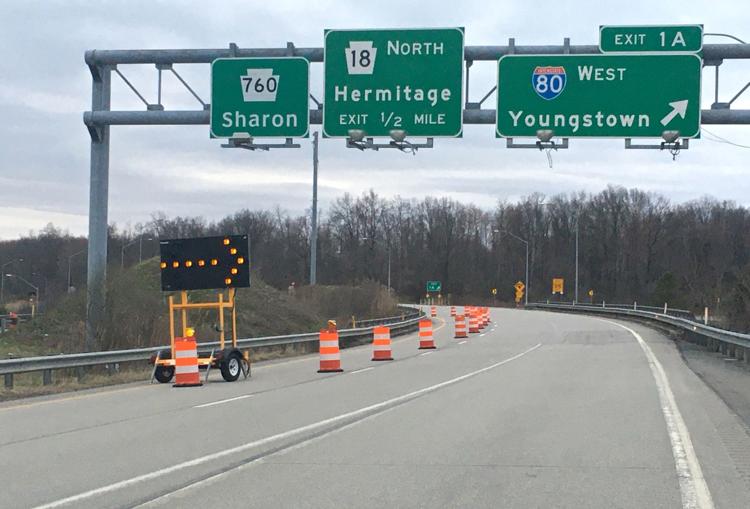 HARRISBURG – The state Department of Transportation announced Tuesday that it is resuming work on 61 "emergency and critical" road and bridge projects despite a statewide business shutdown.
"A safe and reliable transportation network is always of the utmost importance, but it becomes even more crucial in times of crisis," said Acting PennDOT Secretary Yassmin Gramian. "We need to ensure that work continues on these critical projects, and we are taking the proper precautions to help ensure the safety of both our employees and our partners in the industry."
An emergency project to repair the Interstate 376 bridge over Interstate 80 in Shenango Township was already underway Tuesday when PennDOT expanded the range of projects.
The change comes as the state announced Monday that there were more than 800,000 initial unemployment claims filed in the wake of Gov. Tom Wolf's statewide order shutting down non-essential businesses.
It also comes as the state has been expanding the number of counties covered by stay-at-home orders – Cameron, Crawford, Forest, Franklin, Lawrence, Lebanon and Somerset counties were added Tuesday – bringing the state total to 33 counties, as the number of patients who've tested positive for COVID-19 hit 4,843.
While the department's announcement indicated that 61 projects were being green-lighted, Alexis Campbell, a PennDOT spokeswoman, said more information on specific projects covered by the agency's move wasn't available on Tuesday.
The type of work covered by the announcement includes repairs to flood or landslide damage, drainage problems and work to eliminate roadway restrictions that may interfere with transportation for goods and services, Campbell said.
The non-emergency PennDOT projects that are halted include a new roundabout in Hermitage near the Shenango Valley Mall.
Jon O'Brien, executive director of the Keystone Contractors Association, said builders feel that the state could begin easing the restrictions to let more construction take place.
After Wolf announced his shutdown, the construction industry held off on immediately lobbying to get the governor to reverse course, O'Brien said. Instead, the industry developed best practices for construction crews to follow to allow for social distancing and sanitizing when the state begins to allow more building to take place.
In addition to PennDOT's move to resume some projects, school building projects have gotten the OK to resume since schools are empty, O'Brien said. Based on that, the construction industry believes the state could allow work to resume on buildings that are now empty because they house non-essential businesses closed by Wolf's order, he said.
Work on a $2 million project to renovate the Shenango Township Municipal Building was suspended last month when an subcontractor's employee working on the building took ill and was tested for COVID-19. The test was negative, indicating that the worker did not have the illness associated with coronavirus, but work has not resumed.
State lawmakers say the Wolf administration should go further to relax restrictions on more construction activity.
House Speaker Mike Turzai, R-Allegheny County, announced Friday that he's seeking support for legislation that would allow construction work to resume as long as workers follow social distancing and other mitigation guidelines set by the U.S. Centers for Disease Control and Prevention.
Pennsylvania's construction shutdown is more stringent than any other state's, Turzai said.
"While governors in New Jersey, California, Illinois and New York have issued shelter-in-place orders, they have all included exemptions for construction personnel and construction activities," Turzai said. "Highway and other infrastructure jobs that are vital to the transportation and safety of our motorists and citizens across the Commonwealth are currently sitting idle. These jobs still need to be completed in a timely manner. Stopping these projects which are of an open-air nature makes no sense."
Under Wolf's order closing non-life-sustaining businesses, general construction projects must be suspended, other than activities needed to "stabilize the site" to prevent weather damage or make emergency repairs, said Casey Smith, a spokeswoman for the Department of Community and Economic Development.
Residential projects that are "substantially complete," meaning a final occupancy permit has been issued, can be finished, she said.
"No new residential construction projects may be started," she said.
Turzai's certainly not the only one in the Legislature looking to get the construction limits loosened.
In the state Senate, Sen. Dave Arnold, R- Lebanon County, and Sen. Camera Bartolotta, R-Washington County, have sponsored legislation similar to Turzai's bill.
" I have immense compassion for those who are sick. I think we all do," Arnold said. "But, I also have compassion for that family who has never relied on the government to put food on their table. Why is Pennsylvania is only state to ban these activities?"
The U.S. Department of Homeland Security recently designated residential construction as an "essential infrastructure business," and Pennsylvania should follow suit, Arnold said.
O'Brien, of the construction trade group, said his group doesn't oppose the proposed legislation but they'd rather see Wolf move to relax the construction limits without waiting for the General Assembly to act.