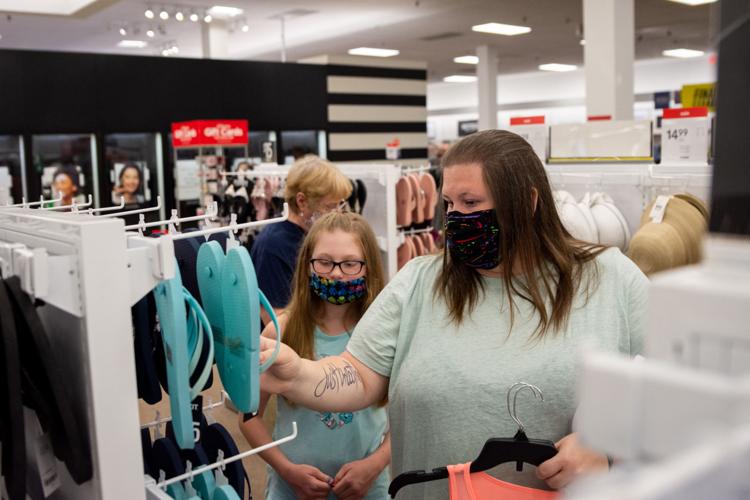 HERMITAGE — After the school year ends, Chelsea Glaister usually takes her 10-year-old daughter Makenna Glaister shopping to help kick off the summer.
"We always make a trip where we go out shopping," Chelsea said. "Usually for summer clothes, that sort of thing."
Though the pandemic has kept the Jackson Center residents from getting out much, the Glaisters were among some of the people who decided to capitalize on the reopening of the JCPenney department store Wednesday in the Shenango Valley Mall in Hermitage.
"It's been nice – very nice – to get out and go shopping again," Chelsea said.
While she enjoyed being able to browse the store's shelves with her mother, Makenna said she was not necessarily fond of the safety precautions due to the pandemic.
"I don't really like wearing the mask," she said.
JCPenney General Manager Sharon Loughner said the flow of customers had been steady since 11 a.m., with many shoppers grateful for the chance just to get outside their homes and do some annual summer shopping.
"I'd say there was a line of about 50 people outside when we opened at 11 today," Loughner said. "Everyone's been very happy, I've had a lot of people say 'thank you for opening.'"
Loughner said the store is implementing a few changes as it reopens to the public.
With the Shenango Valley Mall itself closed, customers entered and exited through separate doorways at JCPenney's north entrance. Hand sanitizer stations were set up throughout the store, and certain frequently-touched areas, such as escalator railings or elevator buttons, were sanitized hourly throughout the day, Loughner said. Customers were also encouraged to wear face masks.
GALLERY: Penney's reopens its doors
The store has a special hour from 11 a.m. to noon on Wednesday and Friday during which the store is open exclusively to customers, such as the elderly, who might be more vulnerable to COVID-19. General customer hours are from noon to 7 p.m. Monday through Saturday and 11 a.m. to 6 p.m. Sunday, Loughner said.
"It's a long list of all the things we're doing," Loughner said.
The reopening of the Hermitage JCPenney was not standard procedure across the entire company, however. Loughner said that stores are opening on a case-by-case basis depending on the status of the pandemic at each location. In some cases, the stores were being opened if the company and the government agreed it was safe, while other times a store remained closed even if the governor determined it was safe.
The Hermitage store was one of four in the region that could open, Loughner said. The others are in Erie, Clarion and Austintown, Ohio.
"The company is being very strategic with which stores they feel are safe to reopen," she said.
Abby Kwiatkowski, 17, of Sharpsville, was also taking advantage of the reopening Wednesday.
As a Walmart employee, Kwiatkowski said she was used to the precautions when shopping in-person, such as social distancing and wearing a mask. She also enjoys ordering items online, which wasn't affected much by the pandemic — although she said shopping at a store such as JCPenney was a nice change of pace since it allowed her to physically inspect items before purchasing.
"It's nice to be actually able to look at something before you buy it, because sometimes when you order something online the description says 'this size,' but when you get it in the mail it's not," she said.
Out shopping with her two daughters was Renee Aszalos, of Sharon, who said she was glad to do some shopping again after the pandemic had closed most businesses. She said browsing the racks at JCPenney provided a good chance to get out of the house after being cooped up inside for the past couple of months.
"There hasn't really been a whole lot to do," she said. "I'm waiting for Pennsylvania to open."
Though JCPenney is reopening some stores, many will be closing for good because of the parent company's recent bankruptcy filing. The financially troubled retailer's stock has been trading for about 18 pennies a share lately after plunging from the $12 range just four years ago.
Earlier this month, JCPenney announced it would be closing 30 percent – about 192 stores – by February 2021. Fifty additional stores expected to close the year after that, as part of the company's restructuring under bankruptcy protection.
So far, Loughner said she had not heard anything to suggest the Hermitage location would be closing and did not expect it to be one of the stores considered for closure.
"The community here has always been very supportive of us, and we've always been one of JCPenney's more profitable and stronger stores," she said.