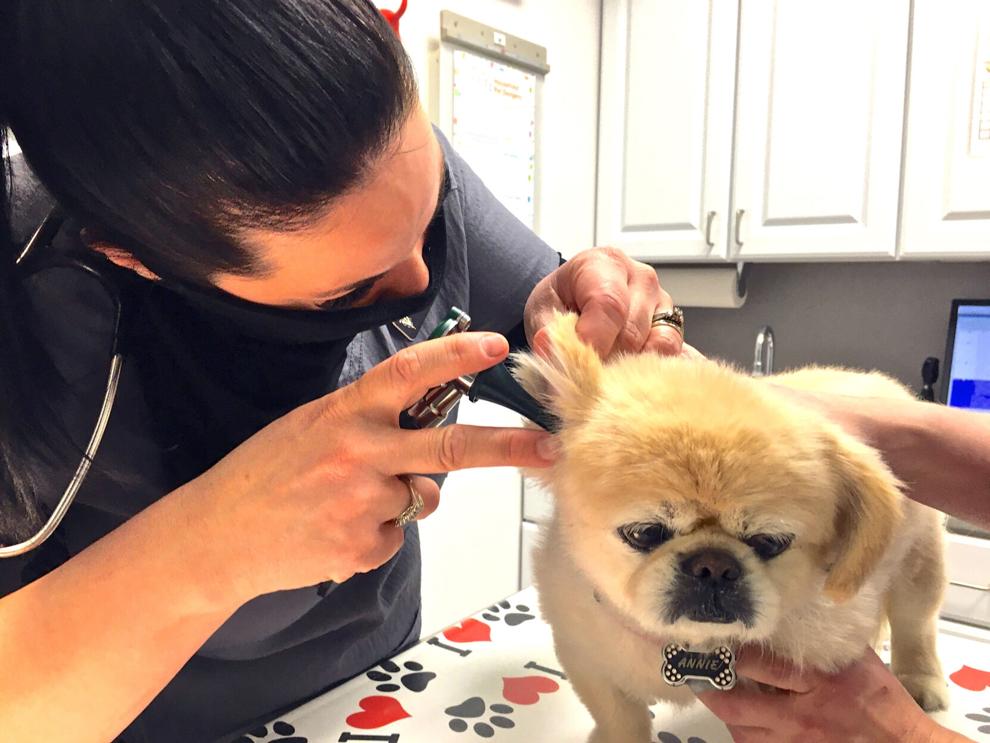 HERMITAGE — With more than 6,000 COVID-19 cases, as of Monday, in Mercer County, Dr. Alyssa Fette said people are concerned about the possibility that their four-legged family members could contract the virus.
"I get asked that all the time,'' said Fette. "And I tell them there's nothing they should worry about.''
Fette said people relax after she explains that it's exceptionally rare for cats or dogs to contract the coronavirus, or for them to pass it along to humans.
For many people, furry friends are more than pets – they're important members of tightly-woven families. Fette, along with her husband Josh, owns Fette Veterinary Clinic, which cares for cats and dogs of all sizes and breeds.
If the coronavirus were easily transmittable from pets to humans or vice-versa, it could be devastating to both, said Josh Fette, the clinic's manager.
"Veterinarian centers like ours have been talking about the coronavirus before it really hit,'' Josh said. "There hasn't been any rock-solid evidence that domestic cats or dogs can get it and pass it along to humans.''
The virus has, however, made the leap from humans to animals. In early April, Associated Press reported that a tiger at the Bronx Zoo in New York tested positive for the virus.
Within a few weeks, the zoo said at least six other lions at the zoo also tested positive with some having a mild cough. All of the cats recovered and continue to do well.
AP said zoo officials said the cats were infected by a staff member who was positive but at the time showed no symptoms. Preventative measures were created for staff members who care for animals in the zoo.
Reporter Michael Roknick interviews Dr. Fette on how COVID-19 could potentially affect animals. Dr. Fette can be seen standing next to her hus…
There are COVID-19 tests for animals, but Dr. Nicole Pearsall of Penn-Ohio Veterinary Services in Shenango Township said she hasn't seen a pet that has needed one. 
Pearsall and her husband, clinic manager Richard "Boomer'' Pearsall, own Penn-Ohio.
As the pandemic continues to ravage humans, the scientific community is getting a better grip on the coronavirus' inner workings.
"Each day, we're learning more on how it works,'' said Richard Pearsall.
Even though Penn-Ohio hasn't seen any pets contract COVID-19 from their human family members, the pandemic has had an unexpected impact on animal care.  
"There's been a huge increase in people buying pets,'' Richard Pearsall said. "With so many adults and their children stuck at home, they think this is the best time to get a pet. They're going to be around to raise and train them better than if they were in school or at work.''
Since March, when the pandemic began socking the area, business at the clinic has surged 20 percent, he said.
But there is a potential caveat. After cute and cuddly kittens and pups reach adulthood, Richard Pearsall said owners can lose interest and abandon them.
"Let's hope that doesn't happen here,'' he said.