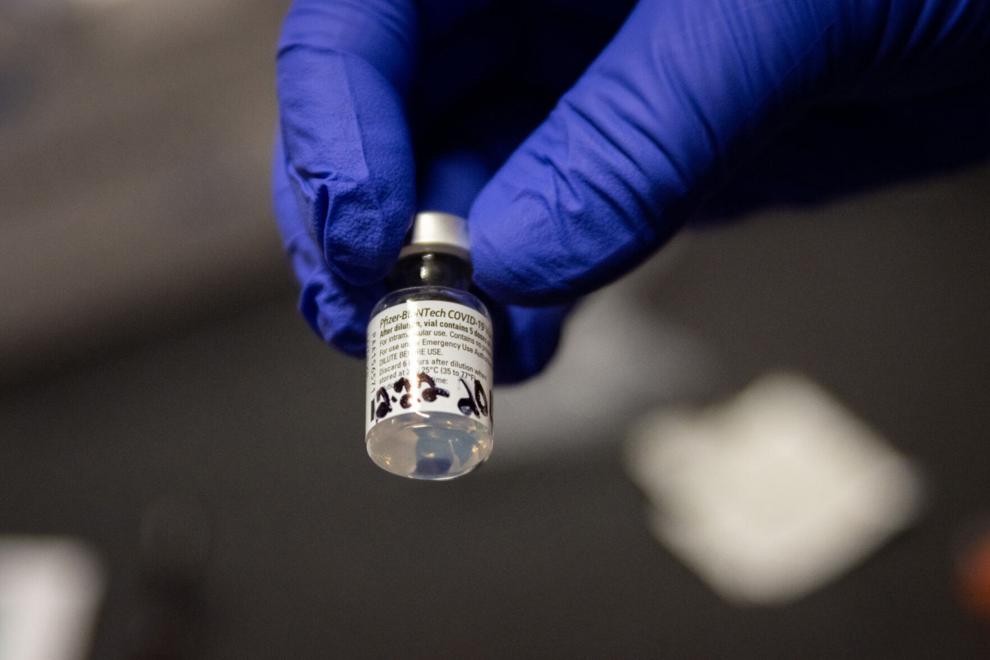 GREENVILLE – The owners of a small, locally based pharmacy chain have streamlined the process of giving COVID-19 vaccines in a way that its owners say could serve as a model statewide.
Now, it only needs one thing — more doses to put into the arms of the large number of people requesting it, said Bretton Walberg, co-owner of Walberg Family Pharmacy, based in Greenville.
Walberg said his pharmacy just received 500 doses and will be administering them in a clinic from 7 a.m. to noon Saturday at Grace Chapel Community Church in Hermitage. 
"We wanted more like 2,000 because we felt we could handle that," Walberg said.
This will be Walberg Family Pharmacies third vaccine clinic. The previous two — on Jan. 23 and 25 at First Presbyterian Church in Greenville, where Walberg and his wife, co-owner Stacey Walberg are members — provided 2,000 doses each.
In the Jan. 25 clinic, Walberg had five pharmacists dispensing shots at a rate of three a minute.
State Sen. Michele Brooks, R-50, Jamestown, cited Walberg Pharmacy's best practices as an example of efficient vaccine distribution.
"I am urging the state to replicate that," said Brooks, chairwoman of the state Senate's Health and Human Services Committee. "I think Walberg's has demonstrated very clearly that we can hold vaccine clinics efficiently, responsibly and get vaccines into the hands of people that want them."
Both Brooks and Walberg will be a part of a public hearing Thursday before the Senate Health and Human Services and the Senate Aging and Youth committees.
The committees will get an update on the state's efforts to distribute the COVID-19 vaccine during the hearing.
"Why haven't nursing homes been administering the vaccine throughout the state?" Brooks said she will put that and other questions to officials. "We'll be discussing the vaccine rollout and what the Department of Health can be doing better to get the vaccine into people's arms."
She also wants to know why the state has not released all of its available vaccination doses.
"I've sent further correspondence out to the Department of Health to ask why it's saying they don't have enough vaccines," Brooks said. "There are thousands of vaccines the state does have that are not being administered."
Officials representing the Pennsylvania Department of Health and Gov. Tom Wolf said the state is holding back vaccines as second doses for people who have already received their first doses. Both of the approved COVID-19 vaccines, manufactured by Moderna and Pfizer, require two shots spread out over more than several weeks for full effectiveness. 
Walberg said different entities have different barriers to giving out the vaccine. He advocates having larger clinics, where the organizers can serve larger numbers of patients at a single session.
"Let's figure out a way we can administer 1,000 doses instead of 40 or 50 or 100 at a time," he said.
Walberg said the pharmacy will allow patients to sign up online 15 minutes before the clinic starts and they will be assigned a time. 
Patients should show up at their scheduled time and not before that. He said early arrivals only clog the parking lot, delays vaccines and causes longer lines.
"A lot of times people keep asking when the next clinic will be and honestly, we don't know when," Walberg said. "But if you sign up for the newsletter, it will tell you when the link will go up to register."
Sharon Regional
At Sharon Regional Health System, people can call 724-983-7251 to hear an automated message and leave their names and phone numbers. The callers' information is added to a spreadsheet and the hospital will call the patients back when it is their turn to be vaccinated.
Rochelle Perman, physician liaison for the health system, said the hospital is scheduling vaccinations about a week and a half out, so people who called the hospital about 10 or 11 days ago should be hearing about their appointments soon.
"Unfortunately, some people are becoming a little impatient," Perman said. "Please don't call continually. Please be patient. If you called once, we have your information. All we can do is keep lists but people keep calling."
UPMC Horizon
While the state has expanded vaccine availability to those over 65 and younger people with pre-existing health conditions, UPMC Horizon Shenango Valley in Farrell is still vaccinating only community healthcare workers.
"We will be expanding our community rollout when and where the vaccine supply is available," said Lisa Lombardo, manager of regional communications for the hospital system. "At this time, we don't have any indication when we're receiving more."
When the community rollout does happen, Lombardo said UPMC is not taking the same approach as places such as Walberg Pharmacy. Instead of having people sign up, the hospital will reach out to eligible residents.
"We are going to be calling people, inviting them to participate in our public vaccine clinic based on their age, in accordance with Pennsylvania Phase 1A guidelines," Lombardo said. "We have a great process that's really thoughtful that prioritizes people in our community that are at high risk."
For an update on the latest on the vaccine at UPMC, people can call the hospital system's patient hotline at 1-833-299-4359. It is a recorded message that is updated about twice a week based on information hospital system officials have.
"Our goal here is, we are not going to have a system that people have to go to our website. We don't want to do that," Lombardo said. "Our approach guarantees that each person who makes an appointment with us receives a vaccine as scheduled."
Follow Melissa Klaric on Twitter and Facebook @HeraldKlaric, email: mklaric@sharonherald.com
NOTE: This article has been edited to correct an incorrect reference to the vaccines that have been approved by the U.S. Centers for Disease Control and Prevention.