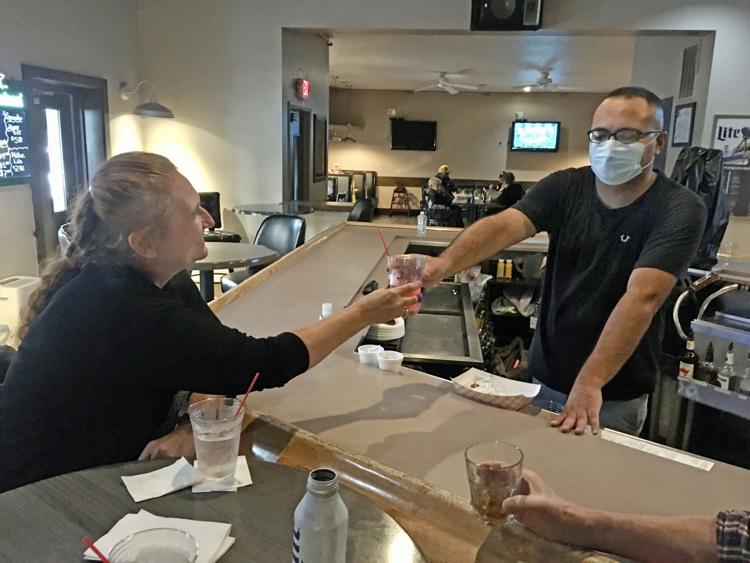 As owner Hachem Jaafar prepared another order of the Jai Alai restaurant's signature chicken wings, he took in details of Monday's federal court decision overturning many of the state's COVID-19 pandemic restrictions.
"We could use a break,'' Jaafar said. "It's been really hard running a restaurant with these rules – it really has.''
Under the state's guidelines, restaurants can operate indoor seating at 25 percent of occupancy, which will increase to 50 percent starting Sept. 21. But even that might not help.
"That's not enough,'' Jaafar said of the 50 percent level. "That's not nearly enough.''
U.S. District Judge William Stickman IV in Pittsburgh could invalidate key parts of Gov. Tom Wolf's early pandemic response which included temporarily shutting certain businesses, and limiting the operation of others.
Stickman ruled that the governor's limits on gatherings — 25 indoors and 250 outdoors — was a violation of the First Amendment. The decision would affect attendance at sporting events and events like wedding banquets, but not the restaurant limits.
Wolf said Tuesday that he planned to appeal Stickman's ruling and that his administration would request that a delay of implementing the judge's order, pending results of the appeal. 
When it comes to the restaurant and banquet industry there's lots to consider in all three layers of government, said John Longstreet, CEO of Pennsylvania Restaurant and Lodging Association. Longstreet was CEO of Sharon-based Quaker Steak & Lube from 2010 to 2014.
"The good news is that for private events like banquets and weddings that limits it to 25 people the judge ruled it's unconstitutional,'' Longstreet said.
For the regular restaurant trade though, he said there was no clear ruling from Stickman. What's more, Longstreet said Wolf could win on appeal in federal court, and the process will take months, even if Stickman's ruling is upheld.
"And this ruling will go to the Third Circuit Court of Appeals which will take months to work through,'' he added.
But Longstreet — and restaurant owners throughout the state — is betting the ranch that the state legislature can develop a remedy that will eliminate the industry's need for a judicial decision. He's championing House Bill 2513 calling it "comprehensive, well put-together legislation.''  
In a dozen public roundtable discussions held throughout the state about the proposed legislation, it has won wide bipartisan support, Longstreet said.
Under the proposed legislation, restaurant customers would still have to wear masks until they are seated. But restaurants would be able to exceed the 50 percent indoor occupancy limits if it met certain conditions — including compliance with guidelines from the U.S. Centers for Disease Control and Prevention and having required physical barriers in place.
"I have not met one legislator who said they wouldn't support this,'' he said. "Its been very gratifying.''
The legislation could go before the Senate as early as next week. The House, which also must act on the legislation, isn't scheduled to return until Sept. 29.