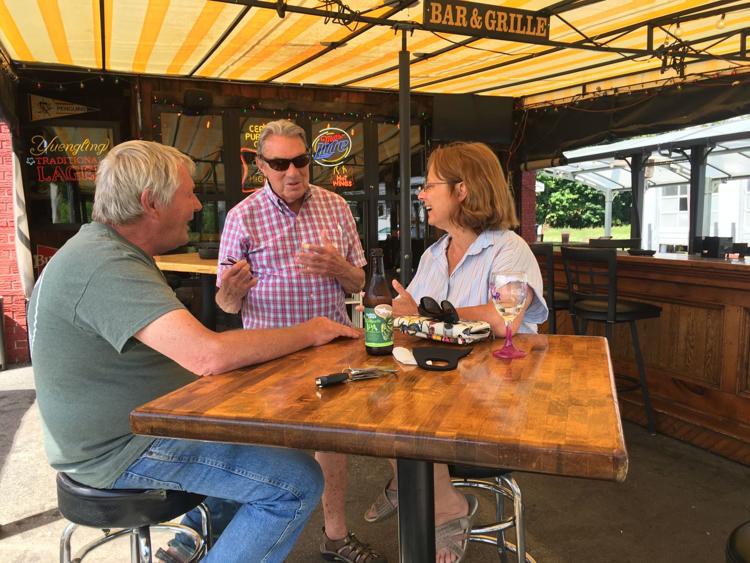 As with many of his peers, things were looking bleak for Jim Hicks' Mercer restaurant early this spring.
Rumors spread that the state wouldn't allow their businesses to open until July due to the COVID-19 pandemic.
"We panicked a little bit like everyone else,'' Hicks, owner of J. Hicks on the square, said.
This past weekend gave hope to area restaurant owners who were allowed to open for limited indoor dining after being closed for nearly three months.
For Hicks, it couldn't come soon enough. 
When the COVID-19 pandemic struck in mid-March, the state required all restaurants to end dine-in service. While the businesses were able to offer takeout and delivery, their indoor dining areas, a main source of income, had to remain shuttered.
"They said that it would only last two weeks,'' Hicks said of the closings.
The two weeks turned into two months. Hicks was among many restaurant owners in the state who wondered if their businesses would survive.
"It was traumatic being closed that long,'' he said.
Then he caught a lifeline. Hicks secured a Small Business Administration loan last month under the Payment Protection Program, part of the federal government's Coronavirus Aid, Relief, and Economic Security (CARES) Act. The loan includes provisions to forgive the debt if the business keeps a required number of its workers employed.
"That's when I knew we would make it,'' Hicks said.
For some restaurants – not all – the dark clouds turned a bit lighter Friday, when Mercer County entered the "green" phase of Gov. Tom Wolf's "red-yellow-green" reopening protocol. 
The green phase doesn't mean back to business as normal, though. Restaurants still have to follow requirements, including 6-foot social distancing separating patrons. Also, restaurants are allowed to serve no more than 75 percent of capacity.
Before opening, Hicks said he decided to provide customers with a product that was improved as well as new. A good number of the restaurant's waiting staff moved on to other jobs, so he hired and trained a new crew.
Hicks also secured a local supply of meats he deemed top quality.
"It was like we were opening a brand new business,'' he said. "But now we have a better restaurant than we did before.''
The restaurant has another advantage — outdoor seating that offers a good view of the Mercer County court house across North Diamond Stree. Long before the coronavirus struck, he was able to offer alcoholic beverages. 
Despite government loan programs and being able to reopen, restaurant owners said they still have a long ways to go in getting on firm financial footing.
The shutdown of restaurants came at a crucial business time, said George "Jig'' Warren, owner of The Keg in Sharon. Restaurants were ordered to close their doors on Monday, March 16. Warren remembers the date because it was the day before St. Patrick's Day.
"That's one of the biggest days for most restaurants,'' he said. "And what made it worse was they told us the day before we had to close. By then we had ordered all of the food we expected to serve on St. Patrick's Day. They should have told us sooner.''
The timing of the closure exposed one of the biggest differences between restaurants and other businesses, Warren said.
"Store retailers don't have to buy perishable food,'' he said.
Restaurants took anther drubbing when their indoor dining had to remain closed on May 10, Mother's Day, and on Memorial Day, May 25 – both traditionally big days for sit-down dining.
"We lost three opportunities for our business,'' Warren said.
With the reopening, he said things might be headed in the right direction at long last.
At the start of 2020, Ron Martin envisioned that this would be the year he opened his his new restaurant – Smoky Martins BBQ — in Hermitage.
After two months, his plan was off to a good start. Martin had completed a deal to buy the former Murcko's along East State Street on Jan. 17. He made improvements and added equipment. Martin's restaurant in Meadville also offers smoked meats.
When restaurants were ordered to shutter, it hurt his supply chain on everything from food to equipment.
"We got caught up in the COVID-19 thing,'' Martin said.
Yet, he was able to open his business, albeit in a modified form, before the restaurant opened. Martin parked his food truck, which has a separate operating license, in front of the restaurant.
"We wanted people to taste what we can offer,'' he said.
With Smoky Martins, Martin said he is looking to capture the growing trend for smoked meats and fresh food. The restaurant has an Italian oven that's fueled with wood to give food a more distinctive flavoring. 
"We're going backwards compared to other restaurants,'' he said. "So much of what other restarts offer is pre-made. A lot of our food is made from scratch.''
The restaurant's specialties are multiple choices of meats, pizza, beef brisket that's cooked for 16 hours and freshly made coleslaw.'
"We cut the cabbage for our coleslaw here,'' Martin said. "There's so many restaurants out there that buys coleslaw from someone else.''
Martin is excited about the future of the restaurant.
"I think we have a great opportunity here,'' he said.