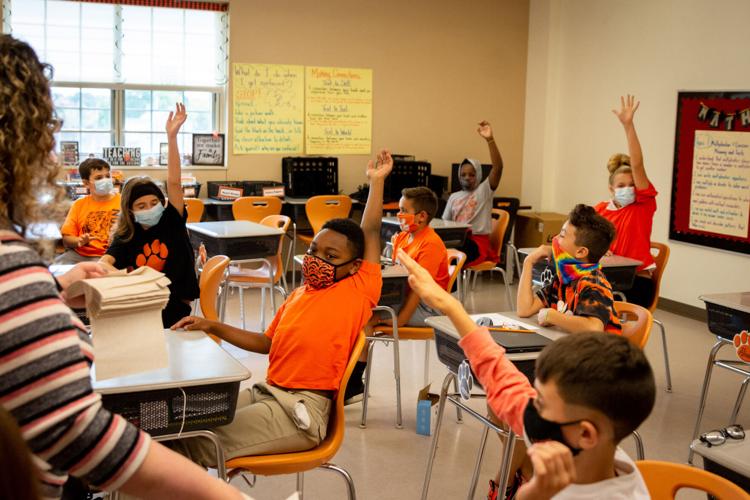 With the COVID-19 pandemic hitting a second peak locally that appears to be worse than the first, Grove City Area School District has become the first Mercer County school system to adopt long-term remote-only education.
The district plans to start remote learning Monday, and running through Friday, Dec. 4 for students in kindergarten through 12th grade, with plans to return to in-person instruction on Monday, Dec. 7.
Superintendent Dr. Jeffrey Finch said the decision came after a "difficult compilation of conversations" that started Wednesday.
Grove City Area High School had already gone to remote-only classes for a few days early in November, after four students and teachers tested positive for COVID-19, and Hillview Elementary School went the same route when three students and staff reported positive tests.
But Finch said the problem went beyond merely the few teachers who tested positive for the virus. After one Grove City teacher was diagnosed with COVID-19, contact — done with the cooperation of health officials — revealed that four of her colleagues needed to quarantine because they had all had eaten lunch together.
"So I lost four teachers for 14 days," Finch said.
Mercer County, like the state and nation, is experiencing new case counts unprecedented since the pandemic's start. The county set a single-day record Wednesday with 88 new cases. Prior to the beginning of October, the high mark was 22.
According to state Department of Health figures, there were 69 new cases Thursday, the last day for which there are figures.
The county has had 1,715 total cases — 1,418 confirmed and 297 probables — and Pennsylvania has had 239,156.
With rising case counts in Mercer County, other school districts might have to go the same route as Grove City.
Data from the state Department of Health and Department of Education has reported that Mercer County went into the "substantial community spread" designation, effective this week. The state agencies use several criteria — including number of new cases week-to-week per 100,000 residents — in determining whether to list counties as having "low," "moderate" and substantial."
The state Department of Education recommends that schools shift to all-remote classes when their counties are designated substantial community spread for two consecutive weeks. In Lawrence County, which has been in the substantial category for three weeks, several school districts have paused in-person education.
Grove City-based Intermediate Unit IV, which covers 27 school districts across Mercer, Butler and Lawrence counties, serves as a liaison between school systems and the state departments of health and education during the pandemic, Executive Director Dr. Wayde Killmeyer said.
The unit also maintains a spreadsheet of the various school districts and their plans for in-person or virtual learning. As of Friday, no school districts in Mercer County had reverted to district-wide virtual learning, although virtual options were available for cases when quarantining is necessary.
"There's a combination of factors to either go virtual or just a single building, but it's a high priority for all districts to keep everyone in school face-to-face, particularly the younger grades, because those kids need face-to-face more than older kids, and younger kids at home can be a burden on some families," Killmeyer said.
So far, there are only recommendations by state agencies as to whether a school district should fully adopt virtual learning or remain in-person, with a recommendation for virtual learning if 5% of the student population tests positive for COVID-19, he said.
However, Killmeyer said that recommendation can be a point of contention for school districts, as a larger district could have hundreds of students in their population whereas a smaller district could have less than a dozen test positive and suddenly require a full shutdown, he said.
"I know how hard all the superintendents are working, because they're in a very tough spot," he said. "They have the recommendations from the Department of Health or the Department of Education, and they're walking a tightrope to do what is best for their students and the constituency they answer to, and I hope everybody understands that."
At Hermitage School District, students are still attending in-person classes five days a week, with a virtual option available for those with safety or health concerns, Superintendent Dr. Dan Bell said.
Out of the district's student body of about 2,100 students, about 88% are learning in-person with 12% learning digitally, although those figures originally started at an 80-20 ratio when the year began. Many parents have also opted to take their kids to or from school, reducing the number of students who ride the buses, Bell said.
"We do have families that have medical concerns, and we have families who have general COVID concerns, but through the fall we've had more students transition back to in-person learning," Bell said. "Students aren't compelled to attend in-person, we're comfortable with two parallel programs and giving parents in the community that choice."
Sharon City School District Superintendent Michael Calla said the district does not yet plan to go all virtual and that it is cooperating with the state agencies and reviewing data in light of the its health and safety plan.
Greenville Area Superintendent Brian Tokar expressed similar sentiments.
"We will continue to review the circumstances in our district and will make adjustments as needed."