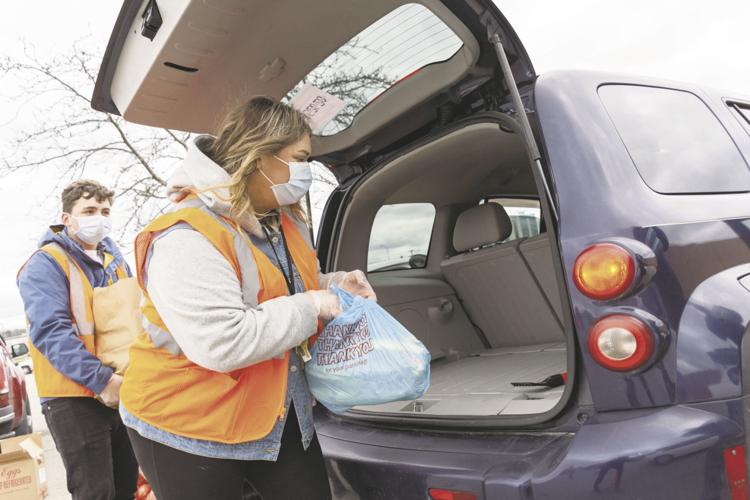 HERMITAGE — A local church has been doing its part to help members of the community in the midst of the COVID-19 crisis.
With schools and churches shut down and many businesses closing their doors temporarily, Rust City Church, formerly known as The Movement, is focusing on relief efforts for people who may need a helping hand.
Nate Dukes, Hermitage campus pastor, said the church is meeting people's practical needs and modeling God's love for people by providing free groceries on a first-come, first-serve basis to people who need them.
Church staff and volunteers begin distributing food at 5 p.m. on Mondays outside the Shenango Valley Mall.
"We're bringing enough groceries to feed 100 families," Dukes said. "Each bag of groceries is as much as you can fit into a bag, a mix of non-perishables and perishables."
The church's involvement in helping provide food didn't begin with the pandemic. Dukes said church members have been going for months to food-scarce neighborhoods in Sharon and providing free groceries to anyone in need.
"This is something we were doing in the community but not nearly on this scale," Dukes said. "We just decided as a church we want to be part of the solution."
Since the COVID-19 pandemic, and the business closures it imposed, began more than a month ago, Dukes and church volunteers have assembled and distributed food bags.
"We want to be available to the community," Dukes said. "We love people. If there's any way we can help people, we're going to do that."
When the group started handing out groceries five weeks ago, Dukes said it was completely out of everything they had within five minutes, with people lined up ahead of time.
"There's obviously a need there," he said. "Each week we have really increased how much food we're bringing in."
The pandemic and its accompanying social distancing edicts have hit not just businesses, but people and churches too.
Rust City Church partners with local food banks to help dispense groceries but Dukes said the congregation itself is passionate about helping people in the Shenango Valley community.
"I've never been part of a church that cares about people in the community so much," Dukes said.
In addition to meeting the physical needs of people, Dukes said the church is able to meet people's spiritual needs too. 
"COVID-19 has changed the way we do church," Dukes said. "All of our Sunday services are online right now."
Additionally, Dukes said someone from the church goes live on Facebook every night at 7 p.m.
"We get to share a devotional and spend time with people," he said. "Just because it's not the same method, we're still spreading the same message."
Dukes said the response has been overwhelming.
"We've been getting an incredible response, which means we're doing something, but it also means there's more to be done," he said. "Even with the shutdown, we're seeing that we're getting stronger."
For more information, visit rustcity.church or Rust City Church on Facebook.
Like Heidi Warren on Facebook or email her at hwarren@sharonherald.com