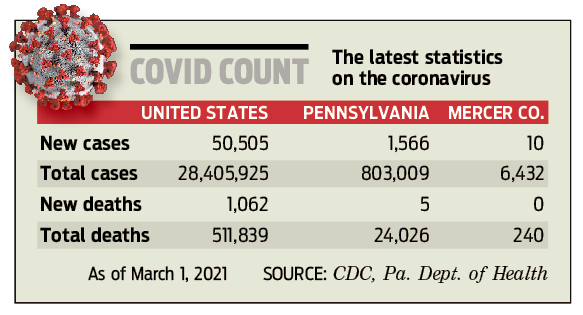 HARRISBURG — Gov Tom Wolf eased restrictions Monday on large gatherings and ended a requirement that out-of-state travelers get tested for COVID-19 or quarantine upon their return.
The moves came one day after the federal government gave emergency approval to the single-dose Johnson & Johnson COVID-19 vaccine, which brings the total of approved vaccines to three. They also come at time when testing numbers are declining statewide and nationally.
"Pennsylvania is taking a measured approach to revising or lifting mitigation orders," Wolf said. "The reason we are seeing cases drop can be attributed, in part, to people following the mitigation efforts we have in place. Mask-wearing, social distancing and hand hygiene are making a difference and need to continue even as we see more and more people fully vaccinated. We need to balance protecting public health with leading the state to a robust economic recovery. We are lifting mitigation efforts only when we believe it is safe to do so."
The revised mitigations restrictions announced Monday include:
• Revised maximum occupancy limits for indoor events to allow for 15 percent of maximum occupancy, regardless of venue size. Core public health measures such as face-covering (mask-wearing), social distancing, and hand hygiene still must be enforced. Maximum occupancy of 15 percent is permitted only if attendees and workers are able to comply with the 6-foot physical distancing requirement. Indoor crowds had been capped at 10 percent for gatherings of less than 2,000 people, with 5 percent for crowds between 2,001 and 10,000 people and indoor gatherings over 10,000 people had been banned.
• Revised maximum occupancy limits for outdoor events to allow for 20 percent of maximum occupancy, regardless of venue size, with the same core public health measures required. Outdoor gatherings had been capped at 15 percent occupancy for facilities suitable for fewer than 2,000 people; 10 percent for events that would normally attract between 2,001 and 10,000 people and at 5 percent for venues capable of holding more than 10,000 people.
• Rescinded out-of-state travel testing and quarantine restrictions that have been in place since November. Travelers had been required to get tested upon their return or quarantine for 10 days.
Robert Lombardi, executive director of the Pennsylvania Interscholastic Athletic Association, said, based on the new order, scholastic sports officials will review the capacity limits of venues to accommodate as many parents and other spectators as possible at post-season competitions for winter sports.
Based on the changes, the PIAA may be able to offer some ticket sales for post-season competitions, he said. The PIAA board will discuss the changes at its meeting on Wednesday, he said.
On the pro sports front, the Pittsburgh Penguins said they would allow 2,800 fans into PPG Paints Arena for Tuesday's game against the Philadelphia Flyers. It will be the Pens' first home game with fans since a victory over Montreal on March 8, 2020.
In Philadelphia, the Wells Fargo Center said it would quickly allow fans into Flyers and 76ers games if city officials give the go-ahead.
Last week, the state got 225,890 doses intended as first-shots and another 180,610 intended as second doses. With the addition of the Johnson & Johnson vaccine, the state's allocation this week has increased to 336,870 first doses and 189,410 second doses, the Department of Health said.
Testing numbers declining
State data shows that while the vaccine distribution has been accelerating COVID-19 testing has been declining, a trend that mirrors national data.
In February, Pennsylvania averaged about 42,000 COVID tests a day, the lowest daily average since October, Health Department data shows. In January, the state averaged 53,000 COVID tests a day, Health Department data shows.
U.S. testing hit a peak on Jan. 15, when the country was averaging more than 2 million tests per day, according to The Associated Press. Since then, the average number of daily tests has fallen by more than 28%. The drop mirrors declines across all major virus measures since January, including new cases, hospitalizations and deaths.
Maggi Barton, a spokeswoman for the Department of Health, said that, while the number of people seeking COVID tests has declined, state officials are encouraging people to get tested, particularly if they have symptoms of COVID.
"We do continue efforts to effectively perform concentrated testing in higher-risk communities like long-term care facilities, prisons, and other forms of congregate living communities as well as asymptomatic individuals as that can also lead to community spread," she said.
This is the final week of a 12-week effort by the Department of Health to use a private contract to offer drive-through and walk-up testing at sites across the state.
"While recent decreases in daily positive cases are promising, they don't negate the need for testing," Acting Secretary of Health Alison Beam said. "We encourage anyone who feels they need or want a test to take advantage of these free pop-up testing locations."
The number of Pennsylvanians who have been tested by PCR or antigen tests is 5,008,875, which roughly equates to 39.1 percent of the Pennsylvania population.
Testing will be available daily from 9 a.m. to 6 p.m. through Friday for all of the following sites except Lycoming County, where the testing will conclude on Wednesday.
The testing site locations and addresses are:
• Fayette County: Fayette County Airport Authority, 988 Sky Drive, Lemont Furnace, PA, 15456;
• Forest County: Marienville Area Civic Association (MACA), 149 MACA Drive, Marienville, PA, 16239;
• Lycoming County: Old Lycoming Twp. Volunteer Fire Company, 1600 Dewey Avenue, Williamsport, PA, 17701;
• Perry County: Newport Assembly of God Family Life Center, 27 West Shortcut Road, Newport, PA, 17074; and
• Susquehanna County: Harford Fairgrounds, 485 Fair Hill Road, New Milford, PA, 18834.
Up to 450 patients can be tested per day. Mid-nasal passage swab PCR tests will be performed. Testing is on a first-come, first-serve basis and is completely free to all patients. Testing is also open to individuals who are not county residents.
Patients must be ages three and older and are not required to show symptoms of COVID-19 in order to be tested. No appointment is necessary. Patients are encouraged to bring a photo-ID or insurance card.
By the numbers
National single-day new cases and deaths fell Monday to their lowest figures in months, according to the U.S. Centers for Disease Control and Prevention.
The CDC reported 50,505 new cases, lowest number since Oct. 18, and 1,062 fatalities. The last time the United States reported fewer than 1,000 deaths in a single day was Nov. 29, with 898.
Pennsylvania reported five fatalities Monday for the lowest single-day death count since March 25, less than three weeks after the state's first reported case.
Hospital readiness
On Tuesday, Pennsylvania hospitals had admitted 1,715 COVID-19 patients, a decrease of five in 24 hours. COVID-19 patients occupied 366 intensive care unit beds, and 203 patients were using ventilators, both small decreases from the previous days.
The 14-day rolling average for hospitalizations dropped below 2,000 per day, at 1,980.9 for the first time since Nov. 16. The state's hospitals had 780.1 available ICU beds per day over the last two weeks, continuing an upward trend that is now beyond the two-month barrier.
Ventilator use average continued to fall, to 238.4. The 14-day rolling average for ventilator occupancy last was less than 250 on Nov. 20.
The Herald staff contributed to this article.