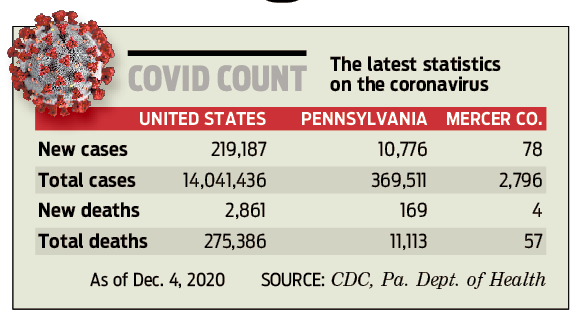 HERMITAGE — The state is providing assistance to the Hermitage Nursing and Rehabilitation center in response to a COVID-19 outbreak.
The effort is part of Pennsylvania's Regional Response Health Collaboration Program. Under the program, the state provides a response team from the U.S. Centers for Disease Control and Prevention, state Department of Health, the National Guard, and medical professionals, including registered nurses who specialize in COVID-19.
The facility, on Clarksville Road in Hermitage, is also known as Nugent's, but the Nugent family is no longer involved with administration of Hermitage Nursing and Rehabilitation, since selling its nursing homes in April to Embassy Healthcare.
In a statement Friday, Embassy said the company approached the state for support after an outbreak at Hermitage Nursing and Rehabilitation,
"We proactively reached out to our support resources to meet and exceed our high standards of quality care due to staff members on leave from Covid," the statement read.
The National Guard is providing five medical personnel to cover duties of staff workers sidelined by COVID-19. 
Reports on long-term care facilities from the state Department of Health indicate that COVID-19 cases at Hermitage Nursing and Rehabilitation increased four-fold, to 60 from 15, in the week between Nov. 24 and Dec. 1. The virus has affected 50 residents and 10 staff members.
The facility also has had at least one fatal COVID-19 case. The state does not provide exact numbers for COVID-19 cases and deaths when the figure is between one and four.
Embassy also owns the former Nugent-family-owned long-term care residences The Lakes at Jefferson in Jefferson Township; Clepper Manor in Sharon. Lakeview in Darlington, Beaver County; and Shelbourne in Butler.
The Grove Manor long-term care home in Grove City received assistance through the Regional Response Health Collaboration Program in September after reporting more than 70 COVID-19 cases and 10 fatalities in a three-week span.
SCI Mercer reports first COVID-19 fatality
A 75-year-old inmate is the first COVID-19 fatality at the State Correctional Institution Mercer.
Officials from the state Department of Corrections said the inmate died at the Findley Township prison. He was serving a 25-to-50-year sentence for involuntary deviate sexual intercourse. He had been an inmate at SCI Mercer since Aug. 30, 2016.
Department of Corrections officials said Pennsylvania is one of only six states where the prison COVID-19 death rate is lower than the state's overall virus death rate.
"We continue our battle against this dangerous invisible enemy," Corrections Secretary John Wetzel said. "With fall upon us, we are experiencing a resurgence. That is why it is vital to continue our aggressive mitigation efforts. We cannot let our guard down."
Grove City schools extend remote instruction
Grove City Area School District has extended remote instruction for all students for at least one more week.
Superintendent Dr. Jeffrey Finch announced Friday that distance learning will continue through Dec. 11, because of the continued spread of COVID-19.
School officials had initially decided that students would return to the classroom Monday following a suspension of in-person instruction that started on Nov. 16.
In a letter to families, Finch said he knows they're struggling to arrange childcare and make adjustments at home for remote learning, but that the district would not be able to guarantee a safe learning environment, based on information from state agencies.
Finch said the district is working diligently to prepare "every responsible option" for students' return to the classroom when it can be done with certainty.
County statistics
by ZIP codes
A surge of more than 150 new COVID-19 cases in the last 10 days vaulted Hermitage to more than 500 total cases, Mercer County's highest in terms of both raw numbers and cases per 1,000 residents, according to state statistics that are broken down by ZIP code.
With 509 cases against a population of 16,959, the Hermitage ZIP code has a case rate of 30 per 1,000 residents, the highest in Mercer County.
The Grove City ZIP code area, which had the most cases and highest rate on Nov. 24, reported 463 cases, according to the state Department of Health COVID-19 dashboard, and a rate of 28.7. Both figures are second-highest in the county.
Figures for the Grove City ZIP code, which includes outlying townships, are driven in part by outbreaks in three nursing homes. Grove Manor has had 86 cases among both residents and staff, and 13 fatalities, Quality Life Services has had 93 cases and 11 fatalities and Orchard Manor has had 36 cases with no deaths.
However, the Grove City long-term care home outbreaks appear to have flattened, with only five additional new cases between Nov. 27 and Dec. 1.
Cumulatively, case counts at the three facilities increased by 97 cases since Nov. 24, with an additional four fatalities, all at Quality Life Services.
As of Nov. 24, the three Grove City nursing homes were the only long-term care residences with more than five reported cases. 
St. Paul's Homes in West Salem Township near Greenville has also experienced a surge in cases, going from fewer than five 10 days ago to 44 total staff and resident cases.
Clepper Manor in Sharon has nine staff cases, and between one and four resident cases. The Grove in Greenville has five resident cases, and between one and four staff cases. 
Eight ZIP codes in Mercer County — Hermitage, Grove City, Farrell, Mercer, Sharon, Sharpsville, Greenville and West Middlesex – have case rates higher than 20 per 1,000 residents.
Carlton, which had been the last remaining ZIP code in Mercer County without a COVID-19 case, reported its first confirmed case during the last 10 days. Carlton and Clarks Mills have fewer than five total cases.
Case rates per 1,000 residents by county ZIP codes:
• Hermitage 30 (509 cases, 16,145 population)
• Grove City 28.7 (463, 16,145)
• Farrell 27.7 (137, 4,941)
• Mercer 25.7 (332, 12,941)
• Sharon 21.5 (303, 14,040)
• Sharpsville 20.9 (155, 7,426)
• Greenville 20.8 (378, 18,186)
• West Middlesex 20.4 (96, 4,706)
• Jackson Center 17.2 (27, 1,573)
• New Wilmington 17 (120, 7,056)
• Hadley 15.3 (31, 2,023)
• Jamestown 14.2 (55, 3,886)
• Stoneboro 13.3 (30, 2,624)
• Fredonia 13 (29, 2,228)
• Utica 4.5 (5, 1,102)