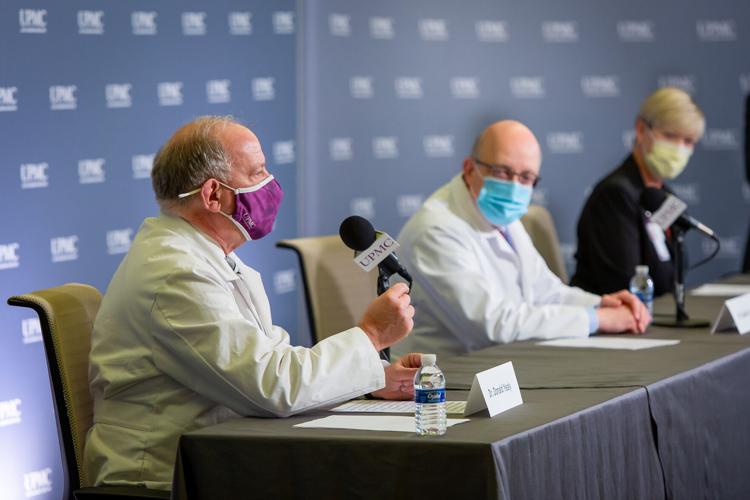 PITTSBURGH — Efforts to vaccinate key frontline personnel are underway throughout UPMC's network, with plans to begin vaccinating the next wave of people once more vaccine becomes available, hospital system officials said Tuesday.
Nearly 9,000 staff members in the UPMC system — including UPMC Horizon hospitals in Mercer County and UPMC Jameson Hospital in Lawrence County — have received two vaccination doses, and are expected to have immunity to COVID-19, UPMC Chief Quality Officer Tami Minnier said in a virtual press conference. 
An additional 2,300 non-UPMC employed staff and EMS workers have also been vaccinated. The vaccine recipients experienced the typical symptoms including sore arms, fatigue and muscle aches, she said.
As part of the initial wave of vaccinations, UPMC has been giving the Moderna vaccine to residents and staff of UPMC senior communities. As of Monday, UPMC had given 1,300 vaccinations to 830 healthcare workers and 475 long-term care residents, amounting to about half of UPMC's skilled nursing facility residents, said Dr. David A. Nace, chief medical officer at UPMC Senior Communities.
Determining priorities for which frontline employees should receive the vaccine couldn't be made simply by job titles, Minnier said. The process required an understanding of each employee's job, along with guidance from the state and internal prioritization.
While some workers, such as IT employees, do not interact regularly with patients, UPMC's technology workers operate throughout the hospitals and interact side-by-side with clinicians, and are thus vulnerable to secondary virus exposure, Minnier said.
Long-term care facilities faced a similar issue. Nace said every long-term care employee — maintenance, dietary, housekeeping, receptionists and nurses — comes in contacts with patients at some point in the process.
Patients and staff in UPMC's long-term care facilities who have had COVID-19 were not vaccinated during the initial phase because the system didn't have enough doses. Since individuals who have had COVID-19 are protected up to 90 days, vaccinations started with those who have no immunity, while those who were previously infected will be vaccinated later as supply increases, Nace said.
Phase 1A of the state's vaccination plan is focusing on on healthcare workers, and those living and working in nursing homes. Under Phase 1B, vaccinations will be expanded to seniors over the age of 75 living outside nursing homes, along with teachers, prison workers and day care staff.
Pennsylvania Secretary of Health Dr. Rachel Levine announced this week that the state Department of Health could enter Phase 1B "soon." Minnier said UPMC was "absolutely" prepared to administer the vaccines, but the hospital system needs the doses.
Minnier said officials are looking for more information from the state to find out exactly when UPMC will receive additional vaccines. When it does, it will begin vaccinating people in the Phase 1B group.
UPMC officials have been in talks with the federal government for "weeks and months" to acquire more vaccines, said Dr. Donald Yealy, UPMC Senior Medical Director.
"We can get vaccination into people's arms once we get the vaccine to us," Yealy said.
Until widespread vaccination is available, Yealy said wearing a mask that covers the nose and mouth, practicing physical distancing, avoiding large gatherings beyond immediate family and hand washing will still be the best ways to prevent the spread of COVID-19.
Like David L. Dye on Facebook or email him at ddye@sharonherald.com.