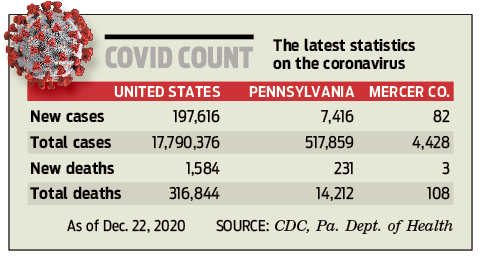 SHARON — Tuesday was only the first day for COVID-19 vaccinations at Sharon Regional Medical Center, but Kristi Lenz was already feeling the anticipation.
Lenz, Sharon Regional's director of nursing for behavioral hall services, assisted with the vaccination process. She said people are excited about the vaccine because it will mean seeing family members again. 
The first vaccinations against COVID-19 began yesterday afternoon for the staff at Sharon Regional Medical Center.
The hospital received its first delivery of 975 doses of the Pfizer vaccine Monday, and established an impromptu "clinic" for staff members looking to be vaccinated, Director of Pharmacy Jodi Shrawder said.
Hospital officials created an online portal to help staff members sign up for vaccinations. About 40 people received shots Monday.
Dr. Robert Salcedo, a neurologist at Sharon Regional Medical Center, was among those receiving the vaccine. He said that getting the shot gives him peace of mind after months of uncertainty. 
Since the Pfizer vaccine requires two applications for full potency, Shrawder said those vaccinated Monday are being scheduled to receive follow-up shots in about 21 days.
"Of the people who responded so far, it's been going very well," she said.
Sharon Regional Medical Center has about 1,300 employees, not including additional staff — outpatient physicians who work under contract and EMS personnel — who fall under the Steward Medical Group umbrella, Shrawder said.
Staff members being prioritized for the vaccine include personnel, such as doctors and nurses, who regularly have at least 15 minutes of direct patient contact, Shrawder said.
Following their first delivery, the hospital will receive a next round of 975 vaccines sometime next week, with a third delivery to follow.
Hospital demand
Only about one in eight intensive care unit beds have been available over the last two weeks. According to the state Health Department's COVID-19 dashboard, the state has averaged 571.9 vacant beds, out of about 4,600 ICU beds total (87.8%).
The Department of Health reported that, with more than 6,100 COVID-19 patients admitted to hospitals, demand is twice the levels from last spring's admission peak.
On Tuesday, the department reported 6,151 hospital admissions, with 1,236 in intensive care units and 772 patients on ventilators. The state has 1,949 of 5,686 ventilators (34.3%) in use. 
Herald photographer Tanner Mondok and The Herald staff contributed to this story.