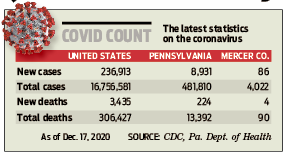 Hospitals in Mercer County and New Castle all received special deliveries Thursday morning.
The Pfizer-BioNTech COVID-19 vaccine arrived Thursday to UPMC Horizon hospitals in Farrell and Greenville as well as AHN Grove City Hospital and UPMC Jameson in New Castle.
The UPMC deliveries were made by UPS delivery, as the vaccine's rollout continued this week. The first vaccinations were given Monday morning to front-line staff in hospitals around the country.
Officials from AHN Grove City, and UPMC's hospitals in Greenville, Farrell and New Castle said they would begin administering the vaccine Friday to front-line health workers.
In the region, the first vaccine shots were administered to five UPMC employees in front of personnel and media members at UPMC Children's Hospital in Pittsburgh.
Health care providers across the state have administered more than 1,200 doses of a COVID-19 vaccine to health care workers at 16 Pennsylvania hospitals, with that figure rising to 96,000 doses by the end of the week.
State Health Secretary Dr. Rachel Levine said Thursday that there have been no adverse reactions from the vaccines.
"Things are moving smoothly in Pennsylvania," she said.
Levine said this week's snowstorm did not hold up delivery of the state's initial allotment of 97,500 doses to 87 hospitals, and the delivery schedule was set according to Operation Warp Speed, the Trump administration's vaccine development program.
The state anticipates weekly shipments of the new Pfizer vaccine and a second vaccine from Moderna that is expected to win government approval. But Levine said the state doesn't know how many doses it should expect from week to week.
"We really don't know how much we're going to get," she said. "We get these estimates and then they change them a couple days later. It really depends upon the production and manufacturing schedule."
Vaccinations of residents and staff at nursing homes are expected to begin Dec. 28, she said.
Sharpsville Santa visit back on
The Dec. 23 Sharpsville Santa Claus visit, cancelled earlier this year due to the COVID-19 pandemic, is back on.
To maintain social distancing, however, Santa Claus and Mrs. Claus will not visit individual homes, as they have for decades. Instead, they will travel on a Sharpsville Volunteer Fire Department truck.
Residents should go to their nearest intersection, while complying with public health recommendations for social distancing and wearing masks, to greet Santa as he drives by.
Organizers of the borough's annual tradition announced Santa's tour on Facebook. The tour is scheduled to begin at 6 p.m. at Sixth and Main streets and end at Pryde Avenue and 10th Street.
For those who might not be able to walk to an intersection, Santa will pass locations with available parking, including the Sharpsville VFW, Sharpsville Plaza, St. Bartholomew Center, Muscarella's restaurant, American Legion, Sharpsville Borough Building and First National Bank.
Church to offer drive-in Christmas Eve service
With the pandemic limiting holiday gatherings, Faith Presbyterian Church in Hermitage plans to offer residents the opportunity to observe a traditional Christmas Eve service — safely.
Having organized drive-in church services during the summer months of the pandemic, Faith's pastor, the Rev. Anthony Kladitis, said that same format will allow church officials to host a similar service for Christmas Eve.
Instead of meeting in the church's fellowship hall or sanctuary, attendees will remain inside their vehicles in the church's parking lot. While some church officials will be outside to sing, read scripture or preach, the church will broadcast the service on a low-power radio frequency.
"We have that technology, so why don't we offer an outside service for the community?" Kladitis said.
The service will begind at 4 p.m. Dec. 24 at the church, 2370 N. Hermitage Road, Hermitage, and is expected to last about 40 minutes.
The service is open to not just regular Faith Presbyterian Church attendees but anyone in the area who would like to attend — and a video announcing the event on the church's Facebook page already garnered about 2,000 clicks, Kladitis said.
"We know it's going to be different, but I feel like we're creating a memory for everyone and their families," Kladitis said.
Pennsylvania hospital readiness report
COVID-19-related strain on Pennsylvania hospitals continued to increase Thursday.
The state Health Department reported that 33.4% of intensive care hospital beds (1,246 of 3,725) are occupied with COVID-19 patients, and 34.6 percent of hospital ventilators (1,969 of 5,684). 
Statewide, 6,209 COVID-19 patients are admitted to hospitals and 745 COVID-19 patients are on ventilators.
STAFF FROM The Herald and New Castle News contributed to this article.