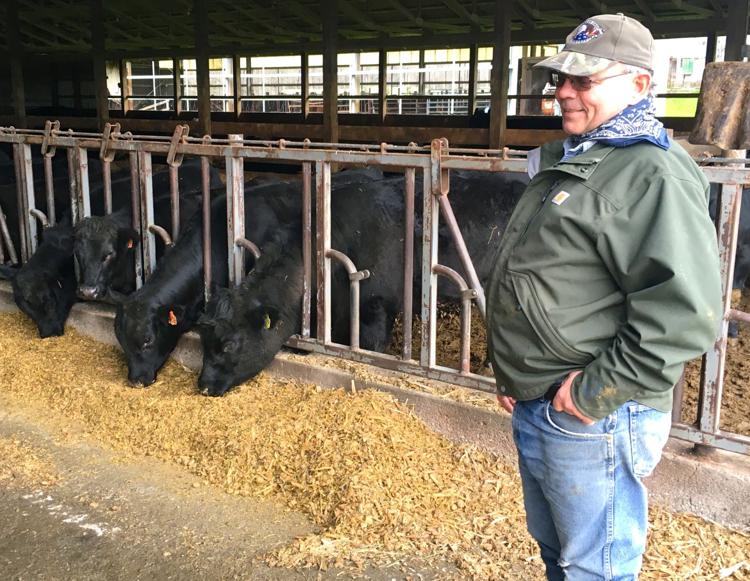 The COVID-19 pandemic has forced Canon Dairy to hit the pause button on a major project that already had gotten state funding.
The farm was awarded a $50,000 grant in January to buy pasteurization, bottling, cheesemaking equipment along with a large churn to produce butter. The project, totaling $64,780, would allow the farm to bottle its own milk and produce cheese on site.
But with the pandemic, that has gone by the wayside.
"With everything going on, we had to put that on hold for now,'' said Mark Canon, who owns the Shenango Township dairy farm with his wife, Marie.
In recent months, dairy farmers were getting some relief as milk prices had been rising. But prices — and demand — plunged again when the pandemic struck again.
In an effort to help inform dairy farmers of the resources at their disposal, state Sen. Michele Brooks plans to hold a conference call from 12:30 to 1:30 p.m. today.
Brooks, R-50, Jamestown, said the call will address specific programs, including small business funding, such as the Payroll Protection Program, available through the COVID-19 stimulus package.
"This call is going to go through specific programs that apply only to farmers," she said. "That is what this phone call is about, what does that mean and what help is out there for these farms."
When COVID-19 struck, it caused the closure of restaurants, who are good milk customers, to close their doors. With schools closed by the pandemic, the thought is that homebound children might go back to drinking 2 percent or whole milk, which has about 3.5 percent fat. But it's not that simple, Canon said.
"They can't change the bottling fast enough to whole milk,'' he said. As a result, prices have fallen and it has created uncertainty in the industry, he added.
Since the closure of schools and restaurants as mitigation measures to slow the pandemic's spread, Brooks said demand for milk, already on a 40-year decline, fell even further. The second-term senator said she is aware that some milk processors have told dairy farmers to dump milk that can't be sold.
"Farmers are being told to dump their milk and they still have to feed their dairy cattle," Brooks said. "There are farmers that have sent their dairy cows to slaughter, and we don't want that to happen."
Canon wished there was an easy explanation for the current state of the dairy industry.
"There isn't – it's very complicated,'' he said.
John and Judy Ligo sympathize with the dairy farmers' plight, even though they no longer have dairy cattle. The couple owns LiTerra, a beef cattle farm in Wolf Creek Township.
They ditched their dairy operation years ago to concentrate on beef.
They got a first-hand look at the rock-bottom milk prices Monday, when they stopped at a convenience store. After searching for something to drink, they settled on milk.
"Milk was cheaper than bottled water,'' Judy said. "It was ridiculous.''
But the meat industry is now also fighting its own battle with the virus.
Smithfield Foods announced Sunday that it was closing its pork processing plant in Sioux Falls, S.D., until further notice after hundreds of employees tested positive for the virus. Tyson, a meat processor, suspended operations at its Columbus Junction, Iowa, pork plant when over two dozen workers were found to have COVID-19.
But it was sending livestock to other pork plants in that region to minimize impact on production.
There's no talk of meat shortages – yet, said John Ligo said. But there are concerns.
"The supply chain has gotten hurt,'' Ligo said. ''It's now become a problem with the process. We visited a couple grocery stores and they didn't have meat.''
Shenango Valley Meats in Sharon announced in a Herald advertisement that it was temporarily closing its Sharon store until May 1 out of concerns for its employees and customers.
With 600 head of cattle on their 1,000-acre farm, the Ligos are better off than many as they sell beef on site. The cattle is raised at the farm but butchered nearby by another business and returned to the farm for retail sale. But the farm continues to sell beef to area grocery stores and other outlets.
Right now any butcher is in high demand.
"The butchers are crazy busy,'' he said. "Anybody who has a cow wants it butchered now.''
To join the dairy farmers' conference call, dial 978-990-5000, enter access code 553371, followed by the # sign. That will enter callers into the conference. To submit questions in advance, text or call 717-585-0766 or send an email to zmyers@centerfordairyexcellence.org.