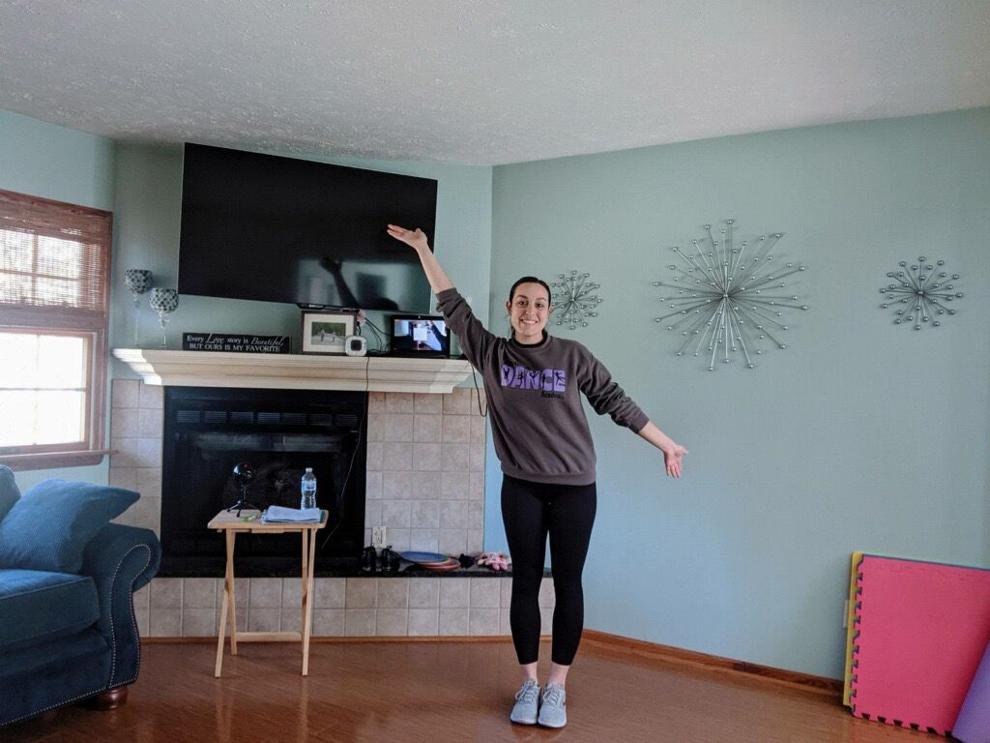 SHARPSVILLE – Dance students are staying connected during COVID-19 isolation with Alessandra's Dance Studio's virtual instruction.
Alexie Brewster, of Hermitage — the mother of 8-year-old twins, Nina and Kelsey, and 11-year-old Reese — said classes with studio owner Ali Wasil have gone really well.
"They were excited to see their friends and Miss Ali from class," Brewster said. "It gave them a sense of normalcy that they're used to."
Wasil's dance studio, 74 E. Shenango St., Sharpsville, started teaching classes last week with the Zoom online videoconferencing platform.
"It's been successful," Wasil said. "It's gone pretty well. Everyone's excited. It gives them something to look forward to."
Wasil offers the Zoom classes at a 50 percent discount for current students. The online lessons match the studio's regular schedule and 98 students are participating.
"I have my laptop set up on my mantel and then they back up and they can use a phone, a laptop or anything compatible with Zoom," Wasil said. "It's definitely challenging, but I think it's the best alternative we have."
Wasil thought of the idea as she was part of a network of dance teachers and she saw another person teaching with virtual classes.
"I can see every student's face on one screen," she said. "The little ones get excited."
Those "little ones" get more than dance lessons. With the pandemic imposing physical separation, Alessandra's Dance Studio classes give them a chance to interact with their friends.
At the beginning of class, the girls catch up with one another and the younger children have show-and-tell sessions afterward.
"I have a dog and a cat and they'll be on screen and then they will talk about their pets," Wasil said.
Wasil posts herself dancing on YouTube, so students and parents can refer to the videos if her Zoom lessons are unclear.
The future is unclear, but the kids are still getting ready for a year-end performance.
"We usually have a dance recital. It's currently scheduled for May 30 but I'm not sure that's going to happen. If we have it in June, July August, we're going to have it," Wasil said. "The girls have worked hard all year and this is their reward."
Wasil is 28 and married. She was born and raised in Brookfield, Ohio. She graduated from Brookfield High School and Westminster College, where she majored in biology.
But dance was her passion — she performed through college. When previous owner Linda Lucas retired in 2014, she asked Wasil to take over. The company started out with 60 students and this year they have 120.
The studio started at a new site in Sharpsville this year, a season disrupted by the virus.
"With opening the new location this year, it was an exciting journey, until all this was happening," Wasil said. 
But her students are still excited, and in addition, parents were pleased that their children can take virtual dance lessons. Brewster said she sets up their Surface on a TV tray and moves it to the floor for classes.
"I was excited because I was worried they would forget their routines," Brewster said. "And they were so excited to see Miss Ali. She's so good with them."
Karen Miller, of Hermitage, has a daughter, Kaleigh, 15, who is taking virtual classes from Wasil and assists with the younger students.
"It's been good," Miller said. "Thank God for technology and it's great that she took advantage of that and kept the girls going on the same schedule they're on. It's worked out really good."
Megan Klugh, Hermitage, mother of Alaina, 5, and Lauren, 9, said the classes were just what her daughters needed.
"It was really fun," Klugh said. "Miss Ali let them go grab a stuffed animal and they all got to tell her who they grabbed. She made it personal and fun for the girls."
Klugh said the classes work with the technology the kids and teachers are using. More importantly, it provides a morale boost at a time when the children face isolation.
"The girls were all smiling but it was really sad because this is what it has come to," Klugh said. "But it gives them something to look forward to and see their friends."
Follow Melissa Klaric on Twitter and Facebook @HeraldKlaric, email: mklaric@sharonherald.com