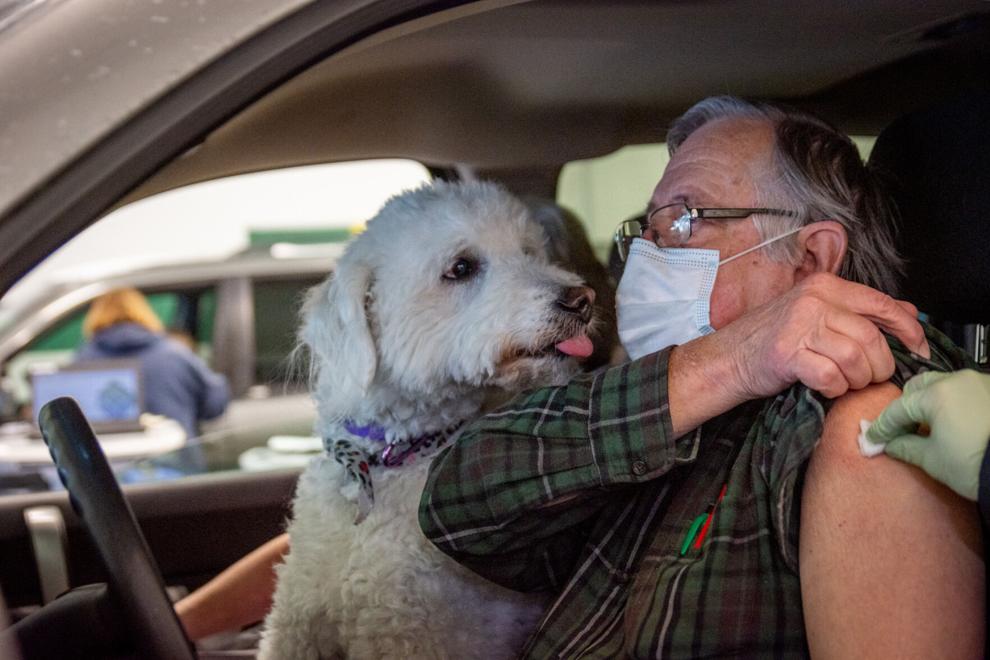 Walberg Family Pharmacies is cranking up to vaccinate over 9,000 people in the region starting today.
"We've gotten the vaccination vials from the state and we're ready to go,'' Bretton Walberg, owner of the pharmacy chain said.
Today's clinic will run from 7 a.m. to 4 p.m. at the First Assembly of God Church, 1455 North Keel Ridge Road in Hermitage. Walberg said the pharmacy staff is set to give about 2,000 doses of COVID-19 vaccine.
With 11 area pharmacy stores, the company has hosted three other clinics, where its staff dispensed about 2,500 vaccinations.
Walberg said he was heartened that many of his employees are volunteering to work without pay to help run the clinic.
"We never asked them to do that,'' he said. "We have a group of wonderful people working for us.''
The pharmacy will open registration before its clinics. When a patient registers, staff will give them a time for their shot.
Walberg said patients should arrive five minutes before their time slot, not before, and that those coming to get shots should wear masks.
"When someone arrives too early what happens is it's too cold to be outside,'' Walberg said. "So then they come inside and it overcrowds the building and slows down the work flow.
"I would rather people be a little late than being very early.''
The Jamestown-based pharmacy chain has been working with Mercer County 911 and the Mercer County Area Agency on Aging to arrange vaccinations for those without computers or access to the internet.
"We don't want that group to be underserved,'' Walberg said.
Upcoming Walberg clinics: 
• Saturday, Feb. 13 from 7 a.m. at East Presbyterian Church, 120 E. Main St., Grove City, in partnership with Rx Express.
• Monday, Feb. 15 from 7:30 a.m. to 4:30 p.m. St. Mary's Church on 1085 Water St., Meadville in partnership with Meadville Medical Center.
• Tuesday, Feb. 16 from 7 a.m. to 4 p.m., Passavant Center at Thiel College, 38 Packard Ave., Greenville.
• Thursday, Feb. 18 from 7 a.m. to 4 p.m., Crane Room, 3009 Wilmington Road, New Castle.
Patients can register online at www.walbergfamilypharmacies.com
AHN Grove City drive-thru COVID-19 vaccination clinic
Gallery Grille a casualty of COVID-19
The Gallery Grille in Hempfield Township became the latest business to close as a result of the pandemic.
A phone call to the restaurant Thursday yielded only a recorded message, "Due to current circumstances, the Gallery Grille will no longer be in operation effective immediately.''
The person who made the recording apologized for any inconvenience, but didn't specifically say if the closure was permanent.
Rod Wilt, executive director of Penn-Northwest Development Corp., said Wednesday that he was told the restaurant was permanently closing.
But he held out hope that a state grant program could help the restaurant stay afloat. Wilt said he wanted to talk with Gallery Grille owners about the grant program, which will dispense COVID-19 aid funds to restaurants, bars and other hospitality establishments.
Hospital cases continue to decline in Pa.
COVID-19 ventilator use in Pennsylvania hospitals was at 301 Wednesday, a decrease of more than 50% from a little more than one month ago.
Hospitalizations, at 2,687, fell by almost half from figures on Jan. 9, when the state had 5,201 COVID-19 patients in hospitals. At that time, there were 1,062 COVID-19 patients in intensive care units. By Wednesday, that total had fallen to 538.
The rolling 14-day average for hospitalizations was at 3,111.8 per day Wednesday, and was poised to fall below 3,000 a day for the first time since Nov. 25, according to figures provided by the Pennsylvania Department of Health.
Over the last two weeks, the state has had an average of 743.4 ICU beds available on a daily basis, and ventilator use averaged to 363.4 per day.